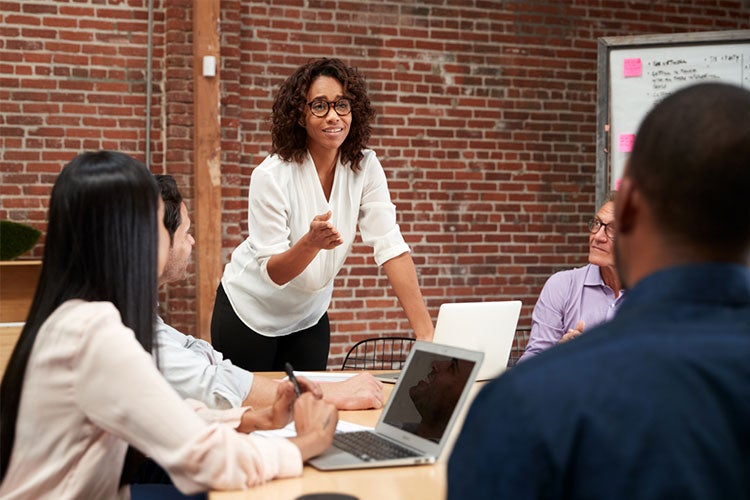 4 MBA in Marketing Jobs
Competition in business increases with the development of every new product and service and the strategies developed to market them. A comprehensive Master of Business Administration (MBA) in Marketing program equips graduates with knowledge and skills in management and leadership, critical thinking, communication and marketing. These skills open doors to lucrative MBA in marketing jobs for graduates. 
Earning an MBA in Marketing
To succeed at the management or executive level, business professionals recognize the importance of earning an MBA. Specializing in a specific field of interest, such as marketing, adds value to the degree and opens up opportunities to succeed in different areas. The coursework required includes both classes that are core to an MBA degree and classes designed to prepare students for a career in marketing.
MBA Core Coursework
While specializing in a specific area of business is important for career options, comprehensive MBA degree programs also include courses that are applicable to various areas of business administration. These courses might include: 
Ethical leadership: an exploration of personal ethics, community dynamics and how to achieve sustainable change for the better
Business research: the study of meaningful data collection, analysis and reporting 
Organizational behavior and communication: examinations of how teams communicate and collaborate, what motivates people and how conflict is managed and resolved
Financial accounting and management: discussions of financial and cost analysis, budgeting and investing 
Information systems: a survey of various technologies and how they are used for communication, problem solving and decision making 
MBA in Marketing Specialty Coursework
Core coursework forms the foundation for developing a solid theoretical and practical knowledge base in an MBA program. When pursuing positions of leadership in marketing, additional, more focused courses provide a deeper understanding of more pertinent topics like these:
Integrated marketing communication: consideration of various strategies to create effective marketing campaigns through advertisements, promotions and social media 
Marketing research: survey of research techniques and processes from design to sampling to analysis and reporting 
Analytics for business intelligence: examination of analytics concepts including theoretical study and hands-on practice with real data sets 
Strategic management: a culmination of all previous coursework, including hands-on practice identifying organizational problems and finding realistic solutions
MBA in Marketing Salary and Job Descriptions
Leading the way in brand development, product marketing and communication can be highly rewarding, and attaining a leadership position in a marketing team is often considered a valuable professional goal. Here are four popular roles, with general job descriptions and MBA in marketing salary information.
Brand Manager
Companies often spend considerable time creating a unique and distinctive logo, as creativity in business comes to the forefront. They consider graphics, fonts, flexibility in size and use and endurance over time to produce a single, memorable image. A brand, however, includes far more than even the most visually stunning logo. Forbes describes the brand of a company as "the entire identity of [the] business." It does, in fact, give the organization a personality. 
Brand managers focus on the entire marketing process for a specific branded trademark. They direct market research, analyze the intended target consumer profile and determine where to place and advertise the product for the highest exposure and returns. They also audit feedback and reviews. The goal of a brand manager is to ensure that customers regularly associate the brand and products with high-quality service or merchandise and buyer satisfaction.
Brand Manager Job Requirements
Typically, brand management positions require a university degree and extensive experience in a marketing department. A master's level degree can also help build the advanced skills needed for this role. 
Brand Manager Salary
According to Payscale data as of February 2023, the median base salary for brand managers was approximately $74,000, varying based on education and experience. With other financial incentives, salaries may total up to $125,000. 
Product Marketing Manager
Unlike brand managers, product marketing managers focus on products and services, constructing strategies to advertise, sell and generate maximum revenue for each one. Based on extensive knowledge of the company, its customers and the items produced, professionals in this MBA in marketing job design advertising plans, press releases and other marketing tools to ensure that the products are well-received by the public, from local to international markets.
Product Marketing Manager Job Requirements
To land a management position in product marketing, candidates may be required to have a degree in marketing or a related field, along with experience in marketing practices and techniques. At times, companies will search for marketing professionals who are experts in a particular market or field, such as children's toys or fast food.
Product Marketing Manager Salary
As of February 2023, the median base salary for product marketing managers was about $96,000 according to Payscale. With other financial incentives, salaries may total up to $146,000.
Marketing Communications Manager
Effective marketing communications managers maintain a consistent and cohesive organizational message to keep buyers happy and satisfied. They know how to use up-to-date technology and inventive strategies to engage and satisfy their customer base. While they collaborate with stakeholders throughout the company, they also keep a close eye on how the competition is engaging the public and devise innovative ways to rise to the top. 
Marketing Communication Manager Job Requirements
Companies seeking a marketing communication manager in today's competitive market are looking for someone with strong management and communication skills. They value personable individuals who have a four-year degree at minimum, and preferably an advanced degree in marketing or a related field.
Marketing Communication Manager Salary
Education and experience will determine a marketing communication manager's salary. According to Payscale, as of February 2023, the median base salary was about $69,000 per year, with the potential to earn up to $106,000 with bonuses and other company incentives. 
Marketing Director
The role of a marketing director is to create seamless coordination between and among all sections of a marketing department. This can include organizational branding decisions, strategies to market products and services and marketing communications. 
Even the most innovative marketing, advertising and sales strategies should be revisited and refreshed on a regular basis. Marketing directors, many armed with the benefits of an MBA, have the responsibility to determine what existing marketing practices are still useful and what steps must be taken to keep up with the demands of a public whose habits, needs and pace change as the world changes.
Marketing Director Job Requirements
A marketing director must be well prepared to accept the responsibilities that come as the leader of what could be a sizable number of employees as well as the company's budget. Most companies require a college degree in marketing or a similar field as well as practical experience in lower-level management positions in the areas of branding, advertisement or communications, to name a few. They may also want a master's level degree.
Marketing Director Salary
Based on information collected by Payscale in February 2023, the median annual salary for a marketing director was about $95,000, with the potential to earn as much as $160,000 or more with additional bonuses, commissions and other company benefits. 
Finding the Right MBA in Marketing Job
While it is true that networking and connecting with the right people may lead to your dream MBA in marketing job, earning a business degree from a respected university is just as crucial. The Walsh University Online MBA in Marketing offers a specialization in marketing that includes coursework to develop and strengthen your business and management skills. Find out how Walsh can prepare you for the challenges of creating and leading a successful marketing department of any size.
Recommended Readings
Sources: