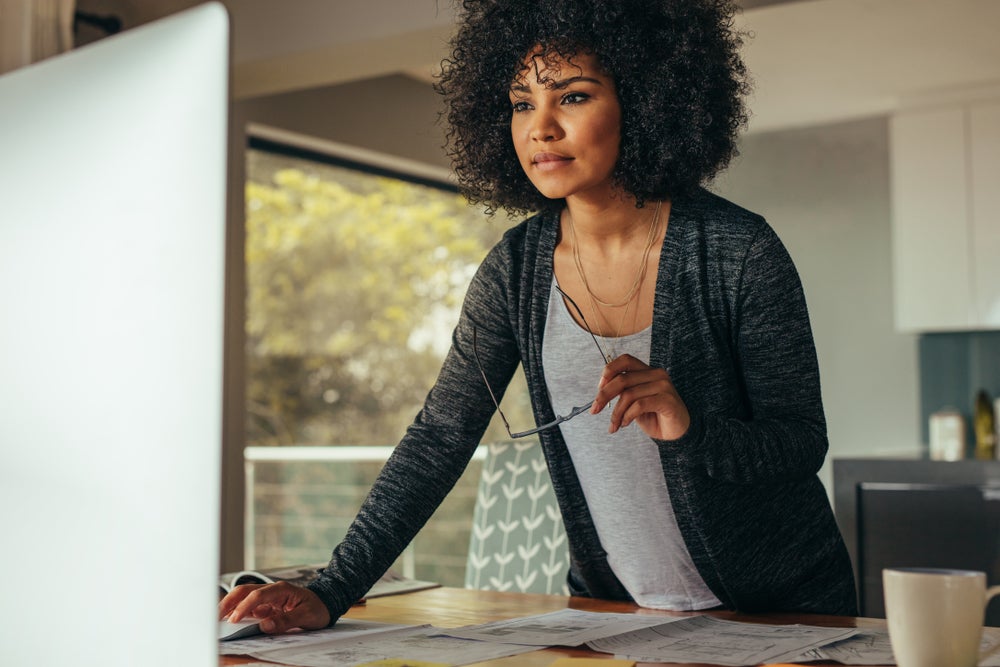 Networking Best Practices: 10 Ways to Improve Business Connections
The term networking can elicit images of awkward small talk as you imagine strangers with name tags mingling in a conference room. The truth is, once you adopt networking best practices, networking goes from uncomfortable to engaging. 
The art of networking is one of the biggest secrets to landing your dream job. When executed correctly, networking opens the door for new opportunities, garners support from high-profile business professionals and helps you develop long-lasting relationships.  
Many online MBA graduates from Walsh University build connections with expert faculty and fellow students from diverse professional backgrounds but they want to continue developing connections by using networking best practices in a real-world setting. Follow Walsh University's networking best practices guide to boost your confidence and master the art of networking.
Why is Networking Important?
In the digital era, professionals question if traditional networking is worthwhile. Networking face-to-face continues to be important for building connections and generating opportunities. The following networking statistics support the success rate of networking best practices:
85% of positions are filled through networking
95% of professionals consider in-person communication essential for sustainable business relationships
70% of people landed a job by creating connections in a company
Companies earn $12.50 for every dollar invested in networking face-to-face
The close rate for face-to-face meetings is 40%
Networking Best Practices: The Basics
Now that you understand the importance of networking, it's time to learn the basics of networking best practices that will elevate your interactions and help you form meaningful business relationships. 
Be Prepared
Arriving at a networking event - whether in person or virtual - with a game plan can alleviate stress and increase the likelihood that you will have a productive experience. There are numerous ways you can prepare for networking.
Find out who is attending. If possible, determine who will be attending the event, their job title, their career history and who you are interested in connecting with.
Conduct background research. Once you determine who you want to connect with, review their LinkedIn profile or a professional website to learn more about their business and role.
Ideate conversation starters in advance. Use the information you have collected to ideate relevant questions that relate to their area of interest.
Networking best practices tip: do not go into excessive detail with your investigation. Professionals will be more uncomfortable than impressed if you open a conversation about their personal details. Use research to prepare relevant questions without going overboard.  
Be Curious
The most interesting person in the room is the most interested person in the room. Dale Carnegie, the author of How to Win Friends & Influence People, said, "You can make more friends in two months by becoming interested in other people than you can in two years by trying to get other people interested in you."
The secret ingredient to networking best practices is curiosity, the strong desire to learn. Shifting from a self-centered mindset that says "What can I get?" to a curious mindset that says "What can I learn?" alleviates social pressure. Go into a networking event to ask the best questions.
Learn to Listen
Professionals concern themselves with learning how to talk and forget about the importance of learning how to listen. CEO and Coach Naz Beheshti talked about the importance of active listening and deep listening in the Forbes' article "Reclaim The Lost Art Of Deep Listening."
Active listening: During active listening the listener is present, focused, maintains eye contact and resists the urge to formulate a response while the person is talking.
Deep listening: During deep listening the listener is active listening with a deeper intention to better understand the person speaking without judgment and connect on a deeper level.
Walk into your next networking event with the objective to better understand your peers through active and deep listening and observe the immediate shift in your level of anxiety and overall enjoyment of engaging in conversations.
Networking Best Practices: How to Prepare for Networking 
With the basics of networking best practices in mind, start preparing for your next networking event with four essential steps.
1. Map Your Career Goals
What do you want to achieve in the next three to five years? Ask yourself who you know and who you need to meet to help you reach that goal. Career goals evolve and can be broken up into micro and macro goals. Your micro goals refer to what you want to accomplish in the short-term (e.g. in six months you want to be promoted) and your macro goals focus on long-term outcomes (e.g. in five years you want to be a leader in the company.) 

Write down your micro and macro goals, actionable steps that must be taken, and connections that can help foster these action items. Gaining clarity around personal goals will help you determine which networking events are the most valuable for your growth.
2. Find Networking Events
How do you find the right networking event for you? Schools such as Walsh University organize Speed Networking Events and alumni meet-ups that encourage students and graduates to connect face-to-face. If you're not sure where to start, familiarize yourself with the different types of networking events:
Career Fairs
College Alumni Programs
College Career Networking Events
Community Service Groups
Diversity Groups
Professional Conferences
If you're a recent graduate seeking like-minded peers, opt for an alumni event or if you're a data analyst seeking job opportunities, seek out a data and technology conference. Selecting the right event is the first step to building meaningful professional connections.
3. Bring Business Cards
Are business cards dead? A LinkedIn connection and a follow-up email are effective ways to stay in touch after an event has ended, but a traditional business card continues to hold importance in networking best practices. Business cards support the following:
Branding: Whether you're an independent contractor or a leader at a company, business cards support branding. A logo, color scheme and font connect you to a physical business and build your personal and professional brand.
Professionalism: Coming to a networking event prepared with business cards demonstrates a level of professionalism that is admired and noticed.
Personalization: Create a business card that stands out among the crowd. Business cards are an opportunity to be remembered.
Bridge to Digital: Business cards are a tangible tool connecting you to the digital world. You can list your contact information as well as your social media links to encourage further connection after a networking event.
4. Write Your Value Proposition 
Career coaches and business articles stress the importance of composing an "elevator pitch" before entering an event. An elevator pitch refers to a brief sales pitch that outlines your product, service or project that could be delivered in the 60 seconds of an elevator ride. 
Forget the sales pitch and prepare a value proposition. A value proposition explains how a product or service fills a need, communicates a benefit and adds value to the lives of others. When writing a value proposition about yourself, ask the questions:
How do I provide value to a company?
What in-demand skills do I possess that benefit others?
How can I help?
Instead of walking into a networking event wondering what you can get out of it, focus on what you can offer to the people and companies present and make a list.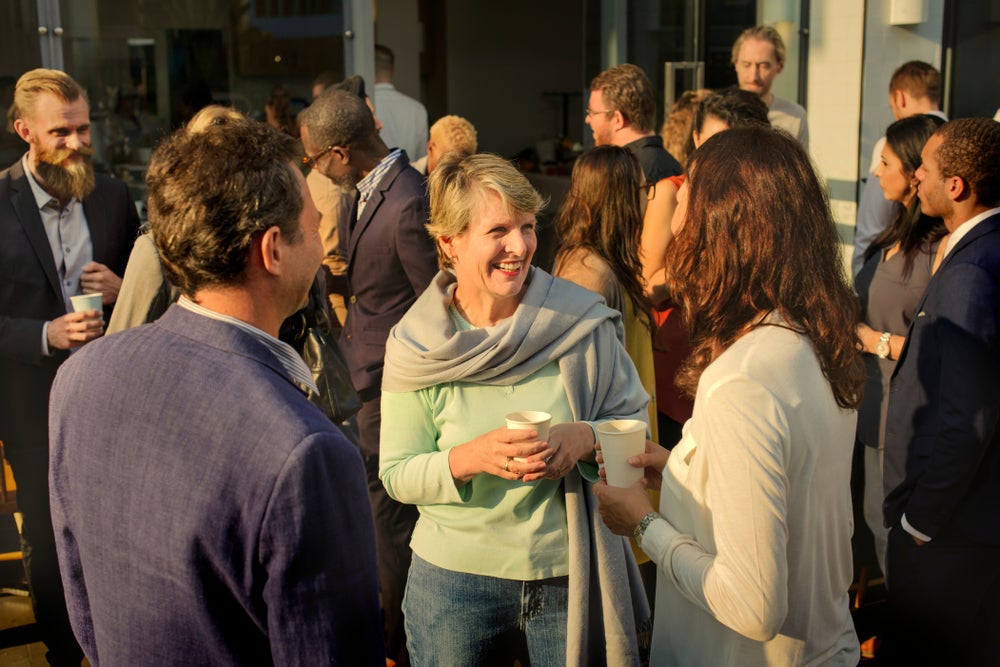 Networking Best Practices: How to Network 
You stayed up late mapping out your career goals, researching events and attendees, printing business cards and writing down your value proposition. Now it's time to apply the networking best practices in the heat of the moment.
5. Approach Business Contacts 
The most intimidating moment in a networking interaction is having the courage to start a conversation. Arrive early to the networking event to start building connections quickly. It's more intimidating to walk into a loud, busy event late and join a conversation than be the first to jump in. 
Keep it simple. Look for people that are alone, such as people leaving the bar or entering the event and greet them with a handshake and a simple introduction. Alleviate the pressure by asking them an engaging question to kick off the conversation. 
6. Ask Creative Questions
It's okay to engage in small talk but be prepared with creative questions to bypass surface-level conversation, learn more about people and stand out as a memorable conversation. American Journalist and author Elizabeth Gilbert said in her book "Big Magic: Creative Living Beyond Fear" that she started asking people, "What are you most excited about in your life right now?" 
Gilbert noticed that this question cuts through typical small talk and pinpoints what people are passionate about. Opening with this question allows people to talk about what they love and creates room for engaging follow-up questions.  
7. Watch Your Body Language
Body language impacts your business communication and you may not even know it. Body language includes hand gestures, level of attentiveness, handshake, smile and other non-verbal cues. Body language accounts for more than 50 percent of communication and is an essential part of networking best practices. There are several different ways to optimize your body language for better networking:
Refrain from checking your phone during conversations.
Show attentiveness by turning your body toward the speaker, maintaining eye contact, and nodding when you're validating a point the speaker has made.
Use hand gestures while you speak to capture attention and support your story.
Open and close conversations with a firm handshake to create physical connection and foster trust.
Smile naturally and avoid animating your expression with a forced laugh or smile.
8. Be Authentic
Authenticity is a valuable quality for building meaningful connections. The Forbes' article "Get Real: Three Reasons To Make Authenticity One Of Your Core Values" says, "authenticity is the premise of being genuine, living and leading in your truest form, communicating openly and stripping down layers to build strong, trusting foundations." The article reports that authenticity builds trust, creates loyalty, and boosts performance at work.
Networking best practices involves embracing authenticity by doing the following:
Engage in honest conversations. Try to avoid exaggerating or inflating your accomplishments to gain attention and talk to people authentically about where you are in your career.
Don't be afraid to discuss your struggles. When you talk to people about the challenges you have faced professionally you allow others to share their honest experiences.
Try the 70/30 rule. Talk about 70 percent work-related topics and 30 percent personal topics. Discussing family, sports, entertainment, travel and other personal topics allows you to get to know people in their truest form. 
 
Networking Best Practices: How to Maintain Networking Connections
You made it through the networking event and it's time to ensure your hard work leads to long-lasting relationships. The introduction of business networking sites and online platforms makes staying in touch easier than ever. There are several networking best practices you can use to maintain networking connections. 
9. Follow-up
The best way to initiate the perfect follow-up is by asking a professional how they prefer to be contacted while at the networking event. If a professional prefers a phone call, ask them what time of day works best to ensure you're respecting their schedule.
In a follow-up phone call or email, provide context about where you met, who you are and what you talked about. Use the follow-up to fulfill a particular purpose. For example, if you discussed a business project, ask the connection additional questions about this topic. A follow-up should be intentional, even if the goal is simply adding them to your contact list.
10. Build Mutually Beneficial Relationships
Business relationships should always be give-and-take. Many of the great business leaders that we admire have a mentor or coach and research shows that professionals with a mentor, "'were promoted five times more often than those not in the program; and retention rates were much higher for mentees (72%) ...than for employees who did not participate in the mentoring program (49%)."
Mentorship is valuable for the mentee, but how can you ensure the relationships are mutually beneficial? If you form a helpful business connection, you can give back in numerous ways:
Trade services: Use your skills and expertise to help your business connection with tasks.
Leverage your network: Introduce your connection to relevant people that could support their career goals.
Create joint ventures: Start a project with your connection based on a common goal or interest you share.
Write them a letter: Writing a thank you letter is a small gesture that communicates gratitude and appreciation for your mentor or business connection's impact. 
Stay in touch: Whether your mentor-mentee relationship comes to a close or you finish a project with a business connection, it's important to check in periodically and stay in touch.
 
Networking Best Practices: Join Walsh University's Alumni
One of the premier places to apply networking best practices with like-minded business professionals is in a revered MBA program. Walsh University offers one of the strongest online MBA programs available. Walsh University attracts passionate students from around the world by offering the following:
Four concentrations for MBA study, including specializations in the fields of Management, Healthcare Management, Marketing and Data Analytics
Complete coursework 100 percent online 
Incredible faculty who are experts in their field and committed to student success
Small classes with peers from diverse professional backgrounds 
No GMAT or GRE required for admission
Impressive accolades including the designation as a Top Online MBA Degree program by Intelligent.com in 2021 and ranking within the Top 50 Midwest Regional Universities by U.S. News and World Report for 2021.

Walsh Career Support 
Walsh's Career Readiness and Development Center has a strong focus on networking best practices. It provides a springboard into various career opportunities, connecting students/alumni with prospective employers and equipping them with professional competencies. Students can explore possible career paths and receive guidance in the articulation of their skills and experiences. 
Students are provided with Walsh's essential "Handshake" tool, used by over 200,000 employers. This career development platform for students and graduates enables them to register for events, book appointments with a career coach, and discover and apply for jobs and internships in all fields. 
Walsh University is driven by the success of its students and teaches students how to use networking best practices to succeed academically and professionally. Join a community of expert faculty and worldwide alumni to launch your career in business and create life-long business relationships. 
Step into a leadership role in business with an online MBA degree from Walsh University.