Unlock Your Full Potential
You want to succeed in your career at the management or executive level and you're ready to take the next step. With Walsh's flexible, 100% online MBA program, you'll study the current demands of our global economy and the future of business, all while continuing in your full-time career. Enjoy exceptional support through a small cohort and personal business coach to help you become a well-rounded business professional. Identify your leadership style and learn to work with a diverse team of professionals.
Cultivate a practical managerial skill set and leadership competencies to lead strategically and ethically
Build on existing knowledge with experiential learning in a convenient, 100% online platform
Learn operational and technical skills and receive leadership certification/designation on your transcript
Refine four core skills of critical thinking, situational agility, effective communication and conflict resolution
Online MBA Fast Facts
Ultimate flexibility, take classes at a pace and time that works for you
Ideal for business and non-business majors
100% online
36 credit hours
Complete in as little as 1 year
Take up to two eight-week courses per term
Six intakes per year
Be paired up with an industry mentor and earn a leadership certification with your degree
Application Deadline: October 16
Classes Start: October 23, 2023
Admissions Requirements
No GMAT or GRE required
Bachelor's degree from an accredited college or university
Official transcripts from all academic institutions attended
Current resume
No application fee
Specializations
Choose from four specializations – Data Analytics, Healthcare Management, Management or Marketing and establish yourself as a subject matter expert in the field.
MBA 621 – Sustainable Ethical Leadership
In this course, students examine current thinking about leadership and ethical decision making in a modern business environment on an individual, organizational and global level. The emphasis in this course is on developing a better understanding of oneself, one's role as a member of a learning community and the dynamics involved to bring about sustainable, desired change. Cases and presentations will be used to provide a better understanding of concepts and principles that determine managerial ethics in real-life situations, as well as the application of moral theory to decision making in leadership. Cross listed as MBA 521 for BA/MBA students.
MBA 622 – Organ Behavior & Communication
In this course, students examine essential management, organizational behavior and communication theories. Topics include motivation, conflict management and resolution, groups and teams, and communication. This course is designed to explore how these elements impact the practical application of behavioral science theories with respect to solving complex management problems in a diverse, global environment.
MBA 623 – Financial Accounting & Management
This course examines the practices required to effectively manage an organization's financial resources. It explores financial analysis and budgeting techniques with an orientation towards development, analysis, and interpretation of historical, present, and projected performance measures. This course will explore a firm's financing strategies and its access to a variety of capital sources, a firm's optimal capital structure, and effective resource allocation and investment strategies. The specific topics include financial statement analysis, pro forma analysis, operating budgets, capital budgeting, insourcing and outsourcing, capital structure, and cost of capital.
Hear From Our Students
Selecting a university for your MBA education is a big decision. We encourage you to read through our brochure, give us a call, and check out our testimonials from business professionals like you who have studied in our online MBA program.
"I feel Walsh has prepared me for my career by making me take a step back and really think about things and organization as the whole, rather than just the pieces and parts. Here, everyone is engaged and wants you to be successful." 
–Jon Bishop, MBA student
This course explores the applications of marketing theories and concepts used throughout various types of organizations, including manufacturing, service, nonprofit, and government entities. Topics include marketing strategy and planning, market segmentation, consumer behavior, branding, product and service development, and international marketing.
Meet Christian, Walsh Online MBA Student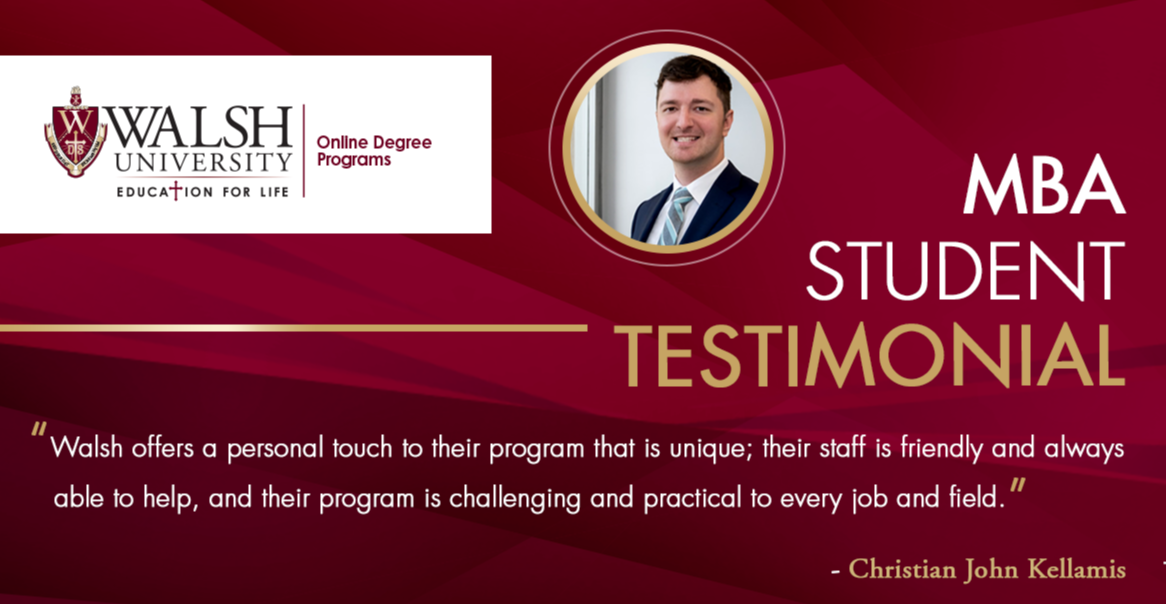 MBA 719 – Strategic Management
In this capstone course, students focus on the perspective and skills of the general manager. The purpose of this course is to provide practice in diagnosing and identifying realistic solutions to complex strategic and organizational problems. The course builds on the previous coursework by providing an opportunity to integrate various functional areas and by providing a total business perspective. Topics include an overview of strategic management, the process of choosing and defining purposes and objectives, identifying internal and external environmental factors relevant to strategic management, formulating and implementing a viable strategy and monitoring strategic performance. The course focuses on relationships among the firm, its strategy and its environment; why firms choose certain businesses, which business strategies are successful, and how firms can change in response to a dynamic environment.