Nursing Programs
My name is Moira DeWalt. I'm currently a family nurse practitioner student. This is my third semester. I work in the office as a graduate assistant and I'm an RN at Akron Children's Hospital. At this time, I decided to pursue my degree just to be on the edge of what's happening with healthcare.
There are several options right now for family nurse practitioners wanting to enter to the program. You can do part-time, a Fall start or a Spring start, or full time. I chose the full-time option and that's 27 months. The program is very accommodating for people who are working and people who have families because it's a hybrid program, and the majority of the coursework is online.
When I graduate, I hope to be in a holistic atmosphere somewhere trying to combine medicine and naturopathy in one. One thing that's big for FNPs is they will find your preceptors. We're in an area that's flooded with nursing schools and that is a tremendous help and a huge relief, especially when you'll have many other responsibilities in the program. I would encourage students to choose Walsh. I explored lots of different schools before I made my choice and the length of program, the cost of program, and the setup of the program is unmatched in the current area.
– Moira DeWalt
MSN - FNP
Business Programs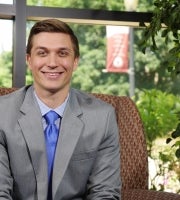 My name is Jon Bishop and I'm in the Masters of Business Administration program focusing in Management. I decided to pursue my MBA to further my career and also meet the credit hour requirements for the CPA exam.
Well, the MBA at Walsh has a great work life balance — they focus on that a lot — and all the classes are from 6pm to like 10, one day a week, and then an occasional Saturday. So, it really doesn't conflict with a normal nine-to-five work schedule and you can also take classes online, which is nice, too.
Currently, I'm a financial analyst at Aultman Hospital in the Corporate Finance department. I have always been in Accounting or Finance since I got my undergrad and the MBA helped me focus on those finance rules and look at it from a higher perspective, rather than just a knee-deep in Accounting.
I feel Walsh has prepared me for my career by making me take a step back and really think about things and organization as the whole, rather than just the pieces and parts. Here, everyone is engaged and wants you to be successful. They help you schedule your classes. They help you if you have a question on homework and things of that nature, rather than just giving you a grade and pushing you on to the next course.
The program has been great. The online courses are engaging. The in-class courses are even better because you get to talk with the teachers and they bring their real-life experience to the table as well. If I had to share anything with the students who are thinking about taking an MBA, it's always great to learn and gain more knowledge. You will be able to get the three letters on your resume and get a higher salary from that, but you really do gain experience that will help you propel yourself in whatever your career is, especially if you get to management or executive roles.
– Jon Bishop
MBA Student