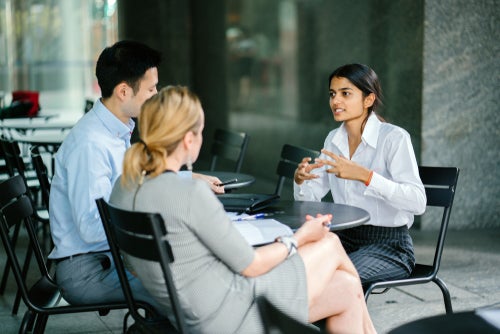 What Questions to Ask MBA Admissions Officers
Walsh University's online Master of Business Administration (MBA) degree is structured to help future leaders of the business world develop their abilities and build upon their past professional experiences to emerge as highly skilled experts in their area of specialty. The Walsh University experience is all about preparation, and for the exceptional MBA student, that preparation begins before he or she even begins their graduate program. This article is designed for those currently considering MBA programs and wondering what types of questions to ask of MBA admissions officers.
Questions About Culture
One of the best questions you can ask of an MBA admissions counselor is how he or she would describe the community or culture of a given program. This question is valuable because the response can illustrate whether the academic environment is collegial and fosters collaboration or is competitive and spurs rivalry. Some students thrive through collaboration and others through competition, so this response can give you a sense of whether or not the culture of that program will complement or clash with your own personal desires for a learning environment.
Questions About Fit
It can also be beneficial to inquire about how well your own career aspirations align with the program. Admissions officers should have a good sense of your academic profile, including your grade point average, your test scores, your past professional opportunities as well as your ultimate career goals. They should be able to give you a sense of whether you would truly shine in their program. If, for example, you want to pursue a career in financial management but the program you are considering offers no specialization in accounting, then perhaps you should consider a different option. Applicants can also approach this line of inquiry from the perspective of a model student in the program. You could ask, for example, about the characteristics or prior work experience of successful students. This will help you gain insights into whether you may fit that same mold.
Questions About the Program
Prospective MBA students should also ask admissions officers about the dynamism and progressiveness of the program itself. Inquiries regarding the development of new courses or novel specialty tracks can give you a sense as to whether that program is thriving and working to stay on the cutting edge of MBA education. You can also ask the MBA admissions officer to highlight the unique features of their program or ask them to differentiate it from closely related programs. Finally, you can also ask how the program sets standards for student success and what types of support it can provide for its enrollees.
Questions About the Future
Beyond admission into a program, you can also ask MBA admissions counselors about the career paths of program graduates. Responses to this question can help you gain a sense of the competitiveness of graduates on the market, and it can also offer further insights as to whether the program is offering you the best preparation for your dream job. Depending on how the admissions counselor responds, you could also ask for the opportunity to reach out to specific alumni to have a conversation with them about the program.
Find the Right Answers at  Walsh University
Selecting an MBA program demands research and preparation. Part of that preparation comes from asking MBA admissions officers the right questions, and those who inquire about Walsh University are often satisfied with the answers. A versatile and flexible program designed for the modern professional, Walsh University's online MBA program encourages collaborative learning between students and faculty to make graduates competitive in the business world. The curriculum encourages students to stay ahead of industry trends not only by setting high expectations for its enrollees but also by consistently undergoing evaluation to ensure it is providing students the best tools for success in three areas of specialization. Thanks to this combination of stellar attributes, Walsh University's online MBA program has been showered with accolades, including making U.S. News and World Report's 2017 list of Best Online Programs. Walsh University's MBA admissions officers are ready and waiting for your questions, so now is the time to start preparing for your future as a leader in the business world.
Sources:
Ilana Kowarski, "8 Questions to Ask on a Business School Visit." US News and World Report, 10 July 2017. Accessed 3 July 2018 from:
https://www.usnews.com/education/best-graduate-schools/top-business-schools/articles/2017-07-10/8-questions-to-ask-on-a-business-school-campus-visit#close-modal
Catherine Rice, "7 smart questions you should ask in a business school interview." Business Insider, 1 March 2017. Accessed 3 July 2018 from: http://www.businessinsider.com/smart-questions-business-school-interview-2017-2?IR=T