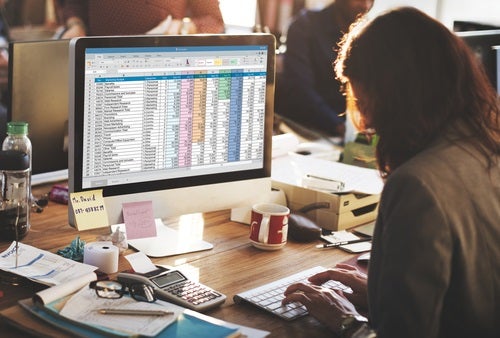 What Jobs Can I Earn Based on My MBA Concentration?
The Walsh University MBA program has three unique concentrations: Management, Marketing, and Healthcare Management. Each concentration opens doors to a variety of potential career paths. It is possible to earn your MBA degree in one of these fields in as little as a year. Complete the program, develop your skills, and you will enjoy the competitive advantage you have been looking for when it comes to securing lucrative employment.
Opportunities for Online Management MBA Graduates
An MBA in the Business Management concentration bridges theory to practice. This course of study gives you the knowledge you need to become an effective leader. Pursue this academic path and you will refine your leadership skills, improve your analytical abilities, and understand how to spearhead activities and new paths for your employer.
Walsh University Management MBA graduates find work in varying capacities. Some Online Management MBA graduates have found employment as Administrative Services Managers. These professionals earn a median salary of slightly more than $90,000 per year. They handle responsibilities ranging from record-keeping to employee supervision, managing facility operations, office upkeep and service coordination. Some Management graduates obtain employment as executives.
Top executives earn a median annual salary of just under $104,000 per year. They develop nuanced strategies to help their organization meet lofty goals. These professionals develop company-wide policies, delegate work to others, plan operational activities and work closely with fellow executives.
Another potential career path is as Operations Manager. This professional coordinates and directs the operations of an organization in the public or private sector. They develop policies, manage day-to-day operations and oversee employees. Operations Managers earn a mean annual wage of $122,090.
Where an Online Marketing MBA Can Take You
Those who take the Marketing route often find employment as Marketing Managers. They determine the demand for services and products, pinpoint target customers, define customer personas and coordinate marketing efforts. These professionals earn a mean annual wage of more than $144,000. Others who specialize in Marketing obtain employment as Market Research Analysts. The median pay for these professionals is more than $62,000 per year. Market Research Analysts analyze market conditions to predict the success or failure of certain products and services.
An online Marketing MBA often leads to employment as a Sales Manager. These professionals took home a median annual pay of more than $117,000 in 2016. They are responsible for the management of sales teams. Sales Managers also establish goals, study data trends and create sales training programs.
An Online Healthcare Management MBA Paves Your Professional Path
Our MBA Healthcare Management concentration arms students with extensive business knowledge and provides an in-depth understanding of the healthcare field's unique dynamics. Graduates obtain leadership positions in healthcare organizations of all types. Select Healthcare Management as your specialization, and you might find employment as a Medical/Health Services Manager. These professionals command an annual salary of around $110,000 per year. They direct, plan and implement health and medical services. Some medical and health services managers work for hospitals, while others work for public health agencies, managed care organizations and clinics.
Some Healthcare Management graduates work in executive positions. The median yearly salary of an executive is more than $104,000 per year. These professionals craft complex business strategies, spearhead new initiatives and manage teams of employees.
If you earn your online Healthcare Management MBA, it is possible to eventually secure employment as a Chief Executive Officer of a hospital, HMO or other health services organization. CEOs earn an annual median wage of more than $194,000 per year. These professionals create and implement overarching policies that dictate the direction of the organization. They operate at the highest level of management and delegate important duties in a highly strategic manner to executives, managers and others within the organization.