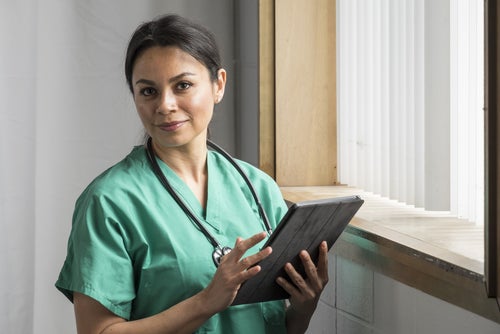 What Are Nursing Clinicals? Benefits and What to Expect
Whether in the process of obtaining a nursing diploma, a Bachelor of Science in Nursing or a Master of Science in Nursing — Family Nurse Practitioner degree, students participate in clinicals. Despite their excitement for their future career, students new to health care may feel intimidated by the idea. 
It can be helpful to take a step back and consider what nursing clinicals are, as well as their benefits. Participating in clinicals means applying the knowledge that's learned in your courses to your own practice as a student nurse or student nurse practitioner. Nursing clinicals are a big deal and can be highly beneficial to your nursing education. 
What Are Clinicals in Nursing? 
Formal, academic settings play a significant role in helping aspiring nurses develop their medical and anatomical knowledge, while also cultivating greater understanding of nursing ethics and patient care practices. However, nurses cannot learn everything they need to know in a classroom — which is where nursing clinicals come into play. 
Clinicals in nursing are what students do to gain hands-on experience and learn how to apply their classroom knowledge to real-world patient care. Clinicals also present students with a variety of nursing situations, allowing them to experience a breadth of different nursing specialties.
In clinicals, nursing students work with actual patients under the supervision of licensed nurse educators. During their clinicals, students can expect to participate in activities such as:
Preparing patient rooms
Screening patients for signs of health abnormalities
Administering an IV
Administering medication
Setting up a catheter
Taking diagnostics, including blood pressure
Collecting patient symptoms and health histories
How to Prepare for Nursing School Clinicals 
As a family nurse practitioner student, clinical experience can involve a diverse array of responsibilities and tasks. At Walsh University, students begin their clinicals with standardized patients in a simulation lab. You'll begin by introducing yourself to the patient and then perform a head-to-toe history and physical. Experienced physician graders will be present to provide feedback on your assessment and interaction with the patient. The standardized patients will also provide valuable feedback to help you improve your nurse-patient interaction and prepare you to one day practice independently as a nurse practitioner.
After participating in the patient simulation, you will begin clinical orientation. You'll discuss clinical expectations with your preceptor, a nurse practitioner who supervises and guides your clinicals, and your faculty members.
Once you've participated in clinical orientation, you're prepared to begin clinicals with your preceptor. You'll see patients with the guidance of your preceptor, performing history and physicals and learning about diagnosing, treating and educating patients. You'll have to complete a certain number of hours of clinicals each semester with your preceptor and will be responsible for maintaining clinical logs and keeping track of your time in clinicals.
The Benefits of Nursing Clinicals
It's crucial to understand what nursing clinicals are and how they affect your nursing education. There are a number of practical advantages to participating in nursing clinicals. 
Bridging the Theory-Practice Gap
Clinicals serve several purposes. Students gain hands-on experience assessing patients in an environment where they are guided and supported by their preceptor. Gradually, students will begin to feel more comfortable in their new role as future nurse practitioners. The experience and knowledge students gain from participating in clinicals help enhance their professional and clinical decisions. Clinicals help students navigate the theory-practice gap and apply their knowledge to their practice.
Nursing Clinicals Ease Role Adjustment
Graduate students also benefit from clinicals by seeing firsthand how nurse practitioners function as part of the interdisciplinary team. Becoming a nurse practitioner is quite the change from being a registered nurse, and it can be a tricky adjustment when learning how to function in your new role. It's important for students to understand how to collaborate with other members of the care team, which may include physicians, nurses, pharmacists and therapists of various types.
Gain Experience with Different Patient Populations
Another benefit of clinicals is that students obtain experience with different patient populations. Nurse practitioner students do clinicals with preceptors in different specialties, including pediatrics and adult care. It's important to feel comfortable with patients of all ages, especially as a family nurse practitioner.
How to Become a Family Nurse Practitioner
Becoming a family nurse practitioner is a career goal of many registered nurses. With Walsh University's online MSN-FNP program, it's even more attainable. WUO's flexible, affordable program allows students to take courses at their own pace. Students can graduate with their Master of Science in Nursing in as little as 2 years while continuing to work, and our dedicated one-on-one student support team will be there to guide you each step of the way.
Look Forward to Your Nursing Clinicals with an MSN-FNP Degree from Walsh
Clinicals can be invaluable opportunities to hone real-world nursing skills, while also making it easier to transition to a nurse practitioner role. To properly prepare for clinicals, effective classroom education is essential. Consider programs like the MSN-FNP degree program from Walsh University, which offers exposure to a breadth of advanced nursing skills. Find out how Walsh's dedicated faculty can prepare you for a career as a family nurse practitioner.
Recommended Readings: 
Sources: