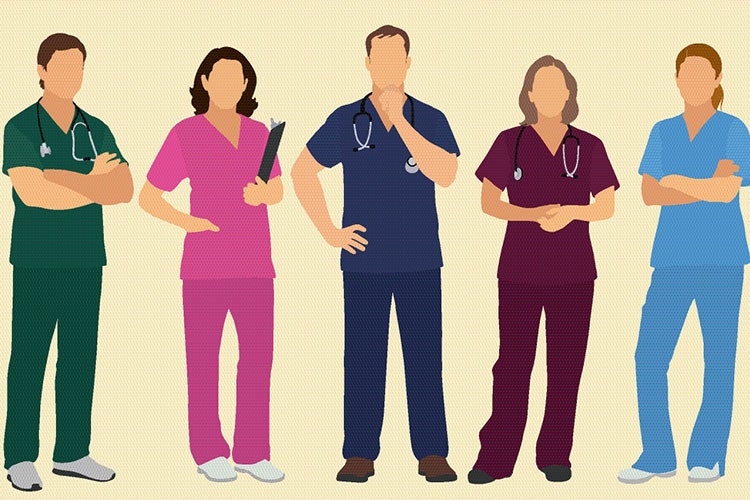 Transitioning to the Nurse Practitioner Role
Every year, thousands of nurses make the transition from registered nurse to nurse practitioner. Like any change, shifting career paths can be both rewarding and challenging. But knowing what to expect will make your transition more comfortable.
Read on if you are ready to advance your career from RN to NP. This blog will help you learn the benefits of switching from RN to NP, the challenges your new role may bring and ways to prepare for a successful transition.
What is a Nurse Practitioner?
Nurse practitioners are advanced practice registered nurses (APRNs) who provide comprehensive primary, acute and specialty health care services. They guide patients towards healthier lives through health promotion, disease prevention and health education and counseling.
Nurse practitioners hold a minimum of a master's degree in nursing focused on at least one patient population. They are licensed as an NP in the state where they practice and hold at least one national certification such as:
Family Nurse Practitioner
Adult-Gerontology Primary Care Nurse Practitioner
Emergency Nurse Practitioner
Psychiatric/Mental Health Nurse Practitioner
Women's Health Nurse Practitioner
The steps for becoming a nurse practitioner depend on your educational background. For RNs with a Bachelor of Science in Nursing (BSN), the transition from RN to NP takes approximately two to four years.
Read more about how to become a family nurse practitioner.

Why Transition from RN to NP?
Nurse practitioner is one of the most sought-after jobs in the country. U.S. News and World Report ranked nurse practitioner as the #2 job overall, the #1 best health care job, and the #2 best job in science, technology, engineering and math (STEM).
Nurses transition from RN to NP for many reasons. Some of the benefits of a nurse practitioner career are the bright career outlook, job autonomy, flexibility and high earning potential.
Bright Career Outlook
When you move from RN to NP, you'll find that job opportunities are plentiful.
Between 2020 and 2030, the U.S. Bureau of Labor Statistics projects that nurse practitioner employment will grow by 52%. That pace is almost six times faster than that of RNs.
Several factors are increasing the demand for nurse practitioners. Two examples are the growing population of aging adults and the looming shortage of primary and specialty care physicians. Circumstances such as these are putting pressure on the U.S. health care system.
By transitioning from RN to NP, you will play a vital role in helping to meet the health care needs of all Americans.
Job Autonomy and Flexibility
Advancing from RN to NP will also provide you with more job autonomy and flexibility. Nurse practitioners have the advanced nursing knowledge and skills to work independently in various settings.
Twenty-five states grant nurse practitioners full practice authority. That means the state laws and regulations allow nurse practitioners to practice without physician oversight and even run a clinical practice. In other states, nurse practitioners practice in partnership with or under the supervision of another health care provider.
No matter where you choose to practice, you will also have a broader range of clinical duties. Nurses who transition from RN to NP can diagnose patients, initiate and manage treatments and prescribe medications.
Your nurse practitioner career may also come with more flexibility to work traditional hours, depending on your area of practice. Many RNs work in acute care settings with shifts around the clock. On the other hand, nurse practitioners are more likely to practice in ambulatory care centers with traditional working hours, such as hospital outpatient clinics and private practices.
High Earning Potential
As a nurse practitioner, you can expect to earn a higher income than an RN.
The average salary for nurse practitioners nationwide is $114,510. That figure is over $34,000 higher than the average salary for RNs ($80,010).
Higher earning potential along with excellent job prospects, independence and flexibility will make your transition from RN to NP a rewarding choice.

What Challenges Do New Nurse Practitioners Face?
Advancing from RN to NP is a big change.
Some first-year nurse practitioners may face challenges to their confidence as they transition to their new role and apply their clinical and leadership competence. Feelings of anxiety, stress and apprehension are not uncommon among new nurse practitioners.
But there's a bright side to the trials you may encounter. They will give you valuable opportunities to grow both personally and professionally. As you receive support from colleagues and gain experience in your new role, you will evolve into a confident nurse practitioner.
Challenge #1: Shift from Expert to Novice
One challenge for new nurse practitioners is the shift from experienced RN to novice NP.
As a seasoned RN, you know your role, duties and expectations. But as a first-year nurse practitioner, you will need to develop an entirely new understanding.
You may find your newfound autonomy and advanced practice equal parts thrilling and discouraging.
Challenge #2: Perceptions of Readiness
Another potential challenge in your RN to NP transition might be your perception of your clinical readiness. 
Moving from staff nurse to nurse practitioner responsibilities is a leap. RNs implement directives and management plans, but nurse practitioners are responsible for devising and prescribing the plan of care.
For example, you might have performed diagnostic tests as an RN. But as a nurse practitioner, you might also order tests and interpret them.
This jump in duties can lead to feelings of insecurity and incompetence.
Challenge #3: Interprofessional Relationships
Developing interprofessional relationships may be another challenge in your transition from RN to NP.
Some health care providers lack knowledge about the nurse practitioner role. This can cause role confusion, conflict and hinder your collaboration with colleagues.
Sometimes, new nurse practitioners practice in the same unit where they worked as RNs. Giving directives to former colleagues can feel uncomfortable.
How to Ease the Transition from RN to NP?
Now that you know some of the challenges you may face, you can prepare for them. The following steps will ease your transition from RN to NP by helping you build confidence in your practice and independence.

Find a Mentor
It's challenging to navigate the ups and downs of a new career alone. Receiving advice, guidance and emotional support from an experienced nurse practitioner mentor will enhance your transition from RN to NP.
Here are a few ways to find a mentor:
Workplace Program: Some employers offer formal mentoring programs. These are ideal because your mentor will be familiar with your specific role and workplace expectations.
Professional Network: If a workplace mentoring program isn't available to you, consider your professional network. Your past employers, colleagues, professors and preceptors will make effective mentors because they already know your background and strengths.
Nursing Organizations: Mentoring programs and career guidance are offered by state, local and national nursing organizations. For example, the Fellows of the American Association of Nurse Practitioners connects experienced and novice nurse practitioners across the country. The American Nurses Association Mentorship Program offers a similar program but virtually. You can also find a mentor by tapping into your alumni network.
Know the Expectations
You can also ease your transition from RN to NP by knowing your employer's expectations of you.
You will likely receive a formal orientation when you start your nurse practitioner job. But it's important to fully understand your role before you begin in order to avoid potential confusion and feel more confident as a new nurse practitioner.
Before accepting a job offer, ask the employer about the following:
Job Duties & Schedule: Obtain a copy of your official job description, and find out your job responsibilities, patient load and malpractice insurance coverage. Also ask about the work hours - how much time is available for completing administrative tasks? What are the on-call expectations and schedules?
Practice Expectations: According to the American Association of Nurse Practitioners (AANP), nurse practitioners should inquire about their employer's practice expectations. Ask whether you can practice to the full scope of your training and any practice barriers more stringent than state law.
Performance Evaluation: Learn about the performance evaluation process in your workplace and role so that you know how and when your performance will be measured.
Standards of Care: If your employer has Standards of Care, be sure to study them to learn the expected standards for specific patients, illnesses and clinical scenarios. 
Team Structure: How does your role fit with that of your colleagues? To avoid role confusion, determine the management structure and the duties assigned to other providers.
Build Strong Relationships
Evidence shows that collaboration improves patient outcomes. So developing positive and productive relationships with your colleagues will be key to your successful RN to NP transition.
To improve your collaboration, follow these tips from Working Nurse: 
Be Self-Aware: Collaboration with your colleagues starts with you. Knowing what triggers you to escalate or avoid conflict will help you manage disagreements more effectively and work better with others.
Promote Knowledge-Sharing: When people feel heard, they are more effective at their jobs. You can encourage collaboration by inviting questions, differing opinions and active listening.
Use Conflict Management: Every workplace has conflict, so it is key to know how to manage it. Find out how your employer handles conflict management and apply what you learned in your nurse practitioner program to handle conflicts professionally.
How Walsh University Supports Nurses Transitioning from RN to NP
Every nurses' journey from RN to NP looks different. As a Walsh University student, you will develop the skills, mindset and credentials necessary to lead the way as a nurse practitioner.
Walsh's accredited online Master of Science in Nursing - Family Nurse Practitioner (MSN-FNP) program will prepare you for advanced practice with individuals and families throughout their lifespan. The online MSN-FNP provides students with dedicated support from enrollment through graduation, enhancing their transition from RN to NP.
As an online MSN-FNP student, you will benefit from:
Flexibility: Designed for working nurses, there are no set log-in times so you can earn your degree while you continue working.
Support: Walsh provides a personal experience with average class sizes of 15 to 20 students and individual support from your success advisor and responsive professors.
Clinical Placement Support: A clinical placement coordinator will work with you to secure clinical sites and preceptors for every rotation. This built-in service saves you time, allowing you to focus fully on your studies.
Quality & Affordability: At Walsh, you will receive high academic standards at a lower cost. The University is ranked in the Top 100 Value Schools by U.S. News World Report.
Walsh also offers an online Doctor of Nursing Practice-Family Nurse Pracitioner (DNP-FNP) program for nurses who want to pursue leadership in nursing. Students who pursue their BSN to DNP-FNP with Walsh can earn their DNP and start preparing for leadership opportunities that help shape the future of health care.
Get more information about Walsh's online MSN-FNP program and take the first step in your transition from RN to NP