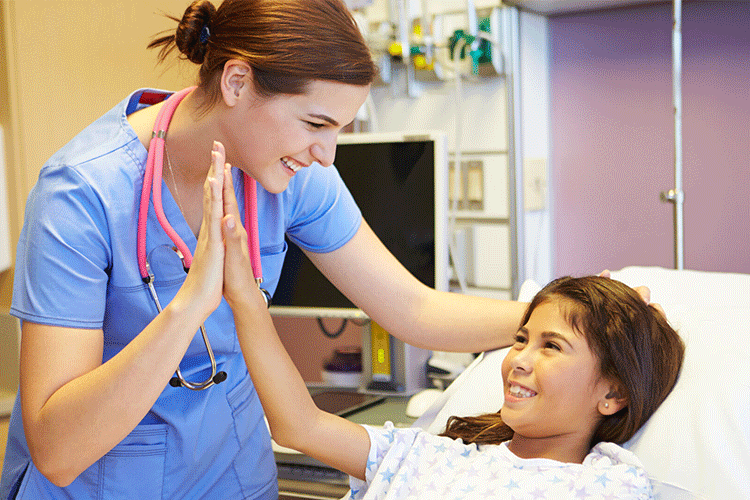 What to Expect During Your Nursing Clinicals
Nurse Practitioner clinicals are an integral part of advanced practice nursing education and help students gain experience as they prepare to transition into a new role. Clinical rotations require a certain number of direct patient care hours. The minimum number of nursing clinical hours that Walsh University advanced practice nursing students complete is 650 hours. 
In this article, we'll cover what to expect from nursing clinicals and how to make the most of your experience, including:
How to arrange clinicals and preceptors

What you'll learn from clinicals

How clinical evaluation works
The Clinical Experience
Through nursing clinicals, students have the opportunity to integrate their course knowledge into their practice. Students get to develop and apply their skills in physical assessment, diagnostic reasoning, and disease management. 
Before clinicals, NP students take courses in advanced physical assessment and advanced pathophysiology. Nursing clinicals help students apply their new knowledge—they're intended to bridge the gap between nursing theory and practice. 
NP clinicals also benefit students by providing exposure to various clinical settings and patient populations they'll work with as a nurse practitioner in the scope for which their program is preparing them.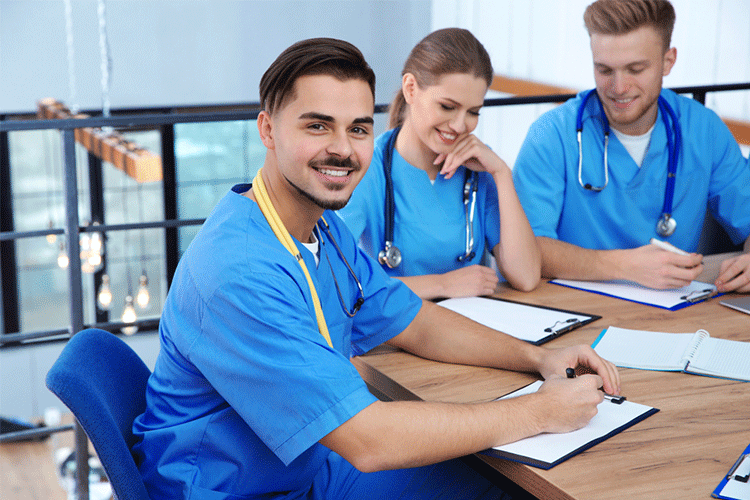 What Is a Preceptor? 
In nursing clinicals, a preceptor is an experienced advanced practice nurse who has entered into an agreement with a student and their school to supervise, guide, and teach them as they learn and apply their nursing knowledge in real life clinical settings. 
In nurse practitioner programs, students have multiple preceptors throughout their program of study to ensure exposure to the full scope of the NP role and the populations they will be serving. 
Having a variety of preceptors is helpful to students as it provides the opportunity to see the unique approaches experienced nurse practitioners and other healthcare providers take. Each preceptor's approach exposes students to a breadth of experience as they build their own competencies.
How Do I Set Up Nursing Clinicals?
Clinical arrangements vary by program and by school. Students seek out their preceptors for each semester at many universities. The student is responsible for reaching out to healthcare providers in the specialty area to request a precepted clinical experience for a specific number of hours for the next semester.
While many nurse practitioners are happy to help students, it can be challenging to find a preceptor in a required specialty. In some nurse practitioner programs that don't offer placement assistance, if a student is unable to find a preceptor for the next semester, it can mean delaying graduation by a semester as the student continues the preceptor search. 
At Walsh University, NP students receive assistance in finding preceptors for advanced practice nursing clinicals. After the placement team secures a placement site, a placement coordinator connects students and potential preceptors. Walsh University collaborates with students to identify preceptors for their clinicals so they can fully focus on their studies. Placement coordinators make every effort to avoid long travel distances for their students. 
Experienced nurses are often able to use their professional connections to find preceptors. Many nurse practitioners are happy to help teach and guide the next generation. While Walsh University provides clinical placements, you may also check in with your professional colleagues, as professional connections are often happy to help you reach your educational and professional goals. 
Before beginning a clinical rotation, paperwork detailing the preceptor agreement and clinical site is submitted to the university for review and approval. This typically takes place the semester before the clinical begins to allow for adjustments and ensure the site and preceptor's qualifications meet program standards. 
After securing a preceptor for the next semester, students and their new preceptor will discuss their schedules to plan clinical days.  Clinic office hours are typically Monday through Friday during normal business hours. In certain programs, like Walsh's FNP program, students complete 100 clinical hours in each of the FNP I, II, and III courses, 150 hours in FNP IV, and 200 hours during FNP V, which is the capstone course.
How Do Nursing Clinicals
 Help Build Competencies?
Walsh University's nurse practitioner education is centered around the competencies established by the National Organization of Nurse Practitioner Faculties (NONPF). Advanced practice nursing clinicals help students build their competencies in several ways. When taking courses and learning through didactic content and online course materials, students learn the concepts and material in preparation for application to their clinicals. 
Hands-on application during clinicals is where the majority of competency building takes place. Classes provide students the knowledge base they need to become a nurse practitioner, however, clinicals challenge them to apply their knowledge and skills. Students see real patients alongside their preceptors, allowing them to build their nurse practitioner-patient relationship skills, utilize health assessment techniques, manage different health conditions, and practice patient education as an advanced practice nurse.
During clinicals, students also benefit from their preceptor helping them determine which core competencies have room for improvement and require additional focus. Self-reflection on performance in these competencies and making adjustments accordingly are key to becoming a well-rounded nurse practitioner. 
Walsh University NP students set measurable personal goals each semester and should seek feedback from their preceptors throughout the semester in order to measure their progress. Setting daily objectives with the preceptor during clinical practice will also help the student identify areas for improvement.
What Will My Day-to-Day Look Like?
During clinicals, NP students work to progressively build their advanced practice skills alongside their preceptor. Students build their confidence, and assessment and diagnostic skills as they incrementally take on the workload in each clinical setting while under the supervision of their preceptor.  
It's important to remain flexible during NP clinicals because each preceptor has a unique teaching and mentoring style. Some may prefer that you observe them for your first few days of clinicals. Others may prefer you to dive right in and begin assessing their patients on your own. 
Prior to beginning clinicals, it's important to have a discussion with your future preceptor to establish a plan and voice each of your expectations. NP clinicals are very different from BSN program clinicals and the change requires some adjustment. 
Your preceptor will supervise you while you see patients, as they ultimately bear the responsibility for the patient. Depending on your preceptor's preference, they may perform a simultaneous physical assessment with you, or after you. 
After collecting the chief complaint, history of present illness, relevant medical history, and performing your assessment, you'll formulate a list of potential diagnoses, and decide if labs or imaging are needed to aid the diagnostic process and treatment planning. 
Most preceptors ask the student what they would order for their patient - medications, therapies, education, referrals to specialists, and so on. After detailing your proposed treatment plan, your preceptor will make suggestions based on how they would treat the patient. It's important to be open to constructive feedback during clinicals because learning from an experienced provider is a valuable opportunity that will help you improve your practice. 
In settings such as women's health and urgent care, there may be more opportunities to perform new skills, such as conducting gynecological exams and suturing. Your preceptor will likely have you observe them performing specialty exams and procedures several times prior to allowing you to perform the skill under supervision.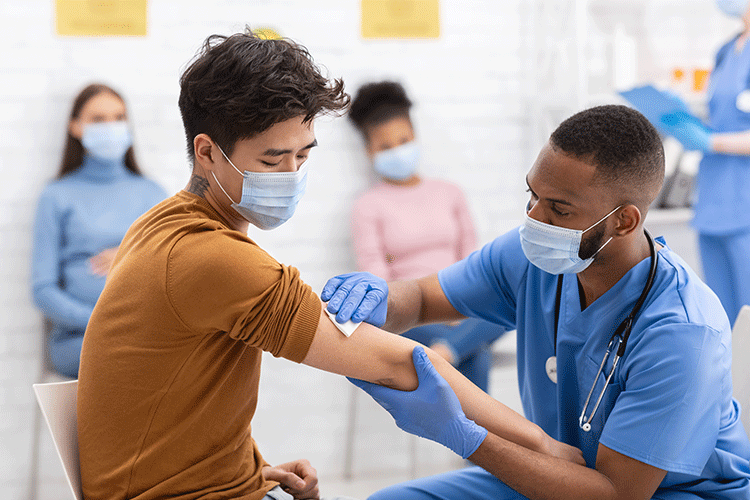 What Will I Learn During My Nursing Clinicals?
Your advanced practice nursing clinical experience will vary from semester to semester, and so will what you learn. The clinical experiences will expose you to the population of patients for which your program is preparing you to care for upon graduation.
Here are some key points to expect to learn in each semester of clinical:
Adult Primary Care 
During your semester of primary care clinicals, you'll learn how to manage acute and chronic illnesses that are common amongst the adult population. Primary care involves treating patients' chronic conditions and collaborating with specialty care as needed, diagnosing acute illness like infections or injuries, as well as addressing preventative medicine and patients' new concerns. 
In primary care, you'll become more proficient at conducting chart reviews before seeing your patients, and more comfortable with managing chronic conditions and preventative medicine. Many providers who work in primary care are able to develop a rapport with their patients over time and find monitoring their progress and supporting their health rewarding and enjoyable. 
In the adult primary care setting, you will work with adults across the lifespan. During this semester, clinical sites include internal medicine, convenient care clinics, and primary care offices. You may work with a family nurse practitioner, adult-gerontological primary care nurse practitioner or physician who specializes in the care of this population.
Students in this semester learn about illness prevention, disease management, lifestyle adaptations, and health promotion. 
Women's Health 
Women's health nurse practitioners address common health concerns that women face as well as family practice. In your women's health clinical rotation, you'll learn about health conditions specific to women with a focus on reproductive-related issues and diseases. Clinical sites for this semester include women's health and outpatient clinics. 
Pediatrics 
Your pediatric clinical may be completed with a provider working in a pediatric primary care office, or urgent care center. What you'll learn during this semester depends partly on your clinical setting.
In a pediatrician's office, or working with a primary care pediatric nurse practitioner, you'll perform well-child visits and routine physicals, manage vaccinations, medications, monitor chronic conditions, and address acute complaints. You'll learn about normal child development and educate family and patients on what to expect in each stage of development. 
NP students who don't have much pediatric nursing experience or experience with children will benefit from learning how to care for both the patient and their family. Children aren't always able to communicate directly and verbally, and it's important to become more proficient at interpreting nonverbal cues. 
Multiple Chronic Conditions
Many NP students complete their multiple chronic conditions semester in primary care/family practices, hospital-based observation units, skilled nursing, or long-term care facilities. 
During this course, students learn about the interrelationships between disease processes, physiology, and pharmacology that are important to consider when caring for patients with multiple chronic conditions.
 
How Will I Be Evaluated During Nursing Clinicals? 
In NP student clinicals, your evaluation will be based on the nurse practitioner competencies and the course objectives. At the end of the semester, your preceptor and faculty will complete an evaluation form detailing your performance for specific skills, safety, and competency. It's important that your preceptor discusses your progress with you throughout your advanced practice nursing clinicals, not only at the end of the semester.
Your preceptor will summarize your strengths and areas for improvement, providing helpful feedback. In NP school, it's important to be open and receptive to constructive criticism, as suggestions from experienced professionals will help you in your professional growth. 
 
How Can I Set Myself Up for Success During Nursing Clinicals?
Your nurse practitioner clinical experience is heavily influenced by you, the student. Two key points to remember in order to maximize your learning, and personal and professional growth are to be flexible and communicate clearly with your preceptor.
Flexibility is a skill that carries over into your practice after graduation. Change can happen quickly in the healthcare field. You will need to learn to quickly make adjustments to your daily plan and prioritize tasks and care safely and effectively as a healthcare provider.
Clear communication is essential to your success in nursing clinicals. Students and preceptors often have different ideas on how to approach clinicals, and it's important to discuss the plan in detail ahead of time. 
One point to discuss is whether your preceptor would prefer you to observe them at work for the first few days, or whether they'd like you to jump right in. Your comfort level should also affect this decision. Conferring with your preceptor at the start of the day with your daily objectives is helpful.
It's important to have a "check-in" regularly with your preceptor to discuss how things are going, and how much progress is being made. At the beginning of each semester at Walsh University, students submit at least three clinical goals and share them with their professor and preceptor. During midterms and at the end of the semester, Walsh students self-evaluate and may add new goals as they feel they are needed.
While a formal evaluation takes place at the end of each semester, discuss with your preceptor how often you would like to receive feedback – whether you'd like to debrief at the end of each clinical day, or at the end of each week. Receiving frequent feedback helps you make the most of your clinical experience as you'll have the rest of the semester to integrate your preceptors' suggestions and advice. 
It's common for students to feel overwhelmed during clinicals for a variety of reasons, including the theory-practice gap, communication issues, and unexpected events. Students may feel as though the preceptor is doing too much and not allowing them opportunities, or the opposite, that their preceptor isn't providing enough support or guidance. 
Feeling overwhelmed can mean that more guidance is required from your preceptor. It's important to communicate openly with your preceptor about your needs in order to achieve a balance between independence and guidance that works for you. Taking on a new, advanced role requires time and practice to build confidence. While building confidence, ask plenty of questions and trust that confidence will come with time. 
If you feel that you're missing out on learning opportunities, it's important to discuss this with your preceptor. They may simply be unaware that they're doing too much, or don't think that you'd be comfortable taking over more tasks. Experienced providers can sometimes find it difficult to adapt to being a teacher.
When having this discussion, make sure to be clear about your expectations and what you're comfortable with as a student. Be specific with your concerns. For example, you might indicate that you prefer to formulate your own potential diagnoses and treatments before hearing suggestions from your preceptor. 
Students should also know that faculty overseeing the clinicals are there to support you as well. Students shouldn't hesitate to reach out to faculty with questions or concerns. 
Nursing clinicals are designed to push your limits as a student. Personal and professional growth comes through a good challenge. 
Stress will be a part of clinicals but learning to manage it and learn through it is important to your journey toward becoming a nurse practitioner. The stress of clinicals results in personal growth that will benefit you in the future as a working nurse practitioner.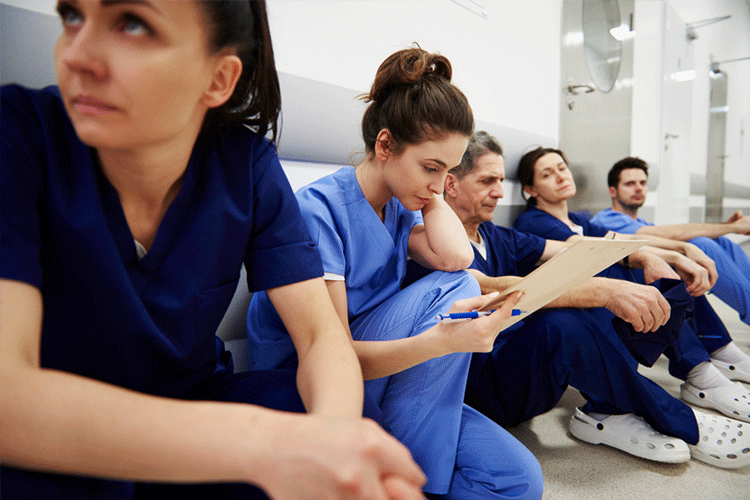 Taking the Next Step in Your Journey 
Fulfilling a dream of becoming a nurse practitioner begins with choosing a program that suits your needs. Taking time off work to pursue an advanced degree isn't an option for many. Fortunately, Walsh University has a solution for those with busy work and personal lives. 
Walsh University's online Master of Science in Nursing - Family Nurse Practitioner program offers nurses the flexibility to continue working while turning their dream into reality, even with a busy schedule. Students complete between 100 and 200 clinical hours during each clinical course. Work hours may need to decrease as the number of clinical hours required increases, especially in the final two clinical courses.
Walsh University's program is designed to promote student success, offering:
Clinical placement support to save you valuable time finding preceptors

Flexible online course format 

Small class sizes

Ability to graduate in as few as 2.5 years

Competitive tuition costs

Personal student success advisor to help support and promote your success
Walsh University turns nurses into leaders in providing holistic care. Experienced nurses with a desire to elevate their nursing care can pursue a rewarding career as a nurse practitioner while still maintaining their work-life balance and continuing to provide for their families. 
Those interested in setting foot on the path toward becoming a nurse practitioner will find their next step at Walsh University. Our advisors are happy to work with you on developing a plan to reach your career goals. Reach out to our dedicated enrollment advisors today to begin your journey. Get more details about Walsh's online MSN-FNP program.