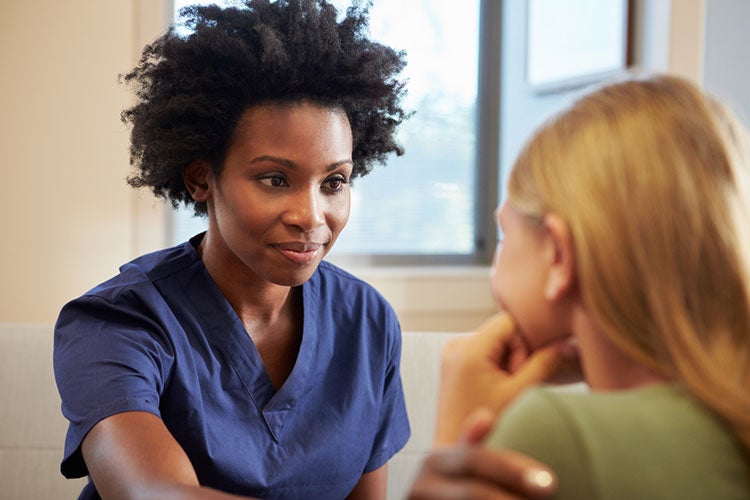 Everything You Need to Know About Nurse Practitioner Specializations
Nurse practitioners (NPs) are highly educated professionals who provide clinical care to patients from all walks of life. Possessing a graduate degree, nurse practitioners are advanced practice registered nurses (APRNs) with additional education beyond that of registered nurses (RNs) to enable them to provide holistic patient-centered care including diagnosis and management.
Overall employment for nurse practitioners is projected to grow by 52% from 2020 to 2030, far faster than average when compared with other occupations, according to 2021 projections by the U.S. Bureau of Labor Statistics (BLS).
Explore this quickly growing profession, including information about: 
How to become a nurse practitioner with a family nurse practitioner specialty
Different types of nurse practitioner specialties
Education requirements for nurse practitioners
Salary and job outlook for people who pursue this career in nursing leadership
How to Become a Nurse Practitioner
According to the American Association of Nurse Practitioners (AANP), nurses must complete at least four steps to begin practice as fully licensed nurse practitioners. 
1. Earn a Bachelor's Degree in Nursing
As APRNs, nurse practitioners must first enter the profession of nursing by obtaining a Bachelor of Science in Nursing (BSN) or a direct-entry master's in nursing. 
Earning a BSN typically involves four years of combined coursework (including prerequisites for entering the BSN program) and clinical rotations. In clinicals, students put their new skills to work in real-life settings.
Graduates with a bachelor's degree in an unrelated field (e.g., physics, psychology, biology or chemistry) may be eligible for an accelerated second-degree BSN program or direct-entry master's program. Students enter either of these two types of programs after obtaining a prior bachelor's degree and successfully completing required prerequisite science courses (e.g., anatomy or physiology). Students complete these programs in 12-24 months and after obtaining their degree are eligible to sit for the NCLEX-RN to obtain licensure as an RN.
Graduates with an Associate Degree in Nursing (ADN) may also return to school to earn their BSN and start down the path to becoming a nurse practitioner.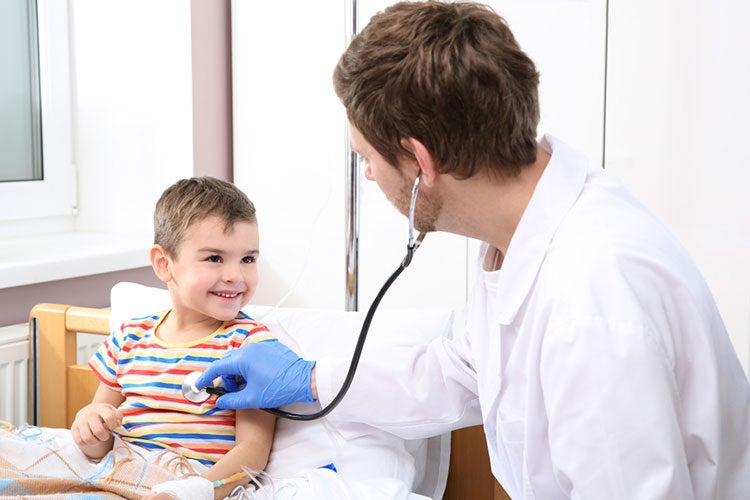 2. Pass the National Council Licensure Examination
After earning a BSN, the next step toward becoming a nurse practitioner is passing the National Council Licensure Examination- Registered Nurse (NCLEX-RN). This test is a national licensure exam required for state licensure. All states require registered nursing professionals to be licensed to practice. 
The NCLEX-RN tests a nursing professional's knowledge of nursing best practices, laws and ethics. Questions are designed to test a prospective RN's ability to think critically about clinical situations and dilemmas that may arise between nurses, patients, families and other health care professionals. 
To take the NCLEX-RN, prospective RNs must first contact the nursing regulatory body (commonly referred to as the board of nursing) in the U.S. state they wish to practice to receive an Authorization to Test (ATT). After acquiring an ATT from a specific state and passing the NCLEX, a professional officially becomes a licensed RN. 
3. Enroll in Graduate School
Because nurse practitioners are required to have an advanced degree, the next step after passing the NCLEX-RN and becoming a licensed RN is to enroll in graduate school to pursue a Master of Science in Nursing (MSN) or BSN to Doctor of Nursing Practice (BSN-DNP) program that specializes in a certain focus of advanced practice nursing. Many MSN and BSN-DNP programs offer a specific population focus — for example, the Master of Science in Nursing-Family Nurse Practitioner (MSN-FNP), which concentrates on family-focused health care — so prospective students should reflect on the patient population they're interested in serving. Graduate programs offer advanced nursing courses such as Advanced Health Assessment and Pharmacology and clinical placements, which help students gain more hands-on experience in clinical settings.
While both an MSN and a BSN-DNP can qualify students to become APRNs, there are differences between the two to consider. An MSN generally takes less time to complete and prepares students with advanced clinical nursing knowledge. A BSN-DNP, on the other hand, requires advanced clinical nursing knowledge in a particular population focus and requires additional coursework that includes leadership principles, health policy, health care delivery systems, quality improvement and evidence-based practices. Students may also choose to pursue a DNP after completing an MSN. Prospective students should research each program's accreditation and graduate certification rate before applying. 
4. Pass the National Nurse Practitioner Certification Board Exam
The last step to becoming a nurse practitioner after successfully earning an MSN or BSN-DNP is to pass a national board certification exam.
There are multiple nationally-recognized organizations, including the American Association of Nurse Practitioners (AANP) and the American Nurse Credentialing Center (ANCC), that offer certification exams based on the population focus of the NP role. The individual is only eligible to sit for the examination that their program of study covered.
The family nurse practitioner certification exam tests pharmacological, professional and clinical aspects of primary care for prenatal, pediatric, adolescent, adult and elderly patients.
The adult-gerontology primary care nurse practitioner certification exam tests clinical knowledge of patients 18 years and older.
The emergency nurse practitioner certification exam tests clinical knowledge of emergency specialty care.
After passing the board exam, graduates may apply for nurse practitioner licensure in their state. It is important to note that NPs must maintain their RN licensure in addition to their APRN licensure. 

Nurse practitioners must periodically renew their certification and state licensure, according to the AANP's overview of NP certifications. This typically involves continuing education credits.
Nurse Practitioner Specialties
Nurse practitioners may diagnose diseases, prescribe medications and manage treatment for patients. However, many specializations are available for nurse practitioners depending on the patient population they focus on. 
These NP specialties include the following:
Family nurse practitioner. This role focuses on primary care for families, which includes patients of all ages. 
Psychiatric mental health nurse practitioner. This role focuses on the diagnosis and management of patients experiencing mental health issues. Management includes providing therapeutic interventions such as talk therapy, providing crisis care, treating substance abuse disorders, promoting prevention activities and supporting patients and their families experiencing mental health issues. 
Adult-gerontology acute care nurse practitioner. This role focuses on the management of patients 18 years and older who are experiencing life-threatening and unstable medical conditions.
Emergency nurse practitioner. This role focuses on treating injury and illness in patients seeking care in hospital emergency rooms. 
Other specialties include:
Adult-gerontology primary care nurse practitioner (AGPCNP)
Neonatal nurse practitioner (NNP)
Pediatric primary care nurse practitioner (PCPNP)
Pediatric acute care nurse practitioner (ACPNP)
Women's health nurse practitioner (WHNP)

Practice Authority
Nurse practitioners have different levels of practice authority, meaning the requirement to work under the supervision of a doctor, depending on their state of practice.
Currently, Nurse practitioners have full practice authority in 26 states, while the other states may require a certain level of collaboration or direction from a physician for specifically designated portions of treatment. Despite this, they still have more authority and autonomy (and often, higher pay) than RNs.

In reduced-practice states, nurse practitioners have limitations on their scope of practice. For example, in Ohio and some other reduced-practice states, NPs maintain collaborative agreements with physicians about prescribing certain medications and other aspects of practice.
Nurse Practitioner Specialty Education Paths
Graduate nurse practitioner students take part in several classroom and clinical experiences when they pursue a nurse practitioner degree. NP programs must include the following:
Advanced pathophysiology
Advanced health assessment
Advanced pharmacology
Specializations allow nurses to focus on their area of care interest. Two popular options are Family Nurse Practitioner (FNP) and Psychiatric Mental Health Nurse Practitioner (PMHNP). 
MSN-Family Nurse Practitioner Pathway
When students enroll in an online FNP program, such as Walsh University's online MSN-FNP, they take graduate-level courses in a flexible online format, which can allow them to continue working as RNs while earning their advanced degree. 
FNP programs help students develop clinical skills in areas such as pathophysiology, health assessment pharmacology, diagnostic reasoning and care management, focusing on care that covers all members of the family.
Walsh University also offers MSN students the opportunity to add a nurse educator (NE) certificate to their degree at no cost allowing graduates the flexibility to teach nurses after graduation. Some of the benefits that nurse practitioners gain from this certificate include:
Specialized training in instructional frameworks, learning environments and student management
Practical experience applying theory in educational settings
Becoming even more competitive in the nurse practitioner market
Psychiatric Mental Health Nurse Practitioners Pathway
Similar to psychiatrists, nurse practitioners specializing in psychiatric mental health can provide psychosocial treatment to individuals and families, including diagnosing mental health disorders. Depending on the state's practice authority, psychiatric mental health nurse practitioners may also prescribe medications. 
Through the Byers School of Nursing, Walsh University offers PMHNP students an interdisciplinary experience with coursework delivered primarily online.
The PMHNP program at Walsh University emphasizes:
Crisis care
Psychiatric patient management
Prevention
Primary care delivery systems
Pharmacology
Treatment for substance use disorders
Nurse Practitioner Salary and Job Outlook
The job outlook and average salary for nurse practitioners make this profession an attractive option for RNs with a bachelor's degree. 
The median salary for all nurse anesthetists, nurse midwives and nurse practitioners was $117,670 in 2020, according to the BLS. 
The BLS projects around 29,400 job openings for nurse practitioners each year between 2020 and 2030 as a result of the need to replace nurses who change professions or retire. 
According to PayScale, FNPs earned a median base salary of $97,664 per year as of February 2022, and psychiatric nurse practitioners earned a median base salary of $112,196 per year. 
Launch a Career as a Nurse Practitioner
Nurse practitioners leverage advanced education and clinical experience to provide care to patients and families. As nurses with graduate degrees, nurse practitioners advocate for their patients and tend to earn more than nurses with only a bachelor's degree. 
A supportive graduate degree program can make all the difference in helping a nurse launch a career as a nurse practitioner. RNs with a BSN can explore Walsh University's online MSN-FNP or BSN to DNP-FNP programs. These online FNP programs offer dedicated one-on-one support to students, and their flexible and affordable program enables students to continue working while they progress toward their degree.
Sources:
American Association of Nurse Practitioners, State Practice Environment
American Association of Nurse Practitioners, The Path to Becoming a Nurse Practitioner (NP)
American Association of Nurse Practitioners, Nurse Practitioner (NP) Certification
American Nurses Association, What Is Nursing?
Nurse Practitioner Healthcare Foundation, Organizational Resources
PayScale, Average Family Nurse Practitioner (NP) Salary
PayScale, Average Nurse Practitioner (NP) Salary
PayScale, Average Psychiatric Nurse Practitioner (NP) Salary
U.S. Bureau of Labor Statistics, Nurse Anesthetists, Nurse Midwives, and Nurse Practitioners