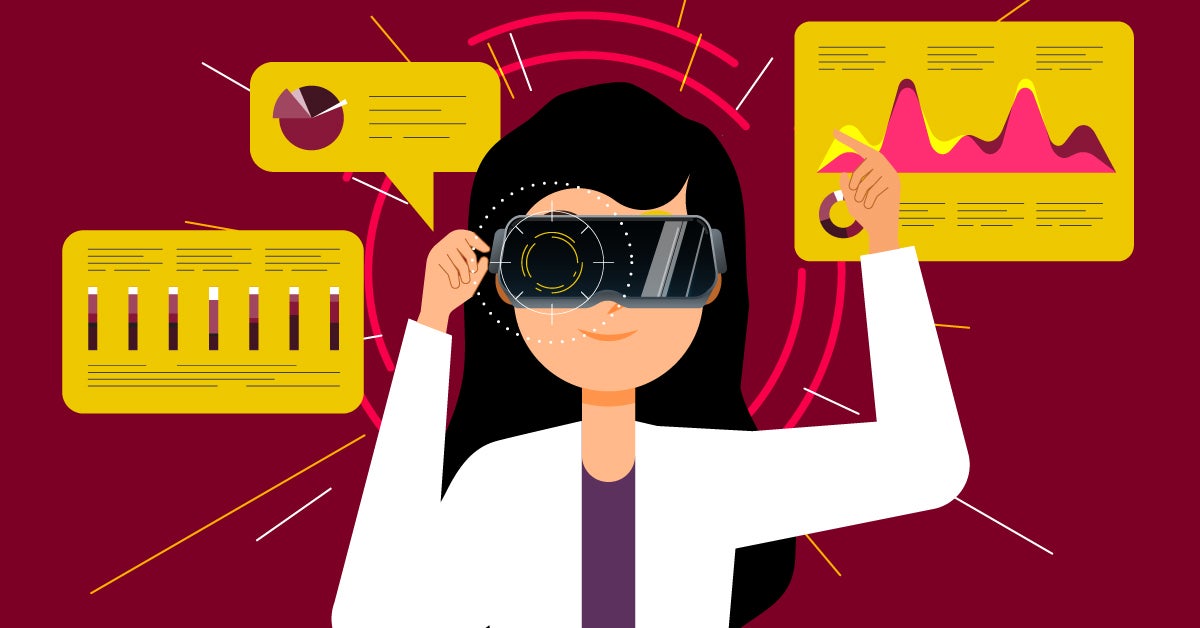 7 Ways Technology Is Impacting Nursing in 2023
Technology has transformed nearly every aspect of our lives—at home, at work and in the health care setting. Since the COVID-19 pandemic began, developing and applying nursing technology has become a top priority in the health care industry, and this trend is expected to continue for decades to come.
Today, new nursing technologies are transforming patient care and includes everything from predictive analytics and mobile robotic systems to artificial intelligence (AI) and telehealth services. Expanding the use of technology in nursing holds great promise for the profession, offering benefits for both patients and providers alike. 
Given the important and lifesaving benefits of technology in nursing, it's no surprise that a LinkedIn survey showed that 82% of professional nurses believe technology will continue to positively impact patient care. Nurses at all levels who want to stay current and advance in their careers should deepen their understanding of the impact of technology on nursing and how the use of technology is expected to change the profession in the future. 
The Benefits of Technology in Nursing
In recent years, the development and adoption of nursing technology have accelerated across the health care industry. The rise of technology in nursing can be traced to the early 20th century when the Bush administration issued Executive Order 13335, which called for the nationwide implementation of interoperable electronic health records (EHRs) by 2014. These EHRs are now widely used across the entire sector, allowing providers quick access to patient records, improving patient care and communications and bringing the ability for patients to easily view and transfer their real-time medical histories to health care providers. More recently, at the start of the COVID-19 pandemic in 2020, telemedicine became essential for connecting patients and providers while maintaining safe social distance. 
Nursing technology benefits both providers and patients in several important ways, including the following:
Better communication among care teams
Routine task automation 
Streamlined patient record access
Given the important and potentially lifesaving benefits of technology in nursing, it's no surprise that 99% of U.S. health system leaders see digital transformation as a key investment in their centers. For this reason, leaders and organizations are prioritizing the use of digital technology in health care.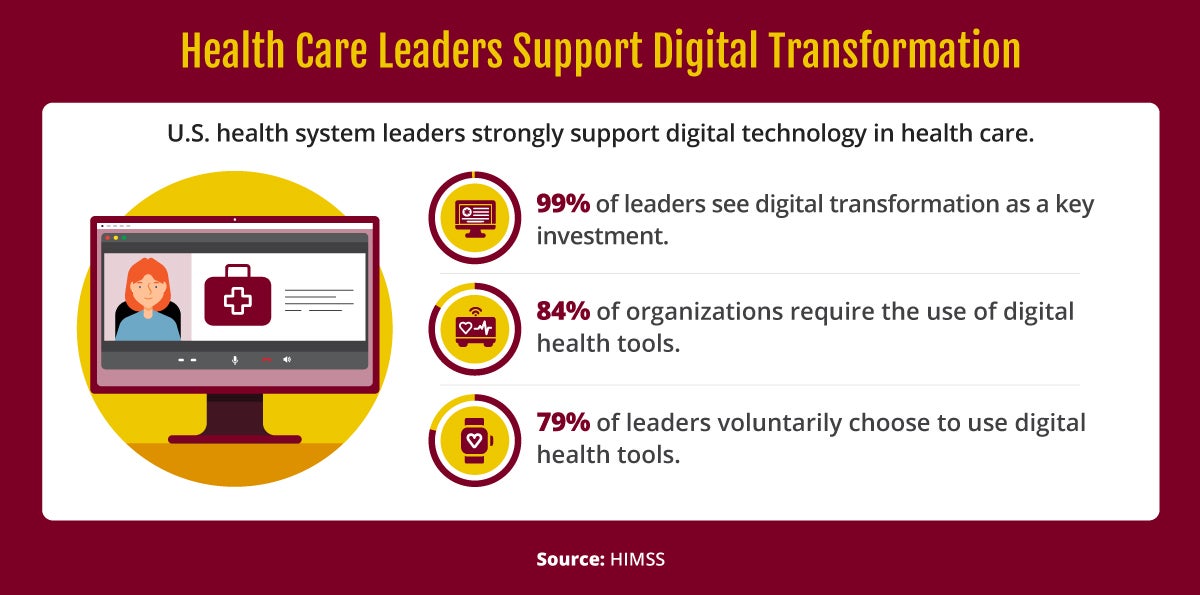 U.S. health system leaders strongly support digital technology in health care. According to Healthcare Information and Management Systems Society, 99% of leaders see digital transformation as a key investment, 84% of organizations require the use of digital health tools and 79% of leaders voluntarily choose to use digital health tools.
New Technology in Nursing
How will technology change nursing in the future, and which digital tools will likely have the greatest impact on the nursing profession? To answer these questions, let us take a closer look at seven ways that technological innovations continue to improve nursing and patient care in 2023.2. 
1. Predictive Analytics 
One new technology in nursing that holds great promise for improved patient outcomes is predictive analytics. With help from AI, predictive analytics considers data from past patients to suggest a course of treatment with the best possible outcome.

Beyond treatment plans, predictive analytics allows health care professionals to analyze patient data quickly, which saves valuable time and improves patient outcomes. For example, AI may detect the need for a blood test quicker than a human could, which could lead to faster test collection and ultimately quicker results. 
This information allows the care team to work with unprecedented flexibility. They can adapt to their patient's needs quickly, using the data to switch medications or change the dosage, if needed, to further improve the patient's condition. 
In another example, a popular online tool from the United Kingdom called Predict helps clinicians and patients make informed decisions about treatment following surgery for early invasive breast cancer. Patients can learn their estimated average survival rate based on studies of patients of a similar age and with similar cancer types.
Predictive analytics can also help providers determine a patient's risk level for developing other chronic conditions, such as heart disease, obesity and diabetes. This information then informs a course of treatment best suited to the patient.
2. Clinical Mobility
The term "clinical mobility" refers to the use of handheld digital devices—mobile computers, tablets and smartphones—by health care professionals in hospitals and clinics. Such devices offer greater mobility across the facility, allowing them to create a new, convenient point of care based on the location of each patient or family member.

Clinical mobility devices allow nurses to do their jobs more effectively, sharing real-time patient data with their care team, which can save lives. Clinical mobility benefits providers and patients in several ways, including the following:
Higher quality patient care
Better informed clinicians
More efficient workflows
By adding new clinical mobility technology to nursing, providers can streamline once arduous processes, sharing information quickly and effectively with their entire care team and a patient's family.
3. Mobile Robotic Systems
In addition to caring for patients, nurses juggle a complex mix of daily responsibilities—everything from taking vital signs and administering medications to maintaining accurate records and providing updates to patients' family members. The ongoing nursing shortage has made it harder than ever for nurses to tackle demanding on-the-job duties and still prioritize adequate time for direct patient care. Fortunately, the field of mobile robotics offers some helpful solutions.

Robots are capable of completing the following common nursing duties:
Making point-to-point deliveries of lab specimens, medications or supplies
Greeting patients and signing them in
Conducting contactless triage interviews in the emergency department
 
Robots are another technology with many benefits for nursing. With large swaths of accurate data, robotics technologies can help nurses assess health and safety risks and make more informed patient decisions.
Technology, especially robotic technology, has historically suffered from a reputation for being cold and impersonal, which can turn people off. However, a recent report indicates that the majority of patients are enthusiastic about the use of mobile robots in health care settings. A 2021 survey from the Massachusetts Institute of Technology and Brigham and Women's Hospital reported that 93% of hospital patients who interacted with a robot said their experience was positive.

As indicated by this data, robots are likely to keep changing nursing in the future.
4. Artificial Intelligence in Clinical Decision Support
In health care, AI is invaluable for helping patients make clinical decisions or take action concerning a diagnosis or treatment plan. AI uses information technology to automate the conversion of data into knowledge that helps guide the patient to the next steps.

New AI technology in nursing can offer much-needed clinical decision support. This technology trend h
elps nurses sort high volumes of patient data and understand new information. Its use helps registered nurses (RNs), nurse practitioners (NPs) and physicians avoid "information fatigue"—another reason that AI is expected to become an integral part of nursing throughoutby 2023. The advantages of nurses using AI in clinical decision-making include the following:
Quickly analyzing large volumes of data
Accurately identifying at-risk patients
Identifying and advocating to improve care gaps
AI applications in nursing include the following:
Identification of disease presence in asymptomatic patients
Fall risk prediction and precaution implementation
Guided decision trees to prevent infection from catheterization
Nurses will play an essential role in AI technology integration in hospitals and clinics. They can help identify new opportunities to automate existing processes to gain more time to spend with patients. Chief information officers (CIOs) in health care systems can ensure that nurses and nursing leadership have their voices heard regarding the development and implementation of AI.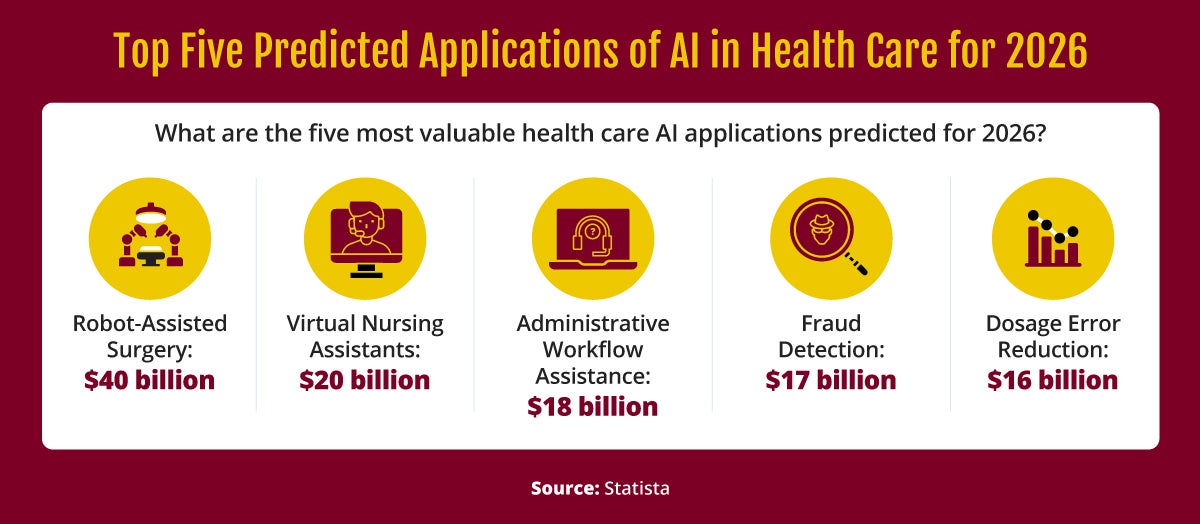 What are the top five most valuable health care AI applications predicted for 2026? Robot-assisted surgery: $40 billion; virtual nursing assistants: $20 billion; administrative workflow assistance: $18 billion; fraud detection: $17 billion; dosage error reduction: $16 billion. Statista, "Forecasted Value of Potential Annual Benefits of AI Applications in Healthcare Worldwide in 2026, by AI Type"
5. Streamlined User Interfaces
Many nurses still use outdated systems that "are lacking basic usability," and this leads to fatigue, disrupted work processes and increasingly burdensome documentation.

Digital health user interfaces (UIs) can help nurses streamline their work, making accessing patient data more user-friendly and straightforward. According to Health Tech Magazine, streamlined UIs include the following benefits:
Reduced screen time
Natural language processing tools for dictation
Access through gestures such as vision or voice prompts
These significant benefits have the power to change nursing in the future. With less screen time, nurses can reduce eye strain and improve their focus. Meanwhile, natural language processing tools and vision or voice prompts are examples of Zero User Interface (Zero UI) technology. They save nurses time when using EHRs, increase their comfort levels with technology and enhance their ability to adapt to new digital tools in the future.

Digital health UIs can help nurses communicate in real-time with their care team and do their jobs more efficiently. This frees up time to care for more patients and handle other essential day-to-day responsibilities, such as charting, administering medication and reviewing lab test results with colleagues.
6. Remote Patient Monitoring
Remote patient monitoring (RPM) tracks patient health outside the clinical setting, using technology to transmit patient health data between patients and providers in real time. RPM is an important new technology in nursing because it allows patients to participate in their care from their homes, yielding psychosocial benefits and allowing nurses to stay abreast of any changes in their patients' health.

Some of the most commonly used RPM devices are:
Digital blood pressure monitors
Continuous glucose monitors 
Pulse oximeters 
Heart monitors 
Pedometers 
RPM has many benefits for the nursing profession, including the following:
Greater peace of mind for patients and their families
Fewer unnecessary office visits, saving providers and patients time and money
More individualized patient interactions based on up-to-the-minute data
Timely interventions that can prevent relapses or hospitalizations
Better patient feedback and personalized care for chronic conditions
With the cost of RPM devices dropping as they become smarter and more accurate, these devices are expected to become more commonplace in health care settings and even find their way into patients' homes.
7. Telehealth
Telehealth, or telemedicine, is a significant technology predicted to change the future of nursing. The term "telehealth" refers to virtual visits, usually through an internet-based video call conducted over a computer, tablet or smartphone, between health care providers and patients in separate locations. The ability to connect patients with the health care system is especially significant for patients in rural or hard-to-reach locations who might otherwise face a geographic barrier to care or go without it.

The start of the COVID-19 pandemic accelerated the adoption of telehealth throughout the health care industry. Then and now, one of the main advantages of virtual visits is that they prevent sick or contagious patients from entering health care facilities and exposing others to illness. Additionally, telehealth is more accessible for patients with mobility and transport difficulties.

By reducing the need for an in-person appointment, virtual visits also save patients and providers time, as no commute is involved. Telehealth visits often have greater availability, making them easier to schedule than in-office visits. Also, because the visit only requires an office for the provider and a quiet space in the patient's own home, these appointments typically have lower overall costs. However, since telehealth rules vary by state, nurses should be aware of any specific regulations and hold a license in the state where the patient is located.

Virtual visit technology allows NPs to deliver quality, effective care remotely by: 
Determining whether a patient needs in-person treatment
Delivering mental health counseling
Diagnosing minor infections
Prescribing or renewing medications
Delivering lab test or X-ray results
Providing follow-up after procedures or surgeries
Offering speech, occupational or physical therapy
Impact of Technology on Nursing Practice
Many current health care systems are outdated and may be challenging or costly to update. Thankfully, technology and applications such as the therapeutic or diagnostic application of AI data can help nurses do their jobs more effectively and efficiently.

New technology in nursing can improve patient care and save lives. Virtual visits allow nurse practitioners to monitor patients in rural or hard-to-reach locations and ensure a continuum of care. Verifying the health status of inpatients is now easier and more efficient, thanks to handheld digital devices, mobile vital sign monitors and voice-assisted interfaces.

The impact of technology on nursing practice cannot be overstated. When nursing technology takes over time-consuming routine processes, streamlining communication and delivering accurate diagnoses and personalized treatment plans, NPs are freed up to do the work that only humans can: providing one-on-one, compassionate care. Additionally, nurses and nursing students trained in technology can enjoy greater career advancement while furthering their mission to care for patients and save lives.
How Will Technology Change Nursing in the Future?
Now and into the foreseeable future, health care technology will be routinely developed and applied to the nursing profession. The positive outcomes associated with new technology in nursing are likely to include the following:
Reduced human error, such as documenting patient information and administering medications
Streamlined patient care offered in increasingly convenient ways
Greater human interaction, leading to more personal relationships between nurses and patients
As new digital innovations are introduced, technology will change nursing in the future. Anticipated challenges associated with this new technology could include the following:
Increased expenses to acquire new technology and train staff to use it
Growing patient loads as nurses administer more direct care 
Potential cybersecurity risks concerning private patient health data
Adoption of new technology by all nurses, particularly those who are less technical
Despite these challenges, the adoption of new technology offers unparalleled benefits. To make sure that new technology enters the realm of health care in the safest, most effective way, nurses can and should actively participate in its development and adoption. 
Nurses and nurse leaders should demand digital technology to replace outdated systems, fulfill standard deliveries and complete other time-consuming routine tasks that can easily be automated. Additionally, strong nursing leadership will be essential as nurses navigate complex new technology, such as AI and robotic systems.
Technology in Nursing: Collaborative, Not Competitive 
Technology has forever changed how patients interact with RNs, NPs, doctors and other medical professionals. As discussed, technology has also enabled improvements in key areas, such as patient monitoring, telehealth, diagnoses and communication within nursing teams, among others. Given these improvements, the expanded use of technology in nursing is expected to continue well into the future.
Technology holds great promise for the nursing profession, with benefits for nurses and their patients. 
Nurses can hand over time-consuming routine processes to AI or robots, so they can focus on empathy-driven care best done by humans, such as building deeper relationships with patients and providing emotional support to their families. In turn, patients receive high-quality, accessible and efficient care that delivers better health outcomes. The expected benefits will likely outweigh the risks presented by new technology in nursing, such as cybersecurity threats and increased expenses. 
To fully overcome the challenges associated with new technology, nurses and nurse leaders must move beyond limiting cultural perceptions of technology as a counter to the human element of nursing. Instead, approaching new technology as a potential companion in patient care is important. Finally, greater collaboration between nursing professionals and technology developers will be required to produce the most effective digital tools to benefit the greatest number of patients.

Infographic Sources:
Healthcare Information and Management Systems Society, "2022 State of Healthcare Report"
Statista, "Forecasted Value of Potential Annual Benefits of AI Applications in Healthcare Worldwide in 2026, by AI Type"