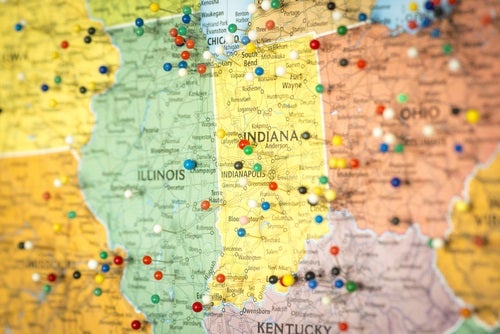 Perks to Earning a Midwestern MBA
Known by many as the "heartland" of the United States, the Midwest represents the central core of the country. The Midwest and its reputation have been on the rise in for its rich culture, exceptional educational opportunities, and rising corporate meccas. Walsh University is nestled in the nexus of the Midwest. This article highlights the benefits of pursuing a Midwestern MBA.
Fortune 500 Focused
According to 2015 numbers, the Midwest claimed locations for 127 of the Fortune 500 companies. These entities include some of the biggest national and international corporations across various industries, such as Boeing, Northwestern Mutual Insurance Company, and UnitedHealth Group. This confluence of major corporations means a wealth of potential career and networking opportunities for the Midwestern MBA student as he or she continues to develop their portfolio.
Burgeoning New Businesses
The Midwest region is home to companies that are growing at exponential rates. Atlas MedStaff, for instance, an Omaha-based healthcare start-up for the recruitment and placement of nursing professionals, grew more than 5,000% in the years following its creation in 2012. Midwest Equity Mortgage, established in 2006 in Oak Brook, Illinois, grew by 7,800% between 2012 and 2015. What these examples illustrate is that the Midwestern region is flush with both well-established corporations as well as thriving new companies.
A Need for New MBA Graduates
What is even more encouraging is that new MBA graduates are being recruited for some of the most desirable positions within the Midwestern region. A study published in 2014 by USA Today showed an increase in new-MBA hires among Midwest companies, a trend that can still be seen at some large Midwestern corporations, such as Deloitte Consulting in Chicago and the Kimberly-Clark Corporation in Wisconsin's Fox Valley. The Graduate Management Admission Council surveyed more than 900 employers. Nine in 10 respondents, more than 80% surveyed, plan to hire recent MBA graduates in 2017. GMAC also found incentives for MBA graduates as more than 50% of employers planned to increase salaries for MBA graduates.
Long-term Livability
For those who want to remain there following their MBA completion, the region offers an array of locations with an average cost of living that is less than other areas the country. The scale of Midwestern cities varies, from the unincorporated village to the 2.7 million-strong city of Chicago. One can anticipate a cost of living below that of cities such as New York or Seattle. For example, the average two-bedroom apartment in 2017 rented in Chicago for $1,744 a month; a similar size home would cost an average of $2,496 a month in central Seattle and $3,895 per month in downtown New York.
A Stepping Stone Toward Your Future
Whether you want to make the region your long-term home or you want to tap into its resources while developing your business acumen in Walsh University's MBA program, the Midwest makes for a fantastic location to cultivate one's skill sets and embark on an exciting future in the field of business. Located at the very heart of America's dynamic and forward-thinking heartland, Walsh University is ready to ensure that students receive a world-class education in the heart of the nation.