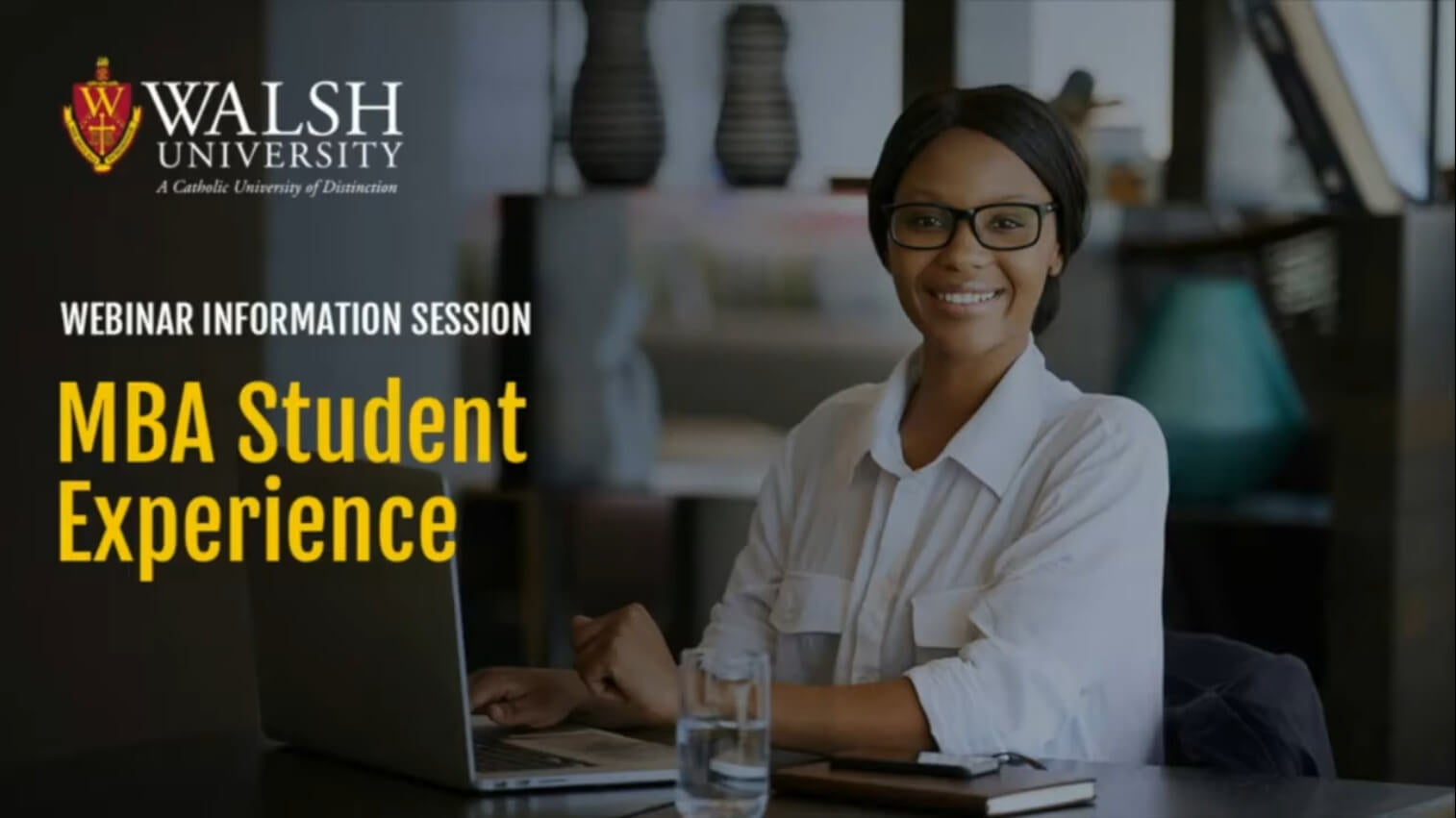 Online MBA Program: The Student Experience Webinar
Get answers to all your questions about the online MBA curriculum, interaction, work-life balance, and more from two current students in the program who share their experiences in a panel discussion. Our admissions advisors and student success advisor also provide an overview of the online MBA program in this webinar.
Guest Panelists:
Katie Macaluso, Moderator
Jon Runge, Enrollment Advisor
Mary Katherine Howard, Enrollment Advisor
Milana Tarbuk, Student Success Advisor
Brett Auerbach, MBA Student, Management concentration
Nicole Flores, MBA Student, Healthcare Management concentration
Watch clips from the webinar
Full transcript below:
Presented Live:
July 24, 2019
 
Katie Macaluso: Hello, everyone, and welcome! Thank you so much for joining us for today's webinar on the online MBA program offered through Walsh University. We're excited to have a few students today available to share their own experiences in the online program.
But before we get started with that, we do have a few housekeeping items that we wanted to address. You're in broadcast-only mode, so that means you can hear us, but we can't hear you. During the webinar, please feel free to type in any questions you might have into the Q&A box whenever you think of them, and then we've reserved time at the end of the presentation to answer your question.
Here are a list of the speakers for today's webinar. I'm Katie Macaluso and I'm the moderator for today, and I'm joined by Jon Runge and Mary Katherine Howard, our admission advisors for the Online MBA Program, as well as Milana Tarbuk, our Student Success Advisor, and our featured guests, Brett Auerbach and Nicole Flores, both current students in the online MBA program.
Katie Macaluso: Here's a quick look at our agenda for today. We're going to go ahead and talk about Walsh University, we'll discuss the MBA program in a little more detail and touch on the online learning experience, and then of course, we'll dive into the presentation with the students joining us, and then finally, we'll save room for any questions that you might have about the program. Without further ado, I'm going to turn it over to Jon to share a little bit more about Walsh University.
Jon Runge: Thank you, Katie. Hello, everyone. Just some fast facts about Walsh University. We are a private non-Catholic university, physically located in North Canton, Ohio, about five miles away from the Pro Football Hall of Fame, for those of you that are familiar. We do have a 13-to-1 student-to-faculty ratio, which is very beneficial. Some of our rankings, we are ranked for being one of the best Midwest universities by US News and World Report. Our DeVille School of Business is a National College of Distinction. We are ranked number nine in the country by Online MBA Report. And one other note, best online program for veterans. We are known for being a very veteran-friendly university. And now, over to Mary Katherine to talk a little bit more about the MBA program details.
Mary Katherine: Hi, everyone, a little bit about the MBA program. First of all, it is very flexible when it comes to the length of the program. Each class is eight weeks long. Students have the option of taking one or two courses every eight weeks, whatever works best for your schedule. If you do two classes in every eight-week session, you can finish the program in one year. The program will take two years if you do one course every eight weeks, and it can fall anywhere in between there based on your flexibility and how many classes you take. There is no GMAT required for this program, so there's no additional testing that you need to worry about.
Mary Katherine: The curriculum for our program, again, it is 100% online. You'll do 18 credits of MBA core courses, so everyone takes those regardless of your concentration. Then you will do 15 credits within your specialty area, so that's either going to be Marketing, Management, or Healthcare Management, and then everyone finishes the program with a capstone course. In addition, you'll have two zero-credit practicum courses that are there to promote leadership within the program, so you will have a mentor assigned to you and some tasks to complete, but there's no additional coursework or it's a zero-credit program. It's nothing extra that you need to do in terms of grades, but it's just there to assist you and help build that community. Now, I'm going to turn it over to Milana to talk a little bit more in depth about the courses themselves.
Milana Tarbuk: Yeah, so the core classes are just like Mary Katherine said. The MBA courses for whatever concentration you pick, the six core classes would be the Sustainable Ethical Leadership, the Organizational Behavior and Communication, Financial Accounting and Management, Marketing, Information Systems, and Applied Organizational Research. These, you would typically take before you go into your concentration.
Milana Tarbuk: The first concentration that you could pick from would be Management, and then these classes for the Management track would be Global Business Conditions, Systems and Organizational Design, Managerial Accounting, Quality and Performance Improvement. And then you would pick one elective, so the choices that you would have would be Entrepreneurship and Innovation, Social Media Marketing, or Not-for-Profit Accounting. And then you would take a capstone, and the capstone is also the same for all three concentrations, and this would be kind of an overview of everything that you did in the program, putting everything together, and that would be Strategic Management.
Milana Tarbuk: Moving on to the second concentration, which is Healthcare Management. The courses here would be Legal and Policy Aspects of Healthcare, Healthcare Organizations and Systems, Health Finance and Economics, Quality and Performance Improvement, and then again, you would pick one elective and it's the same choices, and then the same capstone as well. And the capstone is going to be your very last class in the program.
Milana Tarbuk: And then the final concentration that you could pick from would be Marketing. The classes here are Services Marketing, Marketing Research, Integrated Marketing Communication, Social Media Marketing, Analytics for Business, and then again, the same capstone. And then just to go back to the practicums that Mary Katherine talked about, the first one... Just like she said, it's zero credits, there's no extra cost. And the book, they actually give to you. This is going to be like an online simulation, all done in the ECN, like a real job, so you get the feel for a real job experience and having an MBA and working in the field. And then in that first one, they would assign you to a leadership coach. Again, this is somebody that is working in the field, in the MBA field. You would share your resume with them and then they would give you tips and tricks and advice and really, just some good advice before you're getting into the field yourself.
Milana Tarbuk: And then now I'll go back to Jon, who is going to talk about the faculty.
Jon Runge: Sure. The faculty, with us, are all handpicked based upon their academic preparation and previous or current work experience. They all have significant work experiences that they bring a lot of background into your classroom. Most of them do have MBA or doctoral degrees. They are active in the community as well. They serve as authors, presenters at international business conferences and consultants for businesses. As mentioned before, they have significant experience. For example, one of our very own has about 25 years in senior-level healthcare executive position experience before coming to Walsh, and also teaches in the classes.
Jon Runge: I think some things to keep in mind for our students is that you guys are never alone. The instructors hold Zoom video sessions, they update you with what's going on in our community. Also, you will have access to their information, their phone number and their email addresses, as well as access to all of our Walsh resources, the counseling and career center, counseling in general, tutoring, and other means of information. I mentioned before, our smaller class sizes help to provide more of an individualized attention. Like I mentioned, reach out if you do have questions. Our classes contain a lot of diversity. Students come from different backgrounds, not just in business, so take advantage of those interactions. Now to Milana, a little bit more about the support aspects.
Milana Tarbuk: Here at Walsh, we're really big on support, so from the start of you submitting your application and getting started and being supported with Jon and Mary Katherine, after our welcome call, I'll be with you all the way until your graduation date. I'll be here the whole program. Really, I'm here for any questions you have, as are our expert faculty who are invested in your success. Definitely, when you take online classes, it could sometimes be difficult. Who do you turn to besides your professors? I'm here for any questions, concerns, really, anything that comes to mind. I'll be giving you that support, like I said, all the way from your very first welcome call to the end and when you're getting in the field. And then also Career Services from resume assistance and interview practice, so I can help connect you to who could assist you with this. And then I'm here also for some of the admin stuff, so helping you register, helping you find your textbooks. So just like that aside, you're not alone and definitely stay passionate, and please reach out when you need something.
Katie Macaluso: All right, so I think we're going to go ahead and move into our panel discussion with Brett and Nicole. I'm going to let each of them take a quick moment to introduce themselves. Brett, I'll turn it over to you first, if you want to share just a little bit about yourself and kind of what your current role is, where you're working now.
Brett Auerbach: Yeah, well, my name's Brett Auerbach. I grew up in the Akron/Cleveland area, in Akron. Right now, I work for Hitachi Healthcare Americas in Twinsburg, Ohio. I am a Service Manager there. Although, that's not where I started, I kind of started fielding after hour service calls and worked my way up through that company while I started there during my undergrad.
Katie Macaluso: Oh, that's great. And so what are you hoping to accomplish with the MBA degree?
Brett Auerbach: My overall goal with starting my MBA was to better understand and maintain and meet and achieve all of our associated KPIs with my position. But in addition to that, I also hope to gain any analytical skills to help me further progress with my company. To be a little bit more specific, just being able to analyze financial data or all of our company's financials and figure out where we can improve from an operational perspective, whether that be decreasing costs in a certain operation or perhaps investing in newer technology to improve efficiency. It's kind of where I'm going with the MBA program.
Katie Macaluso: Okay, thank you. And Nicole, if you'd like to go ahead, introduce yourself. We'd love just to hear a little bit more about yourself and your current role and what you hope the MBA program will help you to accomplish.
Nicole Flores: My name is Nicole Flores. I am doing the MBA program in Healthcare Management. I currently am a Revenue Analytics Manager at Akron Children's Hospital. As far as what I want the program to help me accomplish is obviously to advance my career here at Akron Children's Hospital. One of the things that's kind of correlated with what I'm doing at the hospital as well as with the program is some of the courses that we're learning actually helped with an analytics project I'm doing as far as our Green Belt initiatives here at the hospital, so that was kind of neat. I guess I'm really just looking forward to advancing my career here at the hospital, or eventually, at another healthcare facility.
Katie Macaluso: Sure, that's great. And how long have you been enrolled in the MBA program?
Nicole Flores: It'll be two years in January.
Katie Macaluso: Oh, terrific, okay. You're pretty far along, then.
Nicole Flores: Almost done. I have four more classes.
Katie Macaluso: Oh, that's fantastic. Well, thank you so much for being with us today. We're going to move on to our next question, kind of closely related to that. Why did you choose to pursue your MBA from Walsh University?
Brett Auerbach: Well, truthfully, I was little on the fence about it, initially. The reason being why is that I'd always gone to public schools, I got my undergrad at the University of Akron, and all throughout elementary to high school, I was also in public schools. However, I'm fortunate to work for an employer that actually helps compensate for a partial amount of my MBA degree which allowed me to actually further investigate other schools that I otherwise wouldn't have considered. And one of them was Walsh. It seemed to have a really good reputation within my employer. I had a lot of recommendations to go here, as well as another actual co-worker of mine who started the program at the same time. We figured it was best to go in it with a full support system, which has been beneficial to both of our learning experiences. Also, when I went to Walsh's orientation, they were very open to all students, regardless of religion, which I found to be surprising given it's a Catholic school. That was a large reason why I chose Walsh. Also, they have a good reputation for healthcare and work in healthcare. So that had a larger reason to do with it as well.
Katie Macaluso: Oh great, is your MBA concentration in healthcare, then?
Brett Auerbach: I did not choose the concentration in healthcare and the only reason why I didn't specifically choose that is I didn't necessarily want to limit myself to healthcare. Do I foresee myself leaving healthcare industry? I don't, but in the event that something comes up, a better opportunity or another dangling carrot, for whatever reason, I just felt that having a broader degree of just the management focus may be more beneficial for me, at least.
Katie Macaluso: Right, no, that makes a lot of sense. And then wow that you were able to do the program with a study buddy. We do that occasionally. And I think it's just great that you can have someone else to encourage along as you go through the program and ask questions and such.
Brett Auerbach: Yeah, absolutely. We haven't been able to take all of our classes together, but a significant amount, which has definitely helped.
Katie Macaluso: Oh, that's great. Now, I'll send this one over to you, Nicole.
Nicole Flores: I chose Walsh because it's really close to home, so I have the option to take classes online or at campus during the evenings or on weekends. So it offered the flexibility from online or on campus and it works well with my schedule.
Katie Macaluso: Perfect, alright, we'll start this next question with you as well, Brett. The next question is, how have you been able to interact with and build relationships with faculty and peers in the online program?
Brett Auerbach: Yes, this is a question that actually comes up quite frequently when I tell people that I'm taking the online route, and I must say that the structure of the majority of the course is actually require you to discuss in discussion forums or chat with your classmates in discussion forums for participation. When I was getting my undergrad, that wasn't unusual, when you were in a physical or tangible classroom to be graded on participation, but it seemed somewhat subjective to me to a certain degree. Now, I was always one to speak up in class. But I do think that the discussion forums actually kind of push more introverted students to speak up because they're actually required to. But I've actually had a really positive experience, both with my professors and my fellow students in these classes, because we're forced to talk to each other, and you converse with them on a weekly basis, almost a day basis. It's been very positive. The majority of interactions have been actually very refreshing, very reflective. I don't have anything negative to say about that. It's been very easy interacting, build relationships with my other classmates.
Katie Macaluso: Great, and then in terms of faculty, obviously, you can't just pop over for office hours, but you feel that they're still accessible whenever you would need them.
Brett Auerbach: I do, myself, specifically, there hasn't been a moment where I necessarily needed to actually speak with my professor during office hours. They typically conduct office hours and you can remotely dial in by using some sort of webinar software, whether that be Skype for Business or the most popular one we use is Zoom, but just by the amounts that we interact with each other on a daily or weekly basis, I haven't had to. The majority of our classrooms, the structure of the actual classroom dashboards have discussion forums built within them specifically for questions that you might have for the professor. And any question I've ever had, more often than less gets answered there, and if I haven't asked the question, more often than less, there's another student that has asked the same exact question that I wanted to ask. It's been pretty easy.
Katie Macaluso: Okay, yeah, no, I'm glad to hear that. I'll send this to you, Nicole.
Nicole Flores: Most of my classes so far have had group projects that are due each semester or each quarter, so most of the time, many of the students are local students, so we meet either at Walsh or Starbucks and work on our group projects together. Also, every single one of my online classes have discussion boards as a part of the requirements. You are interacting several times throughout each week with your classmates on the assignments. There've been times when I've reached out, like my books have not been delivered prior to the first day to class, so I've reached out to other classmates saying, "Hey, can you send me a screenshot of the page out of the book that the assignment's on until my book arrives, and students are more than happy to assist, even professors have been like, "Sure, no problem." There's online chat hours for all of my professors in the classes or I've never had a problem getting a response if I had to send an email out to a professor.
Katie Macaluso: Oh, that's great to hear, terrific. Okay, well then, let's move on to curriculum. Thinking about the curriculum, has it been as challenging as you had hoped when you enrolled in the program?
Nicole Flores: I think with most MBA students... Like I am juggling kids, and a full-time job, as well as college courses. So it's definitely challenging, it's definitely something that you have to stay on top of and be organized. You definitely have to make sure you're staying on top of your assignments and not waiting till last minute, because otherwise, you're not going to be as successful as you had hoped.
Katie Macaluso: That's a great point. And then just as a follow-up, what has been your favorite course in the program so far?
Nicole Flores: My favorite course in the program... was my Marketing class. And the reason it was my favorite is because we got to create this marketing plan for where I'm currently working, Akron Children versus a competitor, which I chose Cleveland Clinic. And you got to offer suggestions, so it gave you more insight, like a real depth look, and you had to do some research within your own organization as well as a competitor. And it's not something like, typically... I'm not in the field of marketing at my current employer, so it was kind of nice to look inside other areas of my current employer, as well as what things that we have to face as far as competitions.
Katie Macaluso: Thank you, Nicole. Alright, so with that, let's go ahead and turn over that same question on curriculum to Brett.
Brett Auerbach: Well, so my actual background, my undergrad was in social or behavioral studies. I have an undergrad in criminology in law, in the sociology field. The transition to the MBA, I expected it to be significantly harder. I started off by taking three bridge up courses, which absolutely did help. And then once I started the actual core curriculum, it's been pretty easy for me. There have been some challenging classes. I would say that my actual favorite class that I've taken thus far is Financial Accounting. It seems to be the most applicable, not only to my actual career, but it seems to be a little bit more applicable and useful in everyday life. It's just kind of enabled me with a lot more data analysis skills, and it helped me greatly improve my Excel skills, which I use Microsoft Excel all day every day. That was probably my favorite class by surprise, because I thought it would be one of my hardest classes. As far as it being challenging, there were some classes that were more challenging than others, but I think that's natural in any college environment. And I think that's very specific to the person. It just goes up and down.
Katie Macaluso: Okay. And then our last question is how feasible has it been for you to work full-time, and study online? And as I send this one over to you Nicole, I know you mentioned, too, that you also have a family. Maybe you can also include that in your sort of overall assessment of the feasibility.
Nicole Flores: I think it's definitely feasible. In my household, we set aside time every night to do homework. So we did it. It was kind of like family time, everybody sat at the table when we did homework. I would definitely say that you definitely have to dedicate time to do your assignments that are homework, because if you're juggling work and school like I am, and kids, it's not... You can't just wing it. [chuckle]
Nicole Flores: We have travel baseball, we have debate, we have basketball and football, there's always something going on. We definitely had to sit down and organize a time every night that we would work on homework assignments and we did it as a family.
Katie Macaluso: Good, that's a great idea for how to manage that. And you've mostly been able to then do it within those times?
Nicole Flores: There's been times that we've had to do it, I'm going to say, on the go. There's been times I would sit at baseball practice or basketball practice, and I'd be doing homework while I'm sitting there, because practices overlap our times. But when I set a time aside for homework, I was dedicated to ensuring that I was working on homework.
Katie Macaluso: Yeah. No, even at the games, that's multi-tasking at its finest.
Nicole Flores: Yes.
Katie Macaluso: For sure. Okay. And just as a follow-up to that, is there any advice that you would have for others who are considering the program, just in terms of successfully doing an online program?
Nicole Flores: I would just say making sure you stay organized, and dedicating time for homework and school work assignments, because even some of the discussions, they're quick discussions, but sometimes if you're not reading or following directions, or you're trying to rush through it, you're not going to get out all of what you should out of the course work. Some of them seem really easy, but if you're just doing the bare minimum, I don't think it's doing anybody a service to... Unless in college education, etcetera, if you're not actually dedicating time to your school work.
Katie Macaluso: Thank you, Nicole. Alright, and then with that, we'll also turn this question over to Brett.
Brett Auerbach: Yeah, it's actually been incredibly feasible and incredibly easy. That's, without doubt, the largest benefit of studying online opposed to the tangible classroom setting. Just by the overall structure and every course that I've taken, they basically release a module weekly and you have to finish certain portions or assignments of the module within that week and more often than less, the modules are released early, and you have access to them early. Working full-time or for my work, I travel quite frequently as well, it's been very, very convenient, more convenient than I would have ever expected it to. For example, I'll be leaving Thursday through Sunday and actually after this webinar, I'll be just hopping on and getting the rest of my school work that's due for the rest of the week so I can leave and not have to even have that hanging over my head at all and it's been very feasible.
Brett Auerbach: The only advice I would give other students is to not let the digital environment or classroom deter you. During my undergrad, I never thought that I would be the one to pursue an online degree and I didn't think it would quite suit me because I liked being on campus and I liked being in the classroom and I liked interacting face-to-face with people, and I thought having this interference, this digital interference would take away from any learning experience or relationship building that I could make, but that hasn't been the case at all, just because of the tools that technology has enabled us with. It's been very pleasant and it hasn't been that much more difficult than I would have expected it to.
Katie Macaluso: Great, yeah, so glad to hear that. I know a lot of students have concern about this very topic, just how they're going to make it all work and worrying about going back to school, maybe for some people they haven't been to school in a while, but it's great to hear that even with the job in which you're traveling quite a bit, that it's been doable.
Brett Auerbach: Yeah, and I've heard a lot of people say that they're not self-motivated enough to participate in a digital realm or with online classes, and trust me, I procrastinated just as much as anyone else did during their undergrad. I'm no different than any other undergrad student, but I think that once you're actually in the digital classroom and in the MBA program, it very quickly just turns into college, you're just working on your degree and whether you feel yourself motivated enough or not no one wants to fail and I think when you're studying at a Master's level that that just inherently comes natural to you at this point in our studies. I wouldn't be worried about that at all. It should come natural pretty quickly because again, no one doesn't want to succeed and it's a rather important and large investment that you make. If you're working in your undergrad, maybe not so much, but at a Master's level, I would not be concerned about that.
Katie Macaluso: Alright, thank you so much, Brett. And thank you, really both, to Brett and Nicole for this wonderful discussion. At this point, we're going to go ahead and talk about the admissions process and next steps if you're interested in applying so I'm going to turn this over to Mary Catherine.
Mary Katherine: Hi, everyone. When it comes to the admissions requirements for our program, it is very simple to apply. First thing you need to do is the actual application itself, that should take you maybe 10 to 15 minutes. It's very simple, your basic education history, work experience, things like that. And it is a free application. You'll also need to include your resume with your application and then we'll need official transcripts from all colleges and universities that you've attended. We are currently accepting applications for our fall session in August and for everyone who has signed up for this webinar, Jon or I will be reaching out, if you're not already working with us, to set up an appointment so that we can discuss your background and specifics about the program for you.
Katie Macaluso: Alright, thank you. Alright, so at this point, we're going to head into our Q and A session. This is your chance to ask any questions that you might have about the program that maybe we weren't already able to answer. I see that we've already gotten a few in the back so thank you for that, and just use that Q&A box on the side of your screen if you have any other questions for us. We're going to go ahead and get started. Our first question asks, is this program actually 100% online?
Mary Katherine: Yeah, I can take that. I just want to clarify, when Nicole started the program, we did have an on-campus option as well. We've recently shifted to 100% online so every student that's interested in applying for future sessions will do the program 100% online. However, I actually mentioned a lot of students are from the area, so if you want to come to campus, meet up with students, meet with your professors during office hours, you are still welcome to do that, it's just that the curriculum is 100% online.
Katie Macaluso: Okay, good, thanks for that clarification. Looks like our next question asks, is it mostly paper writing in this program? That's what I'm seeing in most programs.
Milana Tarbuk: So I'll take that. So no, of course, we're going to have some of those assignments there. It's pretty big on discussion work like Brett said, getting used to interact with your professor and other students. Every class will be different, though. Some may have mini assignments, some may have quizzes, some will have papers but no, it's not only just paper happy.
Katie Macaluso: Okay, thanks, Milana. Our next question is, I'm not sure what concentration I would want to pursue, is that something that I need to decide right away?
Milana Tarbuk: Yeah, so typically we do we have you pick a concentration only because the core are the same, but we do need it to have a way to just keep everybody organized. Of course, this is something that you could talk with your advisor more in-depth about and maybe your goals and what you see yourself doing, and then we can help you pick. But yes, we do have our students pick a concentration.
Katie Macaluso: Okay. It looks like our next question it has to do with the application timeframe. This person says they are hoping to get started pretty soon, they want to know how long does it take to get a decision on an application.
Jon Runge: Sure, I'll take that one. In getting your app and everything done, I know the total application filling-out process, getting documents together, the app takes about 10-15 minutes, attach your current work resume, and then kinda get your final transcripts in, official ones. After that, there would be a file complete, the turnaround time is right now, about a weeks time, to get everything in and get a decision.
Katie Macaluso: Okay, perfect. Our next question is, what is the average age of students in the program?
Jon Runge: I can take that one too. I would say anywhere in the 25-34 age range. Obviously, those students are looking to build up their resume for future career advancements and stuff like that, but I do want to highlight, however, that we do have students that are above the age of 40, who I think are just looking to take maybe their last step in their careers. And kinda keep up with the continuing knowledge, with current trends and stuff like that. Anywhere, I'd say, mainly in the 25-34 range.
Katie Macaluso: Okay, great. And then it looks like we have a question about financial aid. This person says, "My only concern is financial aid, does Walsh offer support with this?"
Jon Runge: Yeah, we absolutely do. Mary Katherine and I will kinda walk you through and highlight things that need to get done, continue to support you throughout the application process and then all the way up to the start. Financial aid is available to those who apply and qualify for it, there are out-of-pocket options. You can work with our supportive staff on campus to kinda put those together. And we also do work with your company on any tuition reimbursement plan that you might have. There's always going to be support throughout that process however.
Katie Macaluso: Okay, thank you Jon. Alright, so that's about all the time that we have today for questions, so we're going to go ahead and wrap up the Q and A session.
We want to thank you all for joining us today. If you have any additional questions about the program, please don't hesitate to contact your admissions advisor directly, or stay on this page and we will leave up a couple of links when we end the webinar so that you can go ahead and schedule an appointment, or even go ahead and start the application if you're ready for that.
An on-demand recording will be available after the webinar. We'll email that out to you once it's ready. This concludes today's webinar, so thank you again for joining us and we hope you have a great rest of your day.