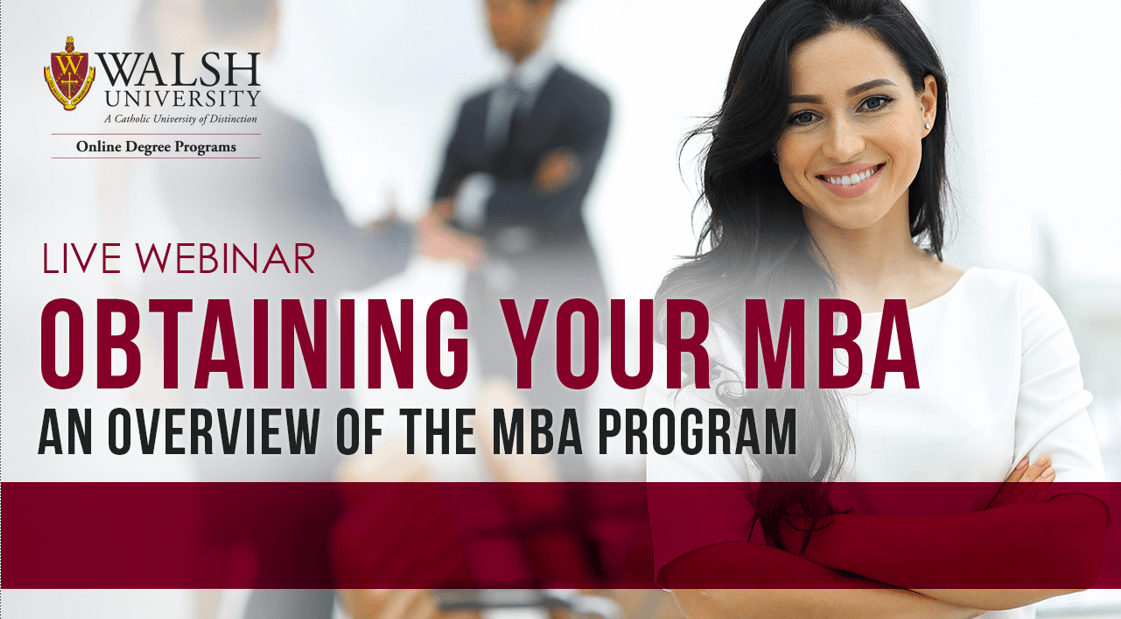 Online MBA Program: Info Session
Learn more about our 100% online MBA program. Interim MBA Program Director, Steve Edelson, will discuss the program's objectives and highlight the unique aspects of Walsh's program. We will also welcome Heather Gibson, current MBA student, to speak regarding her experience in the program. Get answers to all your questions in this webinar.
Guest Panelists:
Christina Walsh, Moderator
Steven Edelson, PhD, Interim MBA Program Director
Jon Runge, Enrollment Advisor
Heather Gibson, MBA Student, Healthcare Management concentration
Watch clips from the webinar
Full transcript below:
Presented Live: March 2, 2021
 
Christina Walsh
Hello, everyone and welcome. Thank you for joining us today for the webinar on the online MBA program offered through Walsh University's DeVille School of Business. Before we get started, I'd like to cover a few housekeeping items. In front of you is our webinar dashboard.
Christina Walsh
Please feel free to adjust the slides and other windows to be smaller or larger as you wish. Also, you are in broadcast-only mode, which means you can hear us, but we can not hear you. During the webinar, please feel free to type in your questions into the Q& A box located on the bottom of your screen as you think of them. We've reserved time at the close of this presentation to answer your questions. Here are our speakers for today's webinar.
Christina Walsh
First, I'm Christina Walsh, and I'll be your moderator today. I am joined by Jon Runge, our Admissions Counselor for the online MBA program, as well as Heather Gibson, a current MBA student, and Dr. Steven Edelson, Interim Program Director for the MBA program. Dr. Edelson joined Walsh University in 2010 after completing his Ph. D. at Temple University. His research is focused on the intersection of organizational behavior and entrepreneurship, as well as management education, and has been published in top management journals, such as the Journal of Management Inquiry and the Journal of Management Education.
Dr. Edelson currently serves on the Executive Board of the Management and Organizational Behavior Teaching Society as treasurer and was named the Interim MBA Program Director in the DeVille School of Business in 2020. Heather Gibson received her bachelor's degree in biomedical engineering from the University of Akron. She began Walch's MBA and Healthcare Management Program in October, 2020. In addition to being a full- time MBA student, Heather is also working as a graduate assistant and a medical scribe.
All right. A little bit about today's agenda.
Christina Walsh
First, we'll start by sharing some information about Walsh University, and then we'll move into an overview of the MBA program, it's curriculum, faculty, and then review a bit about the online experience. And then Jon will take over and discuss the admissions process. And then finally, we will save time at the end for any remaining questions you might have. And with that, I will turn it over to Dr. Edelson to share a little bit about Walsh University.
Steven Edelson
Thank you so much, Christina. Welcome to everyone here.
Steven Edelson
I'll share a little bit about Walsh. As you see on the slide, Walsh is in its 60th year now, 60th year here on campus. A very exciting time for us. And we're a private non- profit Catholic university in North Canton, Ohio. And we feature a great student to faculty ratio, which also carries over into the MBA program at that level as well. When you're at Walsh, whether it's online and through our digital campus, MBA program, or even on campus in our undergrad programs, we focus on more than just the degree that you're getting.
It's about developing you to meet your full potential and to create relationships within the community. And we'll talk a little bit more about that when I talk about our leadership practicum. We received various rankings and accolades from external organizations that testify to what we're doing is working. Generally speaking, our MBA, it is asynchronous.
Steven Edelson
You can complete the entire MBA program at your pace at the time that you wish. Our class sizes are small, we generally cap them at 20 students maximum. And we have faculty, both full- time faculty, as well as faculty who are adjuncts, who have great industry experience, as well as academic experience. Our courses are all on a compressed schedule, these are eight- week courses throughout the fall and the spring and seven- week courses during the summer semesters.
And you have the ability to take one or two courses per eight- weeks cycle. And if you take two courses for a eight- weeks cycle, you can complete the entire MBA in one calendar year, which is a great opportunity to advance your degree relatively quickly, advance your standing professional. So, all of our MBA concentrations is data analytics, healthcare management, management or marketing are 36 credit hours.
Steven Edelson
I'll go into each of these individually, but as you'll see, each of these concentrations features a core. That MBA core is taken by all students, no matter your concentration. And the capstone course, then again, brings you around with students from all concentrations to complete a strategic management capstone. Within each concentration, there are 15 credit hours or five courses, and I'll talk more individually now. So, that core curriculum features a course on sustainable ethical leadership, another one on organizational behavior and communication, financial accounting and management, marketing, information systems, and applied organizational research and analysis.
Steven Edelson
For our students who may not have a finance or a statistics background, we also offer a business foundations course that we have you take so that you're well- prepared for that financial accounting and management and applied organizational research analysis course. But that course is a zero credit course, it does not cost you anything to take and we can be taken alongside your other courses so you can still complete your program within that calendar year, if you desire. When we get to data analytics, the concentration has 15 credit hours.
Steven Edelson
So, there is a course in quality and performance management, analytics for business intelligence, a deeper analytics course for a managerial perspective and application, as well as database strategies. You can then take one elective course, and that can be any other course that's offered in our MBA program. One elective course to round out your data analytics concentration, and then the capstone at the end as well. Health care management, similarly, has quality and performance management as part of its required concentration, and then strategic management and healthcare, legal and policy aspects of healthcare, and healthcare finance and economics.
Steven Edelson
There's also an elective of course here. So, some examples of elective courses could be entrepreneurship or organizational design or managerial accounting. There's a lot of different courses, various courses of marketing that you'll see in a moment as well as an elective, giving our students a little more chance to have agency over their choices in their program. Managerial accounting, as well as quality and performance improvement.
Steven Edelson
Lastly, there's that elective course as well. Marketing is the only concentration where we don't have an elective.
Steven Edelson
Our marketing faculty have designed a program with a little more deep dive into marketing. And so, we have courses in marketing research, integrated marketing communications, social media marketing, services marketing, and analytics for business intelligence there. The capstone course is a strategic management course, really trying to focus on bringing everything together, everything you've learned from the various get back in to a general management perspective meant to help you apply and practice what you've learned through your other courses and bring in the perspectives that you have from your professional experience, as well as your academic experience.
Steven Edelson
We also have a leadership practicum that students take. The leadership practicum is broken down into just two courses, but again, these are zero credit hour courses that don't cost anything.
They take around three to five hours to complete. The leadership practicum, the first part involves doing a leadership simulation and reflecting on that leadership assessment, submitting an up- to- date resume. And then in part two, we set you up with a leadership coach. I currently have 14 coaches through us and across some experience in your industry or in things you're interested in, wherever possible.
And this meeting with the leadership coach, you'll then reflect again on that simulation that you did speak with the leadership coach about that. They'll help critique your resume for the things that they know the companies are looking for, things you may wish to highlight in there. So, the leadership practicum goes right through. And you can complete that leadership practicum as soon as your first semester, really, if you take our leadership course, sustainable ethical leadership course. That's the only prerequisite to getting into that leadership practicum. I mentioned this before, our faculty, we hold doctorates from institutions around the world.
Steven Edelson
As Christina mentioned, I held mine from Temple University, but we have doctorates from across the US and across the world, really.
Steven Edelson
We have members of the business community who are consultants and public speakers and presenters in business areas as well, who teach for us as adjuncts. Some of them also have doctorates as well, our adjuncts, as well as just really great industry experience. And the connections you make in this program with your faculty and with your peers are connections that you're going to hold beyond the year or two that you're in our program. But these are connections that we see students holding with their leadership mentors and with colleagues in the program for years out, because it's such a beneficial program and you're working with a lot of the same people throughout.
I'm going to turn the presentation over to Heather now, who can talk a little bit about that student experience.
Heather Gibson
Yes. Hello, everyone.
Heather Gibson
So, like they said, I'm a current student in the MBA program, and I'm going to address some of the basic questions that you may have. So, why did I choose Walsh University? I was doing a lot of research throughout Northeast Ohio, on some of the MBA programs around here. And what really stuck out to me about Walsh was how invested they were in me before I even applied to Walsh University. I was on their website and Nancy immediately reached out to me to address any questions. And she basically held my hand throughout my entire application process. She was by my side the entire time. So, just to see how much support I got before I was even an actual student was very impressive and was probably one of the biggest reasons I chose Walsh. And then, why did I chose, sorry, why did I choose to earn my MBA? I was a biomedical engineering student and we did a capstone project where we have to go through the entire design process.
And I gravitated more towards the business side of everything and realized that the engineering aspect wasn't really for me. How has my experience in the online program been so far? I've actually enjoyed everything. So, the MBA program is so nice because unlike your undergraduate experience, every class you take you're learning something that's going to benefit you in your business career.
So, there's no gen ed weed out classes. So, it's very easy to stay focused and enjoy the material because you know that you're going to use this later on. And then finally, what are my career plans after graduating? My career plans aren't very specific right now. I originally came because I wanted to get involved with a medical device or pharmaceutical company, but throughout the classes I've taken here, I've realized that there are a lot of options when you receive an MBA. So, I guess my plans right now are still regarding the medical device or pharmaceutical companies, but nothing set in stone just yet. So, yeah, that's it for me. And I'll hand everything over to Jon to finish this out.
Jon Runge
Awesome. Thank you, Heather. So, our online MBA has been around in some way, shape or form since 2012. Initially the program was that at ground campus. It evolved to a hybrid program and is now 100% online.
Jon Runge
I believe you will see, there is a lot of flexibility in what we have to offer. Virtual learning is really where it's at these days. We maintain our smaller class sizes, as Dr. Edelson spoke about. It helps facilitate your learning experience. Within the program, there is a lot of one- on- one interaction, both with your professor and classmates. So, you can ask those questions, receive your feedback in a timely matter, and get a better grasp of the subject areas that you're working on. The program is set up to be asynchronous, no set log- in time, a 100% online and all the pieces are really there for you to help shape your career, it's just a matter of taking advantage of them.
Jon Runge
And now, it's at the profile of our current students.
Jon Runge
As you can see, the current balance reads as 63% female, or excuse me, yeah, 63% female, 30% male. The age range of our students does vary, from students who have recently received their undergraduate degree to students in their mid- 50s, who are looking to change and shape the later years of their time of the workforce. Across the board, there is a ton of experience. So, that's where the one- on- one feel comes into play and asking questions to classmates, and then your professors as well. In many ways, our program has made up of students who are looking to advance to take advantage of the time that they have now, and our flexibility definitely helps to get that done. Lastly, a number of that is ever changing, that is the 27% of our students are from outside of Ohio. I really appreciate this growing stat as the admissions counselor. And if the students are from other states, they bring various ideas and business practices that can help spark new ideas within your classes. As you will see within the program, that, and the combination of other cultures can help expand your views in the business world, which is very helpful.
Now, the admissions process, first and foremost, I would love to speak with all of you as it's a great way to get a feel for who you are as a student, as a person, professionally, and learn more about you.
Jon Runge
But also, you get to learn more about the program and see if it's a good fit for you. To apply, you'll obviously need to submit an application, which I can send to you, but also can be found online. A current work resume, so make sure it's cleaned up and updated. And all official transcripts from any schools that you've attended after high school. For more information, you can definitely reach out to me as my contact information is listed below.
Christina Walsh
Right. Great, thank you. All right. So, we're going to get our Q& A session started now.
Christina Walsh
So, if you haven't already, go ahead and submit your questions in the Q& A box. We will answer as many as time allows during at this time. So, the first question that I have, let's see, what should I expect in terms of exams and other homework assignments in the online courses and do exams still occur at a specific time, or how does that work? Dr. Edelson, do you want to cover that?
Steven Edelson
Absolutely. It's going to depend course by course. I can't tell you that every course has the same, but when it comes to assignments, you should expect to have one or two chapters reading every week. There may be a paper or some type of discussion board posts. Sometimes we have live discussions where it meets students' needs, but if there's ever a live discussion, there's always an alternative for students who can't be there at a specific time, because we do want it to be able to be experienced by all students, any of our assignments.
When it comes to exams, some of our courses have more traditional exams, some will have some quizzes. Usually they are not done at a specific time, but done within a timeframe. So, in the course that I teach, in an entrepreneurship course, I have frequently had an exam that is open from Thursday to Monday and needs to be completed within a certain timeframe and with a time limit. But perhaps, Heather, our current student can speak a little bit to how she's experienced the workload in the program.
Heather Gibson
Yes, absolutely. So, it's been my experience where in most cases, your professor is going to lay out your weekly to- do list and it'll be like," Oh, you'll have two chapters of reading and a discussion post due on Wednesday. And then you might have some quiz or assignment or responses to your discussion posts due on Sunday." So, they lay everything out very nicely.
The professors that I have had so far all stick to the same schedule every week, so you'll know what to expect. And any differences, they'll let you know in advance. So, yeah, I think it's pretty straight forward. And as long as you keep your schedule on hand with your time management skills, you should be fine.
Christina Walsh
Thank you both. That was great. Do the faculty hold office hours virtually for online students? Dr. Edelson.
Steven Edelson
Yes, faculty will hold office hours. Some faculty will have specific office hours every week, other faculty will have virtual office hours by appointment because we know we have students from across the country, across different time zones, we even have international students across the ocean that I've had teaching. So, me, for instance, I have usually some type of live chat and I will have students able to talk during that time or before a live chat for class, but I know that not all students can make that.
And so, I also have an appointment calendar that they can sign up online, anytime that suits them. And if for some reason, my calendar doesn't line up with theirs, we set it up via email and figure it out. So, all of our professors are very open and willing to make that time. If you happen to be in the area, COVID aside, most of our professors who are on campus, glad to speak to you face- to- face as well.
Christina Walsh
Perfect. Thank you. Next question, Dr. Edelson, is the MBA program exclusively online or are there in- person courses available?
Steven Edelson
The MBA program is exclusively online. We do not offer any classes in the MBA program on ground. Everything is the comfort of your hotel room when you're traveling for work, from your own home at 2: 00 in the morning, whatever works for you.
Christina Walsh
Wonderful. This attendee isn't necessarily sure which concentration they want to pursue at this time. Do they need to decide that right away, Dr. Edelson?
Steven Edelson
Yeah. I believe that the application form does ask you to choose one concentration. However, you can take those initial courses, those core courses, if you will, the 621 through 626 courses that are core for all students, and change your concentration with a simple filling out of a form. So, it's certainly possible that if you said," I'm not sure if I want to do data analytics or marketing or management," you don't know at all. You can take a couple of courses and then make that decision, you can change your mind throughout.
It's also possible for students to take a dual concentration, if that is something that's of interest to them.
Christina Walsh
Wonderful. Thank you. This next question is for Jon. Let's see. Do the students, once we're past COVID times, do they participate in rather regular graduation ceremonies and to have access to campus activities and things?
Jon Runge
Yeah. So, actually it's one of the great features of our program is you actually do get to cross stage once things open up, obviously, and there's graduation ceremonies to be had. You are a part of Walsh University. If you were in the local area, I know that you can come to campus, obtain a student ID, use student library, career center, I believe workout facilities as well, and absolutely be a part of our campus.
Christina Walsh
Perfect. Let's see, I'm nearing the end of the questions that we've received so far so if there's any additional questions, go ahead and submit them at this time. How long does it typically- Oh, go ahead.
Steven Edelson
Sorry, just to add to Jon's last answer. Yeah. As a student in our program, you are a fully vested student at Walsh. You have full access to all our facilities, including workout facilities, the library, as well as obviously access to our library facilities online. Our library has done a great job of putting so many of their resources online for us. So, you certainly are welcome on campus.
Christina Walsh
Wonderful. Thank you for that. So, how long does it take to get a decision on an application, Jon or Dr. Edelson?
Steven Edelson
goes through our internal system. I believe they come to me fairly quickly and I usually get them turned around. I think one week or less is average. And Jon, maybe you can speak to that a little more.
Jon Runge
Yeah. So, I mean, once we speak towards everything in your initial interview and work through your application, obviously transcripts take a while to get there. Generally, I like to work and complete a file within a week, seven to 10 days. And then once we get that in, obviously, I believe right now, about two to four days, as far as it's your own time, which is absolutely great in a lot of ways.
Christina Walsh
Perfect. And Jon, would you be able to cover off on some information about financial aid and what Walsh supports there?
Jon Runge
Sure. So, financial aid is available to those who apply and obviously qualify for it, working through the FAFSA website. If you have had Walsh experience in the past and coming back and is alumni, I would definitely reach out to the Student Service Center for questions and see if there's any additional paperwork. Generally students like to pay, there are a couple of options. There are out-of-pocket payment plans, if that is something you wish to work through. Obviously, if your company offers a tuition reimbursement program, that is something we definitely do look at and help you with as far as paperwork there.
And then of course, private loans, if you're looking to go through a Sallie Mae or a Discover or any other entity that you'd like to work through. Students like to ask about scholarships, generally, there are some available on our websites. I know in the past I have a lot of students going through third- party websites as well. It depends on affiliation with a certain church or a VFW or anything really you're looking for, there are opportunities for funding outside of using a FAFSA.
Christina Walsh
Perfect. Thank you. I think this is our last question for today. Where can I find a list of the elective options, Jon?
Jon Runge
Sure. So, as Dr. Edelson had mentioned previously, your elective class can be chosen from that list. Generally, that would be on our brochure.
Also, if you would reach out to me, I do have a link to a website that I use specifically, which has the classes also in detail, a list, full list, but also the details as well. So, just let me know.
Christina Walsh
Great. All right. It looks like that's all the questions that we've received for today. So, I'm going to go ahead and conclude the Q&A session for today. So, thank you, everyone, for joining us. I really hope the session was helpful for you. If you have any additional questions, please go ahead and reach out to your admissions counselor directly. You may also schedule an appointment with him using the link provided in the resources list widget that's on your screen right now. We'd also appreciate any feedback that you have about this webinar.
A quick survey will pop up at the close of the webinar. So, one more last note. An on demand recording of this session will be available this afternoon and will be emailed out to you. This concludes today's webinar. So, thank you again and enjoy the rest of your day.
Steven Edelson
Thank you, everyone.