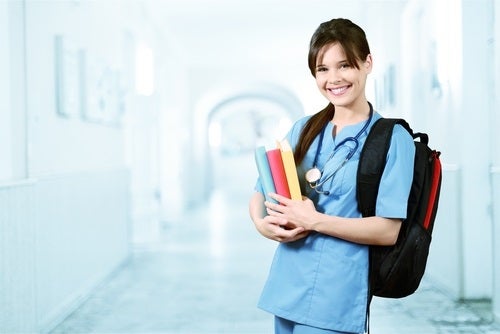 Nurse educators key to combating nurse shortage
ScrubsMag.com takes a look at the link between the lack of nursing instructors and the nursing shortage. Citing an American Association of Colleges of Nursing (AACN) study, more than 60,000 applicants were turned away from nursing programs due to a lack of faculty. Key contributors to the lack of nursing instructors includes the retirement of current nursing faculty, lower admission rates to nurse educator programs, and as discrepancy in pay for nursing faculty. Without the necessary faculty, postsecondary institutions are not producing the wave of nursing graduates needed to combat the nation's overall nursing shortage.
However, professional associations and other organizations are taking action to encourage more nurses to transition into a nurse educator/nurse faculty role. Active resources to combat include:
"Transitioning from Clinical Nursing to Nursing Faculty" toolkit produced for the Graduate Nursing Student Academy. Hosted on the AACN website, the toolkit includes a breakdown of theories, processes, and educational standards needed to transition from a full-time clinical nursing career to a nurse faculty role.
The National League for Nursing offers a Certified Nurse Educator designation available to licensed RNs who also have a master's in nursing with a nurse education focus. Qualified nurse educators may be able to leverage this credential when seeking a nursing faculty position. The NLN also offers grants and scholarships specifically for nurse educators and the advancement of educators within the nursing workforce.
The National Council of State Boards of Nursing continues to research and examine the implications of the nursing faculty shortage. Individuals can access presentations and insights from a 2008 Faculty Qualifications conference to explore some of the research.
There is a definite need for nurse educators. Walsh University's online master of science in nursing with a nurse educator focus can prepare you to fulfill the need and train the next generation of nurses. The program is 100% online, excluding clinicals, and course materials are accessible 24/7. Working RNs can achieve their educational goals while maintaining a healthy work-life balance. Walsh University is accredited by the Commission on Collegiate Nursing Education and provides a program that can be completed in as few as six semesters. Gain the knowledge needed to educate others and fill an industry-wide gap. Learn more about Walsh University's MSN-NE program here.
The baccalaureate degree program in nursing, master's degree program in nursing, and doctor of nursing practice program at Walsh University are accredited by the Commission on Collegiate Nursing Education (http://www.ccneaccreditation.org).