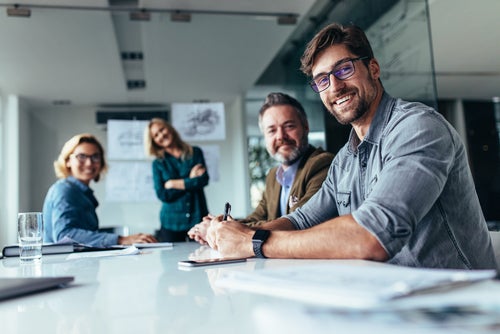 MBA Specializations Give Graduates an Edge
An MBA program is designed to be a multifaceted approach to educating aspiring businesspersons. MBA programs look at management scientifically, drawing together insights from accounting, statistics, law, finance, economics, sociology, and more. An MBA will provide you with the skills all business leaders need, but in order to carve out the career you want in a competitive economy, you'll also need to specialize. Walsh University's online MBA degree has been recognized as one of the country's best because we encourage students to augment their core learnings with one of three specializations:
Management
Healthcare Management
Marketing
Let's look at each to find out which specialization is right for you.
Management
Managers must be able to balance micro- and macro-scale perspectives. On one hand, you need to be fully engaged with your team, working with them on a personal level to support their development and maximize their contributions. On the other, you must be mindful of industry trends that impact the very way you do business.
Management MBA specialists dig deep into topics such as:
Quality and performance management: Theories that help organizations define their culture and consistently satisfy stakeholders. You'll learn how to objectively measure business performance, and how to create frameworks to continuously monitor and improve that performance through new tools and training.

Managerial accounting: Accounting issues invariably arise in a complex and changing business environment. Managerial accounting helps you learn to keep the financial side of daily operations running smoothly. We'll also familiarize you with practical essentials like job order costing, process costing, activity-based costing, and cost estimation.

Entrepreneurship and innovation: We'll teach you about real-world business problems and show you how to develop new opportunities. When you have the ability to identify a need and draw up a detailed plan to exploit it, you'll be ahead of the game.
Healthcare Management
Healthcare is a nearly $3 trillion industry, accounting for 17.1% of America's GDP. Whether you see yourself working for a not-for-profit, for-profit, or government hospital, as a leader, you'll need top-notch skills to steer your organization in the right direction. Healthcare management specialists learn:
Healthcare law and policy: Even the finest healthcare organizations are lawsuit magnets. You need to understand how liability works, and how to designate policies that insulate your facility from risk while providing the best possible standard of care to patients.

Healthcare finance and economics: How do decisions about investment and working capital impact operations? How does insurance coverage work regarding malpractice? How does the broader economy affect how the communities you serve access health services? Answering these questions is critical for any healthcare leader.

Healthcare organizations and systems: Here you'll learn about how America's healthcare system works on a structural level. The delivery of care is complex and involves many interrelated public and private entities. These lessons will come into play when you're designing policies for your own team.
Marketing
Leading a marketing team is more than just coming up with an appealing hook to sell a product. Alongside the leadership and management skills you'll learn in your core courses, a marketing specialization in Walsh's online MBA degree will give you a deep working knowledge of marketing theory and practice.
Marketing research: This is about the hard fundamentals that undergird a successful campaign. You'll learn how to research your target audiences through surveys, data collection and more; how to test your hypotheses and analyze the results; and how to track the outcome of your campaigns as they roll out.

Integrated marketing communications: Advertising, public relations, sales promotions, direct marketing and social media—how do they fit together to create an irresistible package? We'll show you.

Social media marketing: Learn the ins and outs of social media marketing from an insider's perspective. You'll complete your studies with a strong understanding of the industry, its operations, technologies, and context.
Please reach out to learn more about the MBA program and these specializations. An in-class option is also available for the MBA program. We have advisors ready to walk you through your options and find a perfect fit for you.