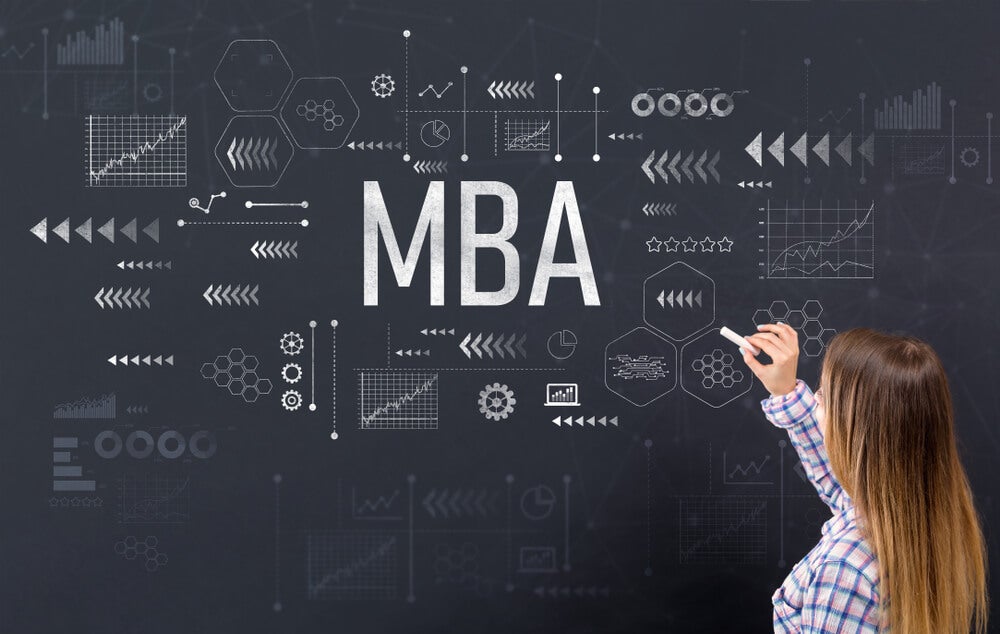 How to Choose the Best MBA Concentration
An MBA helps you prepare for a fulfilling and challenging career in the business world. U.S. News & World Report projected an average starting salary of $84,850 for MBA graduates in 2019. For the nation's top MBA programs, graduates earned $102,495 in 2018. Pursuing an MBA might seem daunting if you are unfamiliar with online programs. You can balance your family and career responsibilities with advanced business courses through Walsh University's online MBA program.
Working professionals who need a no GMAT MBA should consider Walsh University. This program can be completed in one year thanks to six student intakes per year. Students in this online MBA select from concentrations in healthcare management, management, and marketing. Walsh University's online advisors work with students to navigate through their options during enrollment. You can prepare for these conversations by considering the following questions about online MBA concentrations.
What Do You Need to Know Before Choosing a Business School?
Return on investment
Before selecting an MBA concentration, you should consider the return on investment (ROI) from a potential business school. The most obvious measure of ROI is whether your tuition and fees will lead to higher salaries than prior to pursuing an MBA. Your time is also limited and valuable, making the number of years spent on an MBA an important consideration. Advanced degrees can also require an investment in books and supplies that pile up over years of study.
Walsh University offers a strong ROI for its graduates thanks to an accelerated course of study. In a year's time, an online MBA student can complete their coursework and pursue leadership positions. A 100% online format saves time for students with flexible course delivery. Named a "2019 Best Online Program" by U.S. News and World Report, Walsh's national reputation makes the MBA an important asset on each graduate's resume.
Finding your comfort zone
There is no one-size-fits-all approach to higher education. Students thrive in small-class environments, big lecture halls, and online courses. Public universities can work well for some students, while other students prefer private colleges. Each lecture, assignment, and interaction with a professor also informs a student's college experience. As you consider MBA options, it is important to find your comfort zone and find the right university.
Walsh University translates its small Ohio campus environment into a comfortable setting for learners around the world. The university's Catholic background informs all of its traditional and online programs. Students are taught to serve others and think globally in all of their decisions. This approach to learning is ideal for students balancing family, work, and educational responsibilities. Niche's 2019 college rankings included an A- in Diversity and placed Walsh University No. 71 in Best Catholic Colleges in America. The school's welcoming environment makes it a comfortable place to learn about the ins and outs of the business world. Multiple concentrations
U.S. News & World Report highlighted the importance of an MBA program with multiple concentrations in a 2018 article. In this article, surveyed professors and admissions professionals felt that concentrations helped students break into new fields. A general MBA can be a valuable asset but concentrations show prospective employers that applicants are motivated to succeed in their industries. You should look for an MBA program with specialization options that match your interests or represent desired shifts in your career.
Walsh University's online MBA program offers three concentrations that boost career prospects for their graduates (e.g., management, healthcare management, and marketing). Each concentration is focused on areas that employers are targeting. The management concentration is ideal for students who want to balance career flexibility with a sharp focus on leadership skills. MBA students anticipate unique challenges in the industry through healthcare management and marketing concentrations. If you're willing to grow your specialty, but not sure where to start, work with our admissions advisors to find the right concentration for your needs.
Concentrations show prospective employers that applicants are motivated to succeed in their industries.
Why Choose a Management Concentration?
Data USA's research of 2016 college graduates found 326,808 bachelor's degrees in business conferred during the study year. The entrepreneurial spirit of students combines with consistent demand for business-minded professionals in entry-level positions. The National Association of Colleges and Employers concluded that eight of the 10 most popular majors in 2017 fell into business categories that human resources departments look for when filling jobs. To stand out from the pack, however, a business graduate should consider an MBA with a management concentration. With an online MBA from Walsh University, you can fast-track your move into leadership positions.
Focused Preparation
A management-focused MBA prepares you for jobs in various parts of the business ecosystem. Administrative services managers oversee support services within businesses including parcel delivery and housekeeping. Production managers supervise the day-to-day operations of factories and industrial facilities. Sales managers work with staff members to reach sales benchmarks and generate new accounts. From customer outreach to product delivery, managers are needed to keep all of the details in order.
Increased Earnings
The Bureau of Labor Statistics (BLS) calculated an average salary of $104,420 in 2018 for all management occupations. Salaries that exceeded the average in 2018 included benefits managers ($121,010), natural sciences managers ($123,860), and fundraising managers ($114,800). The BLS projected an 8 percent growth in managerial jobs from 2016 to 2026 with turnover and small business expansion contributing to growth.
Walsh's no GMAT MBA is designed to turn students into managers ready to oversee business operations. MBA students can complete two eight-week courses each term around their work schedules. The management concentration includes required courses in managerial accounting and organizational design that provides an all-encompassing view of business leadership. Each student needs to complete a strategic management capstone that demonstrates competency prior to graduation. The quality of this online MBA has been recognized by the U.S. News & World Report, which placed Walsh University among its 2019 Best Online Programs.
Why Choose a Healthcare Management Concentration?
Targeted Positions
Aspiring managers who want to serve their communities can narrow their focus to the healthcare field. Healthcare managers oversee physicians, nurses, and other healthcare personnel in medical departments, clinics, and hospitals. This career path requires managers who can blend their business skills with familiarity with healthcare policy. Healthcare managers also need strong interpersonal skills to help their direct reports deal with challenging situations. These positions are in high demand by employers.
Projected Growth
A healthcare management career offers thousands of opportunities to help people overcome illnesses. Students should also consider the long-term prospects for this career path. The BLS projects a 20 percent growth in healthcare and medical management positions from 2016 to 2026. This far exceeds projections for all jobs and reflects increased healthcare demands from an aging population. The typical healthcare manager earned $99,730 in 2018, a reflection of the legal and business skills necessary in this line of work.
An online MBA with a healthcare management concentration from Walsh University prepares students for this challenging field. Students pursuing this concentration complete courses in performance management, healthcare finance, and healthcare policy and law. As with other concentrations, healthcare management students choose from electives like not-for-profit accounting and services marketing that strengthen their resumes. Walsh University also requires completion of a healthcare strategy capstone that synthesizes all of these courses. After graduation, healthcare management students are ready to take on the challenges of managing skilled medical professionals.
Why Choose a Marketing Concentration?
Innovative Leadership
You might be interested in a creative career in the business world. Advertising agencies, marketing firms, and design studios need staff members who blend creativity with business acumen. Walsh University's online MBA features a marketing concentration that prepares graduates to lead street, print, television, and online advertising campaigns. With a focused MBA in marketing, students are groomed for roles such as marketing managers, brand managers, product managers, media planners, and more.
Bright Outlook
The BLS offers a positive outlook on advertising, promotional, and marketing managerial jobs. Professionals in this career path made an average salary of $132,620 in 2018, far exceeding the national average salary. Demand for managers is expected to remain high into the future with a 10 percent projected growth rate from 2016 to 2026. As the advertising world changes, businesses need agile marketing professionals to reach consumers in a variety of media.
Advertising, promotions, and marketing managers can start their careers with bachelor's degrees. To move up the ladder, however, managers need advanced degrees to learn new skills and theories in business leadership. Walsh University offers online courses in marketing strategy and social media marketing that use the latest research in the field. Graduates of the online MBA program are ready to jump into marketing projects from day one.
How Do You Continue Your Education Beyond the MBA?
Completing an online MBA program helps you achieve professional goals at this point in your life. Your educational experience does not end when you finish your MBA. As your career develops, you might want to switch industries or start your own business. You may start a family, move across the world, or look for additional skills to augment your MBA. The National Center for Education Statistics found 43 percent of graduate degree holders held professional licenses and 56 percent had completed work experience programs as of 2016.
Partnering with Walsh
As a graduate of Walsh University, you are connected to fellow alumni throughout the world. Walsh University's Alumni Association holds frequent events at the main campus to celebrate its graduates. You don't need to be in Ohio to benefit from the association's work. The school maintains a Handshake account, which allows alumni to connect with employers throughout the world. Walsh University also offers its Lifelong Learning Academy to graduates who want to enrich their personal and professional lives. Alumni can also contact the Career Services Center to review their resumes and prepare for job interviews.