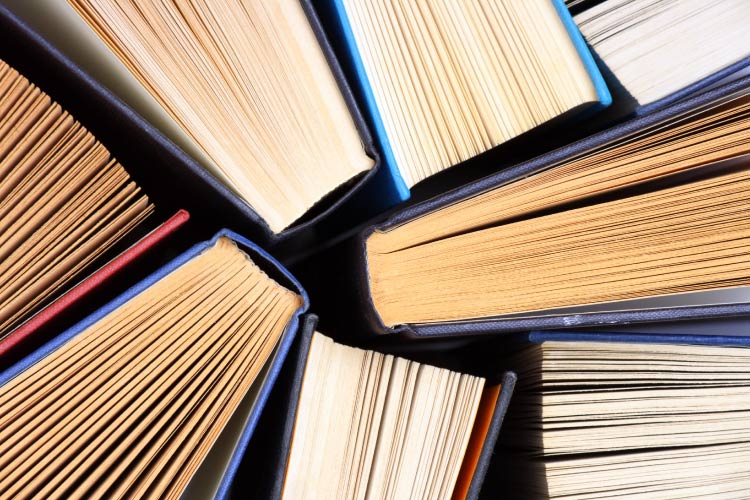 Business Books: the Leaders' Top 18
What one habit do successful business leaders share universally? They read a lot of high quality business books.
No matter how busy the world's most influential leaders are, they continue to take time to read. Noteworthy professionals are selective about their reading list and aim to be educated rather than entertained. These professionals hand-pick business books that build their knowledge, spark creativity and expand their perspective.
A study conducted by a self-made millionaire found that of 1,200 wealthy successful people, every single individual claimed to self-educate by reading, from billionaire investors to top television producers.
If you're an aspiring business professional hoping to build your skills at home, we selected the top 18 business books for you to reignite creativity, acquire new information and potentially become massively successful through the power of reading.
1. "The Myth of the Strong Leader: Political Leadership in the Modern Age" by Archie Brown
Offering an honest examination of political leadership, "The Myth of the Strong Leader" casts light upon true examples of leadership, from Nelson Mandela to Margaret Thatcher. Brown challenges the widely held myth that strong leaders only succeed through dominance, force and oppression.
Brown's book contrasts governing styles of leaders throughout history and uses his findings to offer a better path forward for successful leaders in the modern age. Although Brown's book focuses on leadership in the political sphere, it offers the wisdom many business books attempt to convey.
Bill Gates recommended this book as one of the few leadership and management business books on his reading list. Aspiring business professionals can learn from effective and ineffective cases of political leadership to foster better leadership skills in the workplace.
2. "Mindset: The New Psychology of Success: How We Can Learn to Fulfill Our Potential" by Carol S. Dweck, Ph.D.
Carol S. Dweck is a world-renowned psychologist who has dedicated years of her life to researching the inner mechanics of achievement and success. After much research, Dweck found a core difference between those who achieve success and those who fall short—their mindset.
"Mindset: The New Psychology of Success" examines a "fixed mindset" versus a "growth mindset" and concludes that individuals with a growth mindset are more equipped to become better teachers, athletes, managers, parents and leaders.
This ground-breaking research has influenced many business books over the years and is regarded as an essential read for leaders who want to encourage growth and learning in their teams.
3. "The Effective Executive: The Definitive Guide to Getting the Right Things Done" by Peter F. Drucker
Peter Ferdinand Drucker was a writer, management consultant and university professor who distilled much of his learnings into the comprehensive book "The Effective Executive."
Drucker explores five essential practices he believes to be effective as a business leader, including:
Managing time
Identifying contributions
Mobilizing resources
Prioritizing organizational goals
Making effective business decisions
"The Effective Executive" is one of many business books tackling concepts like imagination, knowledge and intelligence across a variety of industries—from big businesses to government institutions. Drucker is unique in that he highlights areas other business books overlook. He was an expert in his field and has even been deemed "The Father of Modern Management" after publishing nearly 39 books on the subject.
4. "Outliers: The Story of Success" by Malcolm Gladwell
Malcolm Gladwell is a Canadian journalist, author and public speaker with a knack for writing insightful books that draw from real-world historical examples. "Outliers" is about how "a person's environment, in conjunction with personal drive and motivation, affects his or her possibility and opportunity for success."
Gladwell recognizes that individuals like Bill Gates are incredibly intelligent, disciplined and self-motivated but he can name many professionals with similar qualities who are not also worth over $100 billion.
What can professionals learn from "Outliers"? The book may not resemble other business books marketed to leaders, but it does allow professionals to garner a new perspective. The ultra-successful aren't necessarily the smartest or the best; they simply honed their craft at the right time with the right allocation of time.
Gladwell introduces the "10,000-hour theory"—it takes approximately 10,000 hours to master a craft. Aspiring leaders can take several hours a day to start working toward mastering their desired skills after reading this perceptive book.
5. "How to Win Friends and Influence People" by Dale Carnegie
Some business books go down in history as all-time classics and "How to Win Friends and Influence People" is one of those success stories. The first copy of this classic was released in 1936 and the message continues to resonate decades later.
Carnegie teaches professionals, "the six ways to make people like you, the twelve ways to win people to your way of thinking and the nine ways to change people without arousing resentment." This timeless advice is not just relevant in the boardroom, it can be applied throughout all relationships.
Aspiring leaders use Carnegie's teachings to better communicate with people on their team and build and improve successful relationships through social skills.
6. "The Essays of Warren Buffett: Lessons for Corporate America"
Warren Buffett is a well-known American investor and business tycoon who famously spends five to six hours a day reading five newspapers and 500 pages of corporate reports, according to Business Insider. Buffett is regarded as one of the most successful investors in the world and boasts a net worth of over $70 billion.
Leaders have a lot to learn from Buffet and can start with "The Essays of Warren Buffett", a collection of Buffett's teachings regarding finance and economics in corporate America. Not only does Buffett cover topics related to finance, but he dives into human behavior and psychology, manufacturing and trade, management and leadership, corporate culture, corporate governance, influence, government and politics, law, philosophy, education, history and more.
Leaders pursuing a career in finance and economics should start with the works of Warren Buffett before starting other business books to build foundational knowledge from one of the world's most intelligent investors.
7. "Lean In: Women, Work, and the Will to Lead" by Sheryl Sandberg (Co-writer Nell Scovell)
Sheryl Sandberg broke headlines and glass ceilings with the release of her extraordinary book "Lean In." Sandberg famously said, "In the future, there will be no female leaders. There will just be leaders" and ignited a global conversation about women in the workplace and the unique challenges in female leadership.
Sandberg draws on her own experience as Facebook's COO and one of Fortune magazine's Most Powerful Women in Business to encourage women to occupy leadership positions, speak up, and of course, lean into the conversation.
Business books like "Lean In" are educational for both men and women navigating the modern workplace. Leaders can learn how to use courage and confidence to speak up in business settings and make impactful changes.
8. "Start with Why: How Great Leaders Inspire Everyone to Take Action" by Simon Sinek
In 2009, Simon Sinek's ideas spread like wildfire when his TEDx Talk "Start with Why: How Great Leaders Inspire Action" went viral; it currently has over 7 million views on Youtube.
Sinek published a book by the same title the same year and impacted thousands of professionals across the world.
"Start with Why" encourages leaders to ask the big questions like what a company's organizational mission and goals are. He believes customers don't buy what a company does, they buy why they do it.
Like other widely-received business books, "Start with Why" stresses the importance of taking action and turning insights into strategies. Sinek uses real-life stories to motivate leaders to inspire others.
9. "The Outsiders: Eight Unconventional CEOs and Their Radically Rational Blueprint for Success" by William N. Thorndike Jr.
Standout CEOs can create successful companies and thrive in environments where others may falter. William Thorndike sheds light on eight unique case studies where CEOs have used their knowledge about financial and human capital to succeed in the face of hardship.
"The Outsiders" closely evaluates the performance of eight companies and their leaders to showcase leaders who paved the way rather than following conventional methods and management trends.
Leaders seeking business books that draw from research-informed, real-world examples will enjoy Thorndike's perspective on applied leadership. Professionals with interest in pursuing executive positions at a company will especially benefit from this analysis.
10. "Factfulness: Ten Reasons We're Wrong About the World — and Why Things Are Better Than You Think" by Hans Rosling, Anna Rosling Rönnlund and Ola Rosling
The world needs an optimistic fact-check and this uplifting book based on truth is exactly how such a need is met. There is a unique history behind the book; Hans Rosling produced "Factfulness" as his final passion project after he was diagnosed with pancreatic cancer and worked tirelessly on the project until he passed in 2017.
"Factfulness" stays true to its name, using statistics to prove the modern world is better than we think. Hans Rosling was a professor of international health and expert at interpreting data. After much examination, he concluded humans worry about everything all the time rather than focusing on the facts.
Why is this book important for leaders to read? Bill Gates recommended "Factfulness" on his exclusive list and says, "he offers a new framework for how to think about the world."
Leaders searching for business books are often hoping to shift their perspective and gain insight into the state of affairs in the modern world. "Factfulness" will effectively do both.
11. "Daring Greatly: How the Courage to Be Vulnerable Transforms the Way We Live, Love, Parent, and Lead" by Brené Brown
Brené Brown has quickly become a household name when it comes to inspiring others to be brave, vulnerable and authentic. "Daring Greatly" is a departure from the framework of classic business books and a helpful marriage of the business and self-help genres.
Brown is a research professor at the University of Houston who rose to fame after her TEDx Talk "The Power of Vulnerability" was viewed over 49 million times. She specializes in researching and analyzing human behavior as it relates to themes like courage, vulnerability and leadership.
Some business books fail to recognize the fact businesses are made up of living, breathing humans. Successful leaders must learn more about the inner workings of their people to transform lives through leadership. "Daring Greatly" challenges leaders to break through fear and lead with courage.
12. "Great by Choice: Uncertainty, Chaos, and Luck — Why Some Thrive Despite Them All" by Jim Collins (Morten T. Hansen)
Businesses operate in uncertain circumstances. From the financial crisis of 2008 to the global pandemic of 2020, leaders must learn to navigate chaos effectively. Collins offers up "Great by Choice" to encourage leaders in the fact that great leadership can prevail through hard times. This is when great leaders should persevere.
Collins is interested in the sustainability of leadership and companies and is the author of "Built to Last: Successful Habits of Visionary Companies." As an author, Collins produces business books by compiling data comparing real-world companies and offer a contrarian perspective on leadership.
Leaders who read this book will learn that becoming a great leader is a choice and is possible in every environment, whether it's supportive or challenging.
13. "Thrive: The Third Metric to Redefining Success and Creating a Life of Well-Being, Wisdom, and Wonder" by Arianna Huffington
Arianna Huffington is co-founder and editor-in-chief of the Huffington Post Media Group, one of the fastest-growing media companies in the world, and author of the deeply personal book "Thrive".
Thrive begins with Huffington's admission: although she was wildly successful in her work life, she neglected self-care until she had reached a point of dangerous exhaustion. Thrive asks leaders and professionals everywhere to include one more measurement of success in their life—their well-being.
"We think, mistakenly, that success is the result of the amount of time we put in at work, instead of the quality of time we put in," Huffington says in her book. Yet another quote from the book ringing true is: "If you take care of your mind, you take care of the world."
Thrive is the intersection where business books meet personal care. Leaders who pick up this book are called to slow down and invest as much in their mental and physical health as they do in their companies and people.
14. "Emotional Intelligence: Why It Can Matter More Than IQ" by Daniel Goleman
The concept of emotional intelligence wasn't always a highly talked about one in the realm of business books. Many business books completely leave out the emotional side of leading people and running an organization. Daniel Goleman suddenly shifted the conversation when "Emotional Intelligence" became one of the 25 Most Influential Business Management Books by TIME and was regarded as "a revolutionary, paradigm-shattering idea" by HBR.
Goleman underscores the importance of emotional intelligence when he says, "Emotional self-control—delaying gratification and stifling impulsiveness—underlies accomplishment of every sort."
Business books used to concentrate on the thinking mind and completely ignore the emotional mind. Goleman introduces leaders to this largely neglected area of self-development and presents a case for the importance of developing emotional intelligence.
15. "The Hard Thing About Hard Things: Building a Business When There Are No Easy Answers" by Ben Horowitz
Leading effectively can be exceptionally hard at times. Ben Horowitz is co-founder and general partner of Andreessen Horowitz, a Silicon Valley-based venture capital firm that invests in entrepreneurs building and leading revolutionary technology companies like Airbnb, Facebook, Pinterest and Twitter. Horowitz knows a thing or two about how to start and run a successful business.
"The Hard Thing About Hard Things" draws from Horowitz's experience founding, running, selling, buying, managing, and investing in technology companies and transmits this learned knowledge to readers so they can navigate similar business challenges.
Readers will learn important leadership lessons from Horowitz including, "Take care of the people, the products, and the profits—in that order." Horowitz developed a standout in the genre of business books that skips the easy part of management and instructs leaders on what to do during the hard times.
16. "Deep Work: Rules for Focused Success in a Distracted World" by Cal Newport
There are a lot of business books on the market about how to increase productivity, but Cal Newport's book "Deep Work" teaches readers how to increase focus, which inherently drives productivity.
Deep Work is about the importance of developing the ability to focus on a demanding, cognitive task. In the modern world, people are being pulled in every direction by information overload and distraction. Newport teaches readers how to hone focus as the one superpower of the 21st century.
Leaders can expect a combination of valuable information and practical advice about how to create deep work through focus. This culturally relevant book highlights the importance of eliminating distractions, committing to hard tasks, scheduling work sessions and allowing time to "turn off" your brain.
17. "The 7 Habits of Highly Effective People" by Stephen R. Covey
An instant classic, this is one of the few decorated business books to quickly land on TIME's 25 Most Influential Business Management Books and sell more than 25 million copies worldwide.
"The 7 Habits of Highly Effective People" is a breakdown of seven principles mastery of which promises to enhance an individual's personal and professional life. Covey believes highly effective people live according to their principles and develop strong character.
The book walks the reader through the process of identifying principles and learning to apply them to actions in a personal and business setting. This book doesn't teach leaders about how to act; it teaches them who to be. Readers will walk away from this book with a clearer picture of what they value in their lives and companies.
18. "The Innovator's Dilemma: The Revolutionary Book That Will Change the Way You Do Business" by Clayton Christensen
No one understands innovation in enterprises like Clayton Christensen. Christensen is a professor of business administration at Harvard Business School, with a joint appointment in the Technology and Operations Management and General Management faculty groups. He has a special interest in disruptive technologies and used his research to birth "The Innovator's Dilemma".
The Innovator's Dilemma presents a convincing argument: established enterprises struggle to adapt when met with disruptive technologies and how leaders can use management techniques to move quickly in the face of radical change.
Business books focusing on disruptive technology are modern classics because they tackle real-world problems enterprises are facing right now. Christensen outlines specific ways large corporations can react to new technology to keep up with change.
Earn an Online MBA and Lead With Confidence
Many business books advocate for higher education and the cultivation of professional skills. Professionals seeking to pursue business leadership positions could benefit from earning their MBA.
Walsh University's online MBA program is suited for aspiring leaders. With a flexible 100% online format, students can continue to work as they earn their MBA degree and graduate in as little as one year.
We will ensure you receive one-on-one coaching to promote your growth in your education and career path.
Read more of Walsh University online's top MBA blogs below:
1. What Questions to Ask MBA Admissions Officers
2. Online MBA Programs Help Entrepreneurs Maximize Business Success
3. Can Non-Business Majors Get an MBA?
4. Online MBA Programs: How to Be a Successful Online MBA Student
5. Walsh MBA Online Program Faculty Q&A: Getting Down to Business