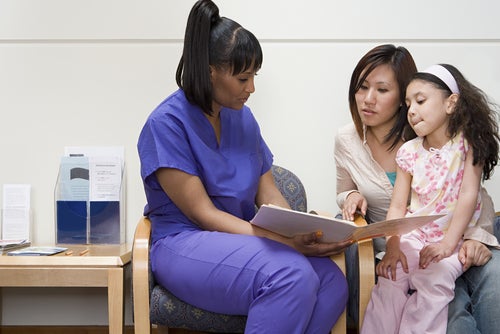 Where Can Family Nurse Practitioners Work?
Family nurse practitioners, or FNPs, have an advantage when it comes to workplace variety. FNPs hold a Master of Science in Nursing degree or higher, and are licensed to provide primary care to patients of all ages, from infants to the elderly. This makes FNPs highly desirable for any practice that sees patients throughout the lifespan. Not all types of nurse practitioners are able to see patients of all age ranges. Adult-gerontological nurse practitioners may treat only adults and the elderly, and pediatric nurse practitioners treat children up to around the age of 21.
While the family nurse practitioner is already considered as a specialty within advanced practice nursing, FNPs also possess the ability to enter a subspecialty. FNPs may choose to focus on a subspecialty such as dermatology, cardiology, rehabilitation, or endocrinology (just a few examples).
The combination of being able to treat patients of all ages and having the ability to specialize means that family nurse practitioner jobs can be found in a wide variety of settings, including clinics, primary care practices, urgent care centers, hospitals, nursing homes, schools, and rehabilitation centers.
The Hospital FNP
Many nurses who enjoy working in an acute care setting, such as a hospital, desire to return to the hospital as a nurse practitioner after they've graduated with their Master of Science in Nursing. There is plenty of opportunity in hospitals for FNPs. In some specialties, such as psychiatry, it may be necessary for an FNP to take additional classes for certification in that specialty. However, the extra education also draws in an excellent paycheck -- psychiatric nurse practitioners earn a median salary of $100,161!
Family Nurse Practitioners in Primary Care
It's also common for FNPs to work in primary care clinics or practices. FNPs do not need any additional certification or training to work in primary care. In fact, there is a shortage of primary care doctors. Family nurse practitioners are helping combat this shortage, bringing care to many underserved populations. FNPs are able to provide much of the care that physicians can, at a lower cost in many cases. Primary care nurse practitioners may also enjoy the benefit of a more predictable schedule, typically with fewer weekends and holidays.
Extended and Nursing Care Facilities
Nurse practitioners may work in extended care facilities, such as rehabilitation centers, nursing homes, and senior living centers. Many facilities such as these employ nurse practitioners who both meet the patients' primary care needs and can diagnose and treat acute illnesses and problems as they arise. FNPs working in long-term care settings enjoy getting to know their patients well and developing excellent rapport.
Family Nurse Practitioners in Schools
It is becoming more common for school systems to have not only a school nurse, but a nurse practitioner. The school nurse practitioner is able to treat students' illnesses and provide education on specific issues that pertain to this population. Family nurse practitioners are needed in all school-age ranges, from early elementary school to high school. FNPs working in school health may also enjoy summers off! Many higher education institutions such as colleges and universities have student clinics. School health is an excellent option for nurse practitioners who enjoy getting to know their patients well. These NPs watch their patients grow up before their eyes, and have the privilege of guiding them along the way.
Accelerate Your Career
Advanced practice nursing students have highly rewarding careers waiting for them as family nurse practitioners. The goal of becoming a nurse practitioner is more achievable than ever with Walsh University's online MSN-FNP program. Nurses can continue working full-time while balancing a highly manageable course load, taking one course at a time if they like. Walsh University's transparent tuition and fees mean that there aren't any surprises along the way. Tuition for the program is $41,000, and there are no application fees. Accelerate your career, earn a better salary, gain more autonomy, and become a leader in your community. Our enrollment advisors are enthusiastic about answering your questions and discussing your career goals! Contact us to find out more about the program.
Becoming a Nursing Practitioner
View our complete guide on how to become a family nurse practitioner.
Read more of Walsh University's top nursing blogs below: