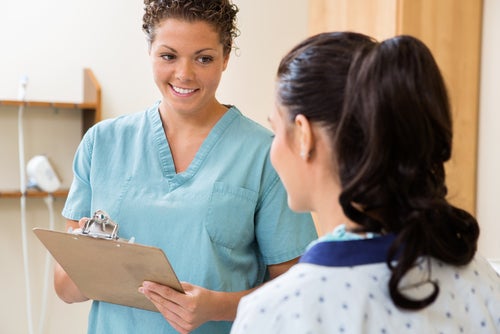 What Are the Traits of a Good Nurse Educator?
Nurse educators are nurses who choose to lead and guide the present and future generations of nurses as unit educators, instructors, professors, and clinical instructors. These strong individuals play an important role in healthcare and the future of the nursing profession. Educators must possess a wealth of tools to help teach, facilitate learning and inspire curiosity and a desire to learn. While some of these qualities are nurse educator competencies and may be obtained in a Master of Science in Nursing - Education program, good nurse educators will already possess several traits that make them stand out.
Patience
It may go without saying, but patience is a valuable quality for anyone in a teaching position, whether they are a nurse educator, a nurse preceptor in a hospital or a registered nurse teaching patients. People learn at different speeds, and require different teaching styles and techniques. A good nurse educator knows that sometimes what people need is time and understanding.
A Good Sense of Humor
It's often said that those working in the medical or nursing professions must have a good sense of humor to stay in such a stressful line of work. It's not a myth – research shows that the use of humor is associated with better resilience and stress management. Humor is an excellent coping strategy for handling stress, and both the education and nursing professions are full of stress. A nurse educator with a good sense of humor can help teach students the value of humor, giving them a valuable coping skill that will help both themselves and their patients for the rest of their careers.
Natural Curiosity
The fields of nursing and medicine are rooted in evidence-based practice, meaning that "best practices" for patients have been scientifically demonstrated to be safe, and are thus the optimal choices. The amount of evidence and research available is vast, and increases on a daily basis. Nurse educators must have a passion for finding the facts and conducting research to satisfy their own questions as well as those of their students and patients. As the amount of information in the nursing field grows, the amount of evidence grows, and best practices may change. Because of this, the nurse educator degree has a strong focus on research. Educators need to stay informed so that they may properly educate their students.
Effective Communication Skills
Excellent communication skills and emotional intelligence are highly valuable to any educator. As critical as it is to be able to speak effectively and convey concepts, it's just as important to be a good listener. Students and nurses may have trouble communicating concepts that they don't understand, or may not be aware of their own knowledge gaps that may be preventing them from understanding a concept. Nurse educators must be able to listen to their students on multiple levels. The student may need a different teaching style, or they may be having difficulty adjusting to the workload. A good educator will take the time to listen and see another's needs and point of view.
For further reading, check out these blog posts: Which Type of Nurse is Most Prone to Burnout and Top 10 Tips For Nurses to Maintain Work-Life Balance.
Reference:
Henman, L. (2008). Humor as a coping mechanism: Lessons from POWs. Humor – International Journal of Humor Research, 14(1), pp. 83-94. Retrieved from doi:10.1515/humr.14.1.83