Online Master's in School Counseling
Become Influential in the Lives of Students
Earn your Masters in School Counseling and become a licensed school counselor. Fully aligned with our on-ground CACREP-accredited counseling program, Walsh's online MA in Counseling and Human Development offers the best of both worlds. Our School Counseling program teaches students the vital skills necessary to succeed, including working with at-risk students, facilitating crisis counseling, connecting families with community resources, and so much more.
Application Deadline: Dec 6, 2023
Start Date: Jan 8, 2024 
Fast Facts
Prepare for Licensure
100% of our 2021 students passed their NCE on their first attempt and landed jobs within six months of graduation.
Core Knowledge
Engage in a curriculum that teaches core competencies, counseling in practice, ethical, legal, and professional foundations to serve diverse cultures and communities.
Field Experience Support
Our team will help guide you through the field experience process, providing the tools needed to secure an approved internship and practicum site in your area.
Flexibility Choose from five convenient starts per year and complete your coursework 100% online, with no on-campus visits required.
No GRE or MAT Required
When entering the program with a 3.0 GPA or higher, you will not be required to take a GRE or MAT exam prior to enrolling.
Compassionate Faculty
Guided by  Catholic values with an emphasis on human dignity, Walsh provides you with 1:1 faculty guidance to prepare you to become a licensed counselor ready to serve.
Admissions Requirements
Bachelor's degree from an accredited college or university   
Cumulative GPA of 3.0 on a 4.0 scale preferred (No GRE required with 3.0 GPA)  
Completion of online application and supporting materials
$10,000 stipend opportunity available to students who are accepted into the COPE program and commit to doing their field experience in an underserved or high-needs area in Northeast OH. Learn more about our COPE program here.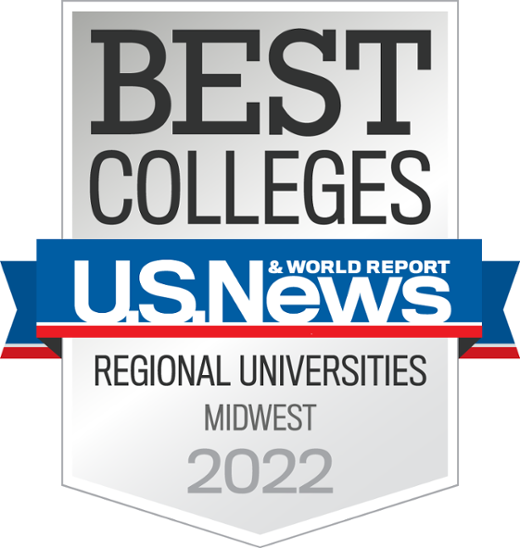 Ranked a Best Value School in the MidwestU.S. News & World Report 
Online School Counseling Program Curriculum
Below is a sample list of courses you will take while enrolled in the online School Counseling program. After finishing 60 credit hours of coursework, you will complete 100 practicum hours and 600 internship hours within your community. For a full list of courses, please download a brochure.
Online Counseling Programs:
 Internship/Practicum Support 
Walsh is committed to your academic success and as such, provides field experience support resources at no additional cost. Our field experience team works with you directly to help guide you through the field experience process, providing you with the tools and strategies needed to help secure an approved internship and practicum sites in your area. In addition, we assign you a dedicated Student Support Advisor who assists and guides you in your educational journey from enrollment to graduation.
Counseling Careers Outlook
Join the growing, compassionate workforce striving to heal our world. Careers in counseling are growing faster than the national average. In the U.S., 41% of all counselors are employed as school counselors.*
Projected 10-year job growth for school counseling is 8%.*
There were 75,458 School Counseling job postings in 2020.
There are 784,000 counselors employed nationally.
*U.S. Bureau of Labor Statistics

BSC 560 Intro to Counseling/Counseling Profession
Orientation to the counseling profession through an examination of the history and philosophy of the counseling profession; professional roles of counselors; professional issues in professional counseling. Introduction to stages and strategies in the counseling process. Development of attending skills and case conceptualization abilities. Includes an intensive laboratory focused on developing interviewing skills and mastering counseling procedures. This is a fundamental course.
CHD 620 Foundations of School Counseling
This course serves as an orientation to the school counseling profession. The course covers history, philosophy, and trends in school counseling; roles, responsibilities, knowledge of the school setting and curriculum; legal and ethical issues; policies, laws, and legislation, and implications of sociocultural, demographic, and lifestyle diversity; and organization and administration of the educational system. Students will learn how to organize, administer, and evaluate a comprehensive, developmental school counseling program based on current models of school counseling programs and the individual, school, and community needs. They will learn about national standards, certification, and licensure requirements.
CHD 650 Developmentally Informed Trauma, Crisis & Grief Interventions
Students will develop an understanding of counseling clients/students during crisis, disaster, and other trauma/grief causing events. This course will examine theories, models, assessment techniques, and intervention strategies. The counselor's collaborative role in crisis preparedness and response if examined, including self-care strategies. The difference in responses to trauma/grief will be explored, along with counseling strategies to facilitate a healthy recovery. Counseling approaches for clients/students and families experiencing the trauma/loss such as suicide, death of a child/sibling, homicide, and unexpected death will be included.
CHD 655 Counseling Children & Adolescents
The course covers the clinical management of common problems with children/adolescents. The importance of family and parent training is emphasized, as well as the critical need to intervene with children using play as the language of the child, Issues such as academic achievement, mood and anxiety, behavioral management, oppositional and defiant behavior, sexuality, substance use and abuse, self-harm and suicide are explored from a developmental perspective. Assessment, service planning and building a community-based system of care will be described based on current research literature. Creative interventions, including symbolic and art techniques, will also be explored.
CHD 680 Issues in School Counseling
This course is designed to provide an overview of current issues in school counseling such as achievement gap, academic success, preventing school dropout, at risk youth, exceptional abilities, homelessness, etc. This course emphasizes developmentally appropriate prevention, intervention, and responsive counseling services for working with the diverse populations within the school setting. Included topics: program planning, implementation and evaluation; use of date and accountability; advocacy and ethical and legal practices in the context of the school environment.