Clinical Mental Health Counseling
Be the Support Others Need
With an online program fully aligned with our on-campus, CACREP-accredited curriculum, Walsh University offers the best of both worlds. Our Master of Arts in Counseling and Human Development program prepares knowledgeable, compassionate professionals for a career supporting those in need. Best of all, you can complete the entire program in your own community, no campus visits required.

Gain hands-on experience through two internships and a final practicum that will fully prepare you to earn your Clinical Mental Health Counseling license in Ohio or several other approved state.
Application Deadline: Dec 6, 2023
Start Date: Jan 8, 2024 
Program Fast Facts
Engage in a flexible program that teaches core competencies, counseling in practice, ethical, legal, and professional foundations to serve diverse cultures and communities. 
Guided by Catholic values with an emphasis on human dignity, Walsh provides you with 1:1 faculty guidance to prepare you to become a licensed counselor ready to serve.
The Clinical Mental Health Counseling specialization focuses on the skills required to become a licensed practitioner, including lifespan development, addictions counseling, counseling in diverse communities and interviewing skills.

* Please note: While the program's coursework does not require any on-campus visits, students in the program attend their internships and practicum in person.
Experience 1:1 guidance from our dedicated and experienced faculty as you develop the core skills needed to excel as a licensed counselor and make a positive impact in your community. 
Choose from five convenient starts per year and complete your coursework 100% online, with no on-campus visits required.
20 courses / 60 credits
100 Practicum hours / 600 Internship hours completed in your community
20 terms / just over 3 years to complete
8-week terms
Bachelor's degree from an accredited college or university
Cumulative GPA of 3.0 on a 4.0 scale preferred (No GRE required with a 3.0 GPA)

When entering the program with a 3.0 GPA or higher, you will not be required to take a GRE or MAT exam prior to enrolling.

Completion of online application and supporting materials
 In-person practicums and internships are a key component of the program. They provide intensive counseling experiences, allowing students to work within their community with individual and group supervision.

Walsh is committed to your academic success and as such, provides field experience support resources at no additional cost. Our field experience team works with you directly to help guide you through the process, providing you with the tools and strategies needed to help secure an approved internship and practicum sites in your area. In addition, we assign you a dedicated Student Support Advisor who assists and guides you in your educational journey from enrollment to graduation.
The cost per credit hour is $745 for this program, with 60 credits required for this program.. We also award aid based on need, and our Financial Aid Office is committed to working with you
To calculate tuition for your degree program or to discuss your financial aid options, schedule an appointment.
$10,000 stipend opportunity available to students who are accepted into the COPE program and commit to doing their field experience in an underserved or high-needs area in Northeast OH. Learn more about our COPE program here.
Meet Maria, Walsh Online MCHD Student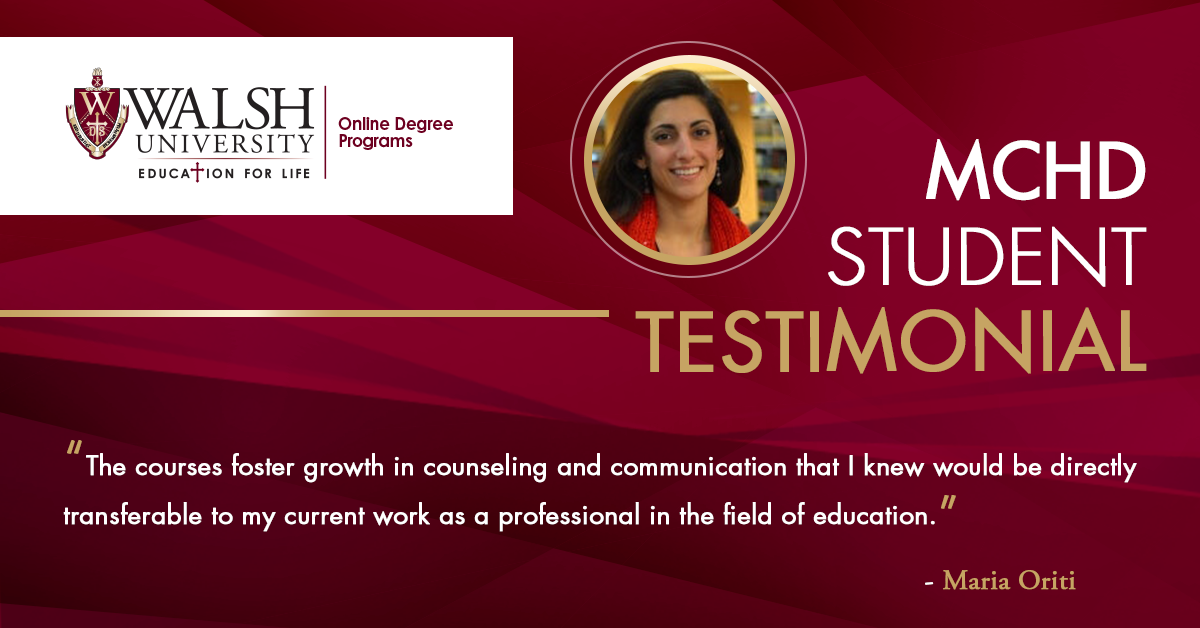 Online Clinical Mental Health Counseling Program Curriculum
Below is a sample list of courses you will take while enrolled in the online Clinical Mental Health Counseling program. After finishing 60 credit hours of coursework, you will complete 100 practicum hours and 600 internship hours within your community. For a full list of courses, please download a brochure.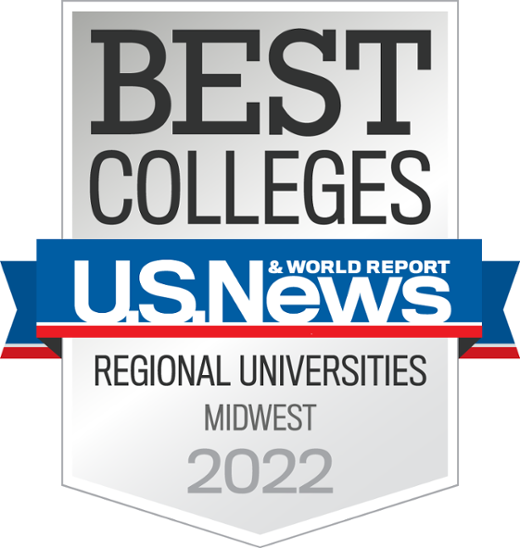 Ranked a Best Value School in the Midwest 
U.S. News & World Report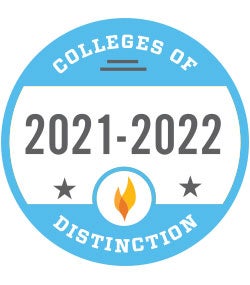 Recognized as a College of Distinction for Ohio universities, Catholic universities, and overall for 2021-2022
BSC 560 Intro to Counseling/Counseling Profession
Orientation to the counseling profession through an examination of the history and philosophy of the counseling profession; professional roles of counselors; professional issues in professional counseling. Introduction to stages and strategies in the counseling process. Development of attending skills and case conceptual-ization abilities. Includes an intensive laboratory focused on developing interviewing skills and mastering counseling procedures. This is a fundamental course. 
CHD 612 Lifespan Development
Overview of human development processes and stages. Analysis of predictable conflicts and crises associated with progression throughout lifespan, as well as the impact of cultural and environmental factors upon development. Overview of developmental theories (physical, psychosexual, cognitive, emotional, and social development) that describe development from conception to death. Concentration upon applying theoretical concepts to counseling various populations across the lifespan. This is a beginning level course.
CHD 730 Social/Cultural Diversity in Counseling
Exploration of social and cultural diversity in counseling, including diverse racial, ethnic, religious, and cultural heritages and sexual identities and socioeconomic statuses. Study of historical and current issues of equality as applied to socially marginalized groups. Personal reflection on the impact of one's own attitudes, beliefs, world view, and racial and cultural identity on the counseling process. Strategies for employing culturally competent counseling in individual, group, and family modalities, including specific behavioral skills and application of various theories of racial and cultural identity development. The role of the counselor as an advocate for members of marginalized groups and for the pursuit of social justice. Ethical and legal obligations of counselors in dealing with social and cultural diversity.
Course presents the biopsychosocial approach to the etiology, assessment, diagnosis and treatment of substance use disorders and addictive behaviors. Includes application of counseling theories and techniques in chemical dependency counseling as well as an overview of treatment stages and environments. Examines the impact of addiction on the family and the role of self-help groups in the recovery process. This is an intermediate level course.
CHD 665 Foundations for Practice
Orientation to the professional specialty of clinical mental health counseling, including professional roles, identity and functions, the history and philosophy of the profession, scope of practice, ethical and professional practice issues (such as managed care), credentialing, and clinical supervision, models and processes. Exploration of the models and programs used in the prevention and treatment of mental health across diverse populations, and the design of mental health service delivery systems across levels of care. Investigation of the organization (including emergency management systems), financing, public policy, and regulatory processes of mental health service delivery systems. Consideration of advocacy for mental health service needs across diverse populations and for the advancement of the profession.