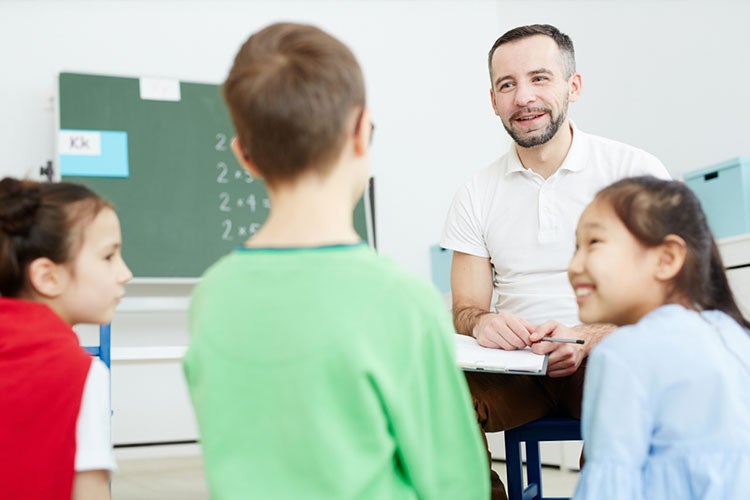 How School Counseling Is Changing
Nearly every role in education has experienced major shifts over the past few years, and the job of the school counselor is no exception. From checking in on students who do not show up for virtual classes to helping graduating seniors make college decisions when they were unable to visit campuses in-person, school counselors have had to rise to the new challenges every day.
While some of these changes are temporary, it seems that the role of the school counselor has likely changed in some permanent ways as well. By understanding the fundamentals of school counseling and learning how to interpret societal shifts through a lens that considers how to support students, families and teachers, school counselors can set themselves up for success. 
What do school counselors do? 
The path to becoming a school counselor starts with a desire to work with students, a belief in the power of good education and a passion for making a difference. From there, many who want to become school counselors pursue a bachelor's degree in fields such as counseling or psychology. After they have obtained their degree, many aspiring school counselors continue on to earn a master's degree in a counseling program that includes a field experience through practicum and internships. 
Once they have begun to work within a school, school counselors fulfill many responsibilities on behalf of the students they serve. They work with individuals and groups, meet with students and parents and collaborate with teachers and other school professionals toward the best educational experience for every student. 
A school counselor's responsibilities include spending much of their time in individual sessions with students, helping them to work through social or emotional struggles, stay on track academically, and plan for a future career. They may also conduct guidance lessons with whole classes—or even hosting assemblies for the entire student body—to talk about important issues like peer pressure, bullying, or mental health.
Responsibilities in School
The broad responsibility of a school counselor is to improve student success for all students on their campus, whether physically or virtually. The American School Counselor Association (ASCA) lists some of a school counselor's responsibilities in schools as follows:
Help students apply academic achievement strategies
Guide students in managing emotions and apply interpersonal skills
Assist and advise students as they plan for post-secondary options such as higher education, joining the workforce, or enlisting in the military 
Meet with teachers, parents, principals and other school professionals to adequately address the needs of each student
School counselors may also implement programs to discuss issues that are relevant to their student body, such as mental illness or substance abuse. They are also responsible for maintaining records, documenting student information and filling out paperwork in the interest of student support and school success.
Responsibilities to Students
How do school counselors help students? The ASCA answers that question by giving several examples such as:
Individual student academic planning and goal setting
Developmental counseling for students
Advocating for students at individual education plan meetings and other student-focused meetings
Analyzing data to identify student issues, need and challenges
Working to adjust systems to improve equity, access, achievement and opportunity for success for all students
For students who need it, school counselors may help them develop skills like time management, study habits and critical thinking. School counselors facilitate and may conduct assessments for academic needs that could range from gifted services to support for students with disabilities.

Responsibilities to Parents
School counselors are responsible for active collaboration with parents or legal guardians in order to determine how each student can be best supported during their academic career. Studies show that family involvement in the student experience results in positive outcomes for students and schools alike as students experience higher achievement and attendance, better career development, a better school climate and greater resilience to challenges. 
Working to earn the trust of parents, while maintaining positive relationships with them and keeping lines of communication open is a key component of the school counseling profession. Counselors may work with parents or guardians by:
Responding to parent concerns or questions in a timely manner
Scheduling calls or meetings with parents when concerns arise
Collaborating with parents and students on major decisions like higher education or joining the workforce after graduation
School counselors can also build connections with parents through events like back-to-school nights, workshops, and regular group communication such as an email newsletter.
How much do school counselors make?
School counseling is seeing tremendous growth in America, leading to greater job prospects for those interested in the career. According to the Bureau of Labor Statistics, jobs for school and career counselors and advisors are projected to grow by 11 percent between 2020 and 2030, which represents around 35,000 jobs. That growth rate is faster than the average for all occupations. 
The Bureau of Labor Statistics states that the average salary for elementary and secondary schools (this includes state, local, and private schools) is $64,960.
What are the potential career paths for a school counselor? 
While all school counselors share many of the same responsibilities, their day-to-day work may look somewhat different depending on where they work, the services they provide, and the student population they serve in any given school district or building. For example, a school counselor who is helping incoming kindergarteners transition to full-day school will need to perform different duties than helping a class of 300 seniors in high school prepare for the next stage of their lives. 
Consider some of the differences between each of the following school counselor roles: school guidance counselor, elementary school counselor, secondary school counselor, and school counselor coordinator or director.

School Guidance Counselor
While the term "guidance counselor" was commonplace for decades, it is not as widely used anymore. The ACSA explains that the shift from "guidance counselor" to "school counselor" occurred for a few reasons, namely that the phrasing of "guidance counselors" implied a role that was:
Reactive
Only served some students
Measured via feelings and perceptions rather than data
Ancillary to school improvement process
Isolated
While some schools still use the term "guidance counselor", the "school counselor" positions found below are much more commonly used, with ACSA recognizing these roles as more accurately reflecting the state of counseling in schools today:
Proactive and data-driven program for all
Impact measured via achievement, attendance, and behavior data
Essential role in the school improvement process
School counselors as school leaders
Develop, manage and evaluate a comprehensive school counseling program
Elementary School Counselor
Elementary school counselors work to assist students at the very beginning of their academic careers. Their role may include early identification of learning differences as they become clear in the classroom, helping students navigate social and emotional struggles and identifying student needs by reviewing attendance, achievement and discipline data. 
Recently, school counselors at the elementary level may find themselves doing a lot of work to help young students close achievement gaps that developed during lockdowns or virtual schooling due to the COVID-19 pandemic. Student access to technology for both scholastic and personal usage is much higher than it used to be, so elementary school counselors may also have small group or large gathering conversations on topics like online safety.
Secondary School Counselors 
High school counselors work with students in their final years of mandatory schooling. As such, they spend much of their time helping these students to make plans for what will come next in their lives — whether they are trying to determine colleges to apply to, take steps toward entering the workforce or contemplating military service.
These counselors may work with students to figure out what will work for them or their families financially when it comes to higher education, and look for grants, scholarship and/ or financial aid options if necessary. High school counselors also advocate for the mental health of their students. 
School counselor coordinators and directors
Rather than working within a specific school or on a certain campus, school counselor coordinators and directors work at the district or state level. According to ACSA, their responsibilities include:
Implementation of the school counseling program at the school, district and/or state levels
Integration of school counseling programs with the total educational curriculum of the school, district and/or state
Hiring of qualified, diverse school counselors
Individual and group supervision to school counselors in practice
A school counselor performance appraisal process aligned with the appropriate role of the school counselors
School counselor coordinators and directors advocate for students' needs by working toward programs and policies that benefit students equitably. They work to maintain a reasonable student-to-school-counselor ratio at the schools in their care and collaborate with school counselors, adult learning experts, school staff, community officials and others to work toward the best educational experience possible for the students they serve. 

Trends to Watch in School Counseling
The ASCA report titled State of the Profession 2020 highlights several key trends that have emerged over the past few years in school counseling. For those wondering how school counseling is changing, these are some of the key topics to keep an eye on:
Improved student-to-school-counselor ratios
More time in direct student services 
Counselor-led efforts to address systemic racism and reduce inequities
Increased advocacy to ensure success for all students
Help Influence School Counseling with an Online Master of Arts in Counseling and Human Development - School Counseling Concentration 
Do you want to guide students toward academic achievement and future success? Are you passionate about advocating for equity and wellbeing? Do you love working with students and desire to do so as a school counselor? If so, the Walsh University Online Master of Arts in Counseling and Human Development - School Counseling concentration is ideal for you. 
The program takes place entirely online and does not require any on-campus visits. With 1:1 faculty guidance, five intakes per year and field experience site support, the program is designed to support you from beginning to end. 
The Online Master of Arts in Counseling and Human Development - School Counseling will prepare you not only to respond to changes in school counseling, but to lead positive change proactively by:
Teaching you the history, philosophy, and recent trends of school counseling
Preparing you to apply counseling skills in the work with students and families experiencing trauma or loss such as suicide, death of a parent or sibling, homicide, or unexpected death
Equipping you to address issues such as academic achievement, mood and anxiety, oppositional and defiant behavior, sexuality and substance use/abuse
Imparting best practices for counseling assessment and intervention for relational mental and behavioral problems
Instructing you in how to consult, collaborate and lead within the educational system through organizational knowledge
Learn more about becoming a licensed school counselor today.