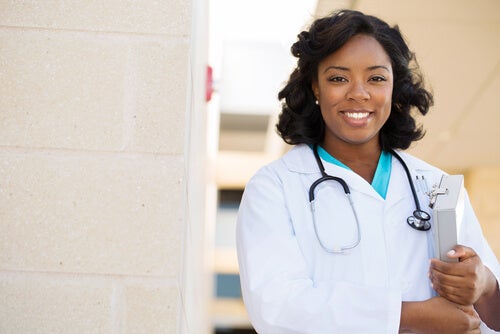 What Makes a Good Nurse Educator?
Nurse educators continue to impact patient lives while changing their career trajectory from the bedside to the classroom. They do so in a variety of settings from brick and mortar institutions to online classrooms. Earning an advanced degree in nursing education is more accessible than ever with MSN-NE online options that provide flexibility for the adult learner.
The National League of Nursing recommends the base education for nurse educators as a masters' degree or doctorate in nursing education. Walsh University offers an online Master in Nursing Education that offers excellence and affordability in an online format. There is an urgent need for nurse educators, and the applicant who demonstrates both hard and soft skills will be most successful.
There is a current nursing shortage and the Bureau of Labor Statistics Employment Projections of 2014-2024 lists nursing as one of the top occupations. Part of the nursing shortage is attributed to the lack of qualified nursing instructors. In 2016, the American Association of Colleges of Nursing (AACN) reported that over 65,000 nursing student applicants were turned away from nursing programs citing faculty shortage as a primary reason.
The Nurse Educator is a Special Breed
Despite the urgent need for qualified instructors, not every nurse can or should be a nursing instructor. After all, the nursing instructor is the entrance bottleneck to the fabulous field of nursing, and in many ways is responsible for the quality of nurses entering the profession. The nursing profession earned the Gallup ranking of most trusted profession from 15 years in a row, and an excellent educational foundation does much to support this continued ranking. The nurse educator is a special breed, and not every nurse is up to the task. The ideal nurse educator is part mentor, leader, drill sergeant, and gatekeeper to the profession.
Whether the nurse educator is teaching brand new students or updating seasoned staff on new technique or policies, the onus is on them to relay timely, factual and relevant information. Following are some of the hard and soft skills that characterize an ideal MSN-NE candidate:
Communication
Critical Thinking
Ability to Listen
Self-Motivation
Problem Solving
Leadership
Decisiveness
Conflict Resolution and Negotiation
Strong Advocacy for Patients and Staff
Research Ability
Time Management
Teamwork
Nurse Educators Wear Many Hats
Nurse educators have access to timely and relevant information. They require the critical thinking skills to evaluate high volumes of information to identify the best and most up-to-date material.
A nurse educator is responsible for training and onboarding new staff at a facility. Nurse educators are also responsible for continually training existing staff and ensuring their skills and knowledge are current. They educate patients, update policies and procedures, collaborate with management and advocate for new technology for point of care.
Growing Salary Available to Nurse Educators
According to the Bureau of Labor Statistics, the average annual salary of a nursing educator is $75,030, but higher salaries can be available depending on one's position, location, and years of experience. Nurse educators are positioned to have the best of all the nursing worlds. However, to do so they must have the educational background and personal attributes to do it well.
Professional Nurse Educator Organizations
Nurse educators and MSN-NE students can benefit from current information available through professional organizations in the field, such as:
National League for Nursing (NLN)
National Organization of Nurse Practitioner Faculties (NONPF)
Association for Nursing Professional Development (ANDP)
Association of Community Health Nursing Educators (ACHNE)
Professional Nurse Educator Group (PNEG)
One of the most critical components in becoming an outstanding clinical nurse educator is obtaining a quality education such as through an online MSN-NE program offered by Walsh University. Walsh's MSN-NE program provides quality education that is online, affordable, and 100% online.
For more information please see Why Nurse Educators Are Needed to Address the Nursing Shortage and What Does a Nurse Educator in a Hospital Setting Do?