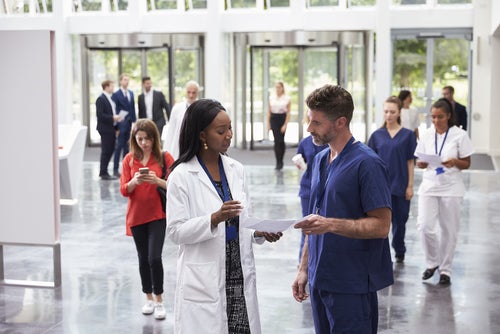 Why Nurse Educators Are Needed to Address the Nursing Shortage
Nurse educators (NEs) are combatting the nursing shortage on the front line. NEs are experienced nurses who hold a Master of Science in Nurse Education, and who prepare future nurses to provide compassionate, safe and effective care. Educators also lead their fellow registered nurses in improving their nursing practice by helping to guide their career paths, broaden their knowledge base and keep up with evidence-based best practices. These talented nurses with a passion for teaching are an asset to the nursing profession. With the United States in the midst of a nursing shortage, nurse educators and their valuable skill set are in high demand.
Nursing Shortage 2018 Statistics
The nursing shortage is not only an issue in healthcare today – the demand for nurses is expected to increase as the nation's population ages. The Bureau of Labor Statistics (BLS) estimates that the number of new nurses needed between 2014 and 2024 due to growth in the healthcare sector will be around 439,000. Many nurses will also leave the workforce during this period, and the number of nurses needed to replace those leaving the profession or retiring is estimated to be an additional 649,100.
The Demand for Educators
The American Association of Colleges of Nursing (AACN) reports that a major contributing factor to the nursing shortage is a lack of educators to teach potential nurses. Many qualified students interested in studying nursing are turned away from nursing programs each year due to a lack of available faculty to educate them. The AACN published a report indicating that in 2016 alone, 64,067 applicants were denied admission to bachelor's- and master's-level nursing programs due to the faculty shortage. The National League for Nursing (NLN) notes that it's not just bachelor's and master's nursing programs – from 2011 to 2012, as a result of limited space, pre-licensure nursing schools turned away 72% of qualified applicants. It's clear that many people have an interest in pursuing a nursing career, but there simply aren't enough nurse educators to accommodate expansion of nursing school programs to meet the demand.
Educators as Mentors
Nurse educators are also needed to educate nurses who are already a part of the workforce. Nurse educators not only help nurses keep up-to-date on best practices and new evidence supporting changes in patient care, but they also often serve as mentors. Many changes are taking place in healthcare, and the nursing shortage increases the strain on the nursing workforce. New graduates, especially, need support throughout the beginning of their career, and nurse educators are major sources of support.
A Convenient Path to Becoming a Nurse Educator
Those with a passion for nursing and who enjoy teaching can find a rewarding career in becoming a nurse educator. Walsh University also acknowledges the importance of mentoring and support. Students are assigned student service managers and advisors, and faculty members are available to mentor students. Small class sizes provide an intimate and engaging learning environment. Walsh University's Master of Science in Nursing Education program was designed with the working nurse in mind. Those preparing to teach the next generation of nurses should have experience themselves. Coursework can be completed 100% online while students continue to work. And, at a full-time pace, you may graduate with your master's degree in as few as six semesters!
References:
American Association of Colleges of Nursing. (2017). Nursing Faculty Shortage.
American Association of Colleges of Nursing. (2017). Nursing Shortage Fact Sheet.