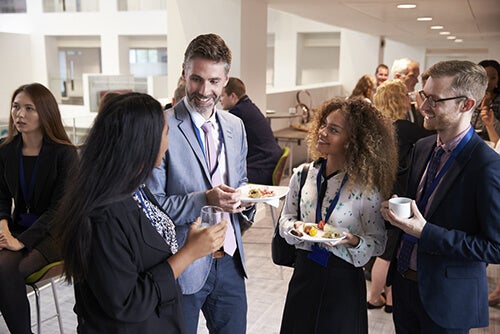 Tips for Successful Networking
If you are an MBA graduate or a student pursuing his or her online MBA, you know the importance of networking. Melissa Thompson, founder of HarcourtHealth and Inc.com contributor, takes a look at how you can network more efficiently and effectively.
Thompson suggests looking for industry-specific events, conferences, and meetings. In their Face2 infographic, Virgin highlights that 84% of people surveyed prefer in person meetings. Hubspot takes a further look at the data:
77% prefer in-person meetings so they can gauge facial expressions and body language
49% prefer in-person meetings as they often allow individuals to communicate and develop business strategies
95% face-to-face networking as the foundation for long-term business relationships
If you want to gain an advantage from networking with a specific contact, you have to provide value. Specifically, provide insights and advice that may be useful to others. Lewis Howes, Entrepreneur explains a value add can come in many forms such as teaching. You can use your knowledge as a subject matter expert in a particular industry giving others insight into a particular aspect of the industry.Howes focuses on making your network an "empire of contribution." When you choose who you want to network with, think strategically and realistically. Individuals just entering a field may not get an initial face-to-face meeting with their CEO or other industry titans. You'll want to plan on networking with individuals who may be at the same career level or whose interests/expertise align with yours. You'll need to plan on more than one face to face encounter with your desired contacts. In addition, plan on attending industry related functions as often as you can. Choose your contacts wisely and make sure your empire of contribution consistently has a value add.
How An MBA Fits Into Successful Networking
Wired emphasizes "network with those who taught you networking." As an online MBA student you have the advantage of working closely with experienced faculty who have existing connections you can leverage. In addition, students in Walsh University's online MBA program you'll connect with peers from a wide variety of industries and career pursuits. The MBA program's specific concentrations in healthcare management, management, and marketing create a diverse mix of professionals, subject matter experts, and potential contacts. Take networking to the next level with a program that has been:
Named a 2017 Best Online Program by U.S. News & World Report
Ranked in the Top 50 Best Value Accelerated Online MBA Programs for 2017 by Values College
Ranked #9 in the country by Online MBA Report for 2017 (Top 10 Catholic Online MBA Programs 2016)
Recognized as a Top 50 Accelerated Program for 2017 by Affordable Colleges Online
Named a 2016 Best Online Program for Veterans
Unlock your potential and start building your empire of contacts at Walsh University Online. Learn more here.