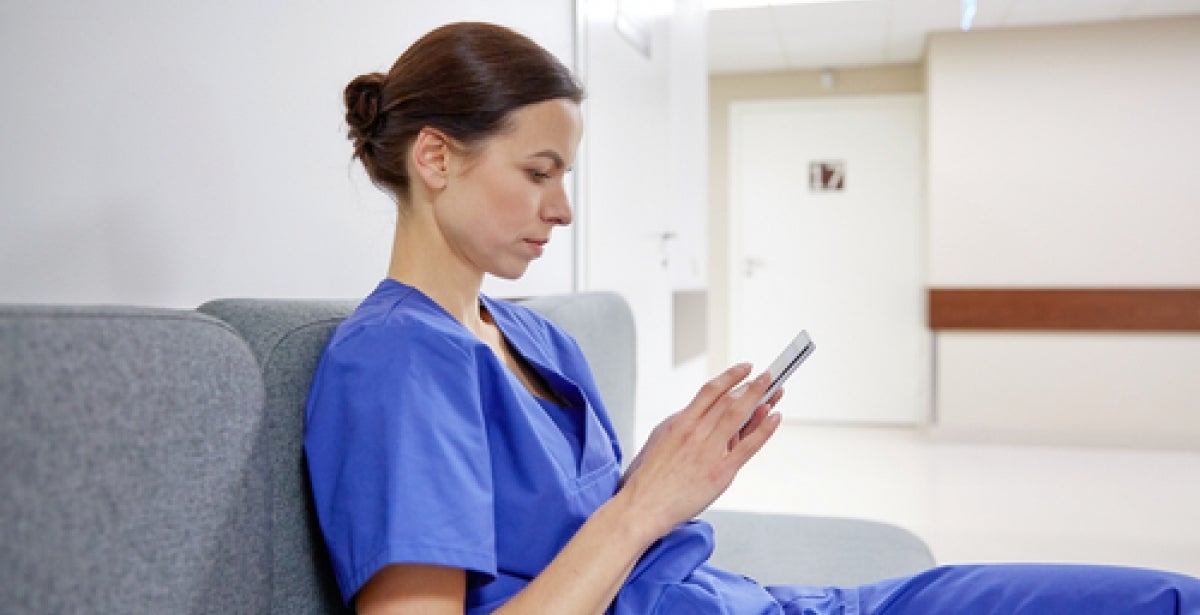 Best Mobile Apps for Nurses in 2018
We are fortunate to live in an era with fast and easy access to information, thanks to technology. Your phone doesn't just keep you connected to your friends, family and Facebook – it can make your job easier and simplify your day. There are plenty of creative, useful apps available to help those in the healthcare field. We've taken the time to sift through some popular nursing apps to see how they can benefit you. Here are our top mobile apps to help give you an edge, whether you're a student nurse, a working registered nurse, or an aspiring nurse practitioner pursuing your Master of Science in Nursing.
1. Merck Manual
The Merck Manual is a popular, continuously updated textbook for healthcare professionals. This publication has been available for decades in print form, but you can now save your backpack the extra weight. The app is free, and provides useful resources such as videos of common medical procedures plus news and commentary to help keep you up-to-date in the medical world. This app is a helpful resource for nursing students, especially those pursuing their Master of Science in Nursing.
2. Medscape
Get rid of those old heavy manuals and drug reference books that become outdated every year! The Medscape app is free and offers a drug reference dictionary and interaction checker, among other helpful resources. It also includes the latest evidence-based information on a multitude of diseases and conditions. This app is a necessity for anyone in the healthcare field, whether a student or working professional. Everyone needs the occasional refresher on various topics, and Medscape is a powerful resource to have  in your pocket when the need arises.
3. Epocrates
Epocrates is another handy drug reference app. If you work for a hospital, you likely have company-provided access to a drug reference and interaction checker. What's unique about this app is that it allows you to search for medical conditions in order to view drugs used to treat a particular condition. You can also search by brand and generic names, and the app will indicate whether certain drugs will affect other conditions or interact with other drugs.
4. Nursing Central
Nursing Central is a well-rounded app designed specifically for nurses. It's a great all-in-one resource, and includes calculators, a drug manual, descriptions of conditions, a medical dictionary and lab test information (it can be hard to remember all those lab value parameters). Nursing Central is a paid app, but some institutions may offer free access.
5. Todoist
Every nurse needs a handy to-do list to help free up some mental space during those busy days. Todoist is one of the top task management apps, and can help you take a load off your mind. This app is especially helpful for balancing multiple roles. If you're both working and studying for your next career move, this app is ideal. You can organize your tasks by project and establish priority levels for each task. Working on a group project? Invite your team members to join you - the app will sync project tasks between each of your accounts.
Technology can help us boost our connectedness and efficiency. Walsh University (WU) values the rich engagement that our increasingly technological society can provide. WU's online Master of Science in Nursing program provides convenient, high-quality education at an honest, transparent price: $41,000, with no surprise fees. Feel at home with our small class sizes and proactive support system. Our online community of student service managers, enrollment advisors and faculty provides unprecedented support to students, helping guide the next generation of healthcare professionals.
Check out the Online MSN-FNP Program Overview Webinar and What Are the Traits of a Good Nurse Educator?