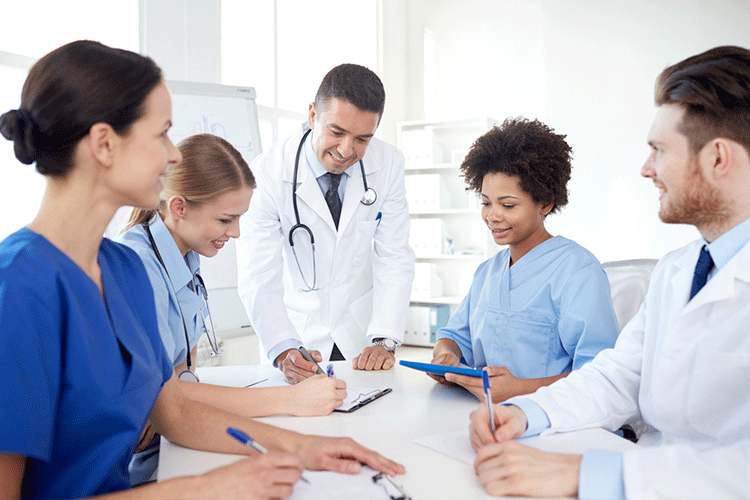 Why Get a Master's in Nursing Education?
If you love the field of nursing and enjoy teaching others, then a career as a nurse educator may be a perfect fit for you. Nurse educators serve as instructors and mentors to those who are preparing to enter nursing careers, while also providing support for new RN graduates in health systems. Additionally, they may also provide continuing education for licensed practice nurses or registered nurses within the context of a patient care setting. 
As the demand for well-trained nurses surges to new highs, there is a correlating need for excellent nurse educators who can help nurses enter and remain in the workforce with the skills and knowledge that will empower them to succeed. Earning a Master of Science in Nursing Education degree and becoming a nurse educator is an excellent way to make a difference in the world and make an important contribution to the nursing profession. What better way to contribute to society and nursing as a whole than by supporting current nurses and educating the future generation?
In addition to the benefits to the nursing community, a Nurse Educator Degree also has positive effects on the individual nurse educator. With an MSN-Nurse Educator degree, professionals can increase their salary potentials, access a wide variety of job opportunities, and enjoy a flexible work schedule. 

High Demand
The nursing shortage is a significant problem with rippling effects. The American Association of Colleges of Nursing cites several reasons for the shortage, including the large number of nurses nearing retirement age, changing demographics as Baby Boomers become older and the demand for aging adult care increases, and insufficient staffing leading to higher stress, less job satisfaction, and burn out for many nurses. But there's another factor the AACN highlights as well: a shortage of nursing school faculty.
The AACN reports that, in 2020, nursing schools turned away 80,407 qualified applicants to baccalaureate and graduate programs in the United States due to insufficient numbers of clinical sites, faculty members, and resources.When a recent AACN survey asked nursing schools why they had rejected qualified applicants, nearly two thirds of respondents cited faculty and/or clinical preceptor shortages. 
Data from the Bureau of Labor Statistics (BLS) also reflects the high demand for nurses and, therefore, nurse educators to train them. While the BLS average growth rate for all occupations is 4% between 2019 and 2029, the rate for registered nurses is 7%. That represents approximately 175,900 new jobs for nurses each year for those ten years. Nurses need qualified nurse educators to prepare them for careers in healthcare. 
Over the past two years, there has been an increase in nurses exiting the workforce due to either retirement or the impact of the pandemic, which has increased the need for new nurses. The AACN also predicts that many nurse educators themselves will be retiring in the next decade, as the average age of nurse educators ranges from 49.6 to 62.6. In addition to the current shortage of nurse educators, many more will be needed to replace those who are soon to retire. Combine this with a projected growth rate of 9% for all postsecondary educators between 2019 and 2029 and the case is made plain: nurse educators are urgently needed.
Boost Your Salary
Earning a master's degree boosts your earning potential. Nurse educators enjoy healthy salaries both in academic settings like nursing schools and health care settings like hospital systems. The average annual salary of a nursing instructor ranges between $75,470 and $100,330 depending on factors such as region and experience level. 
According to this BLS list, hospitals, business schools and colleges/universities make up the highest concentration of employment in postsecondary nursing instructors and teachers. Additionally, the BLS lists hospitals (general, surgical, psychiatric and substance abuse), local governments and business schools as the top paying industries for postsecondary nursing instructors and teachers.
Change Up Your Work Week
If you love to work hard on meaningful projects but are ready to say farewell to 12-hour workdays, overnight shifts, and holidays spent away from your loved ones, nurse education could be a perfect fit for you. Nurse educators often have many responsibilities and priorities, including developing curricula, teaching, meeting with students, participating in professional organizations, and conducting research. In hospitals, nurse educators may work an 8-hour shift allowing them to interact with more staff throughout the week, while nurse educators in academic settings may be able to work according to a semester schedule. 

Use Your Talents to Their Full Potential
The current and future generations of nurses require role models to guide them in their learning and development as professional nurses. The best nurse educators are passionate about providing great patient care, keeping up with evidence-based practice, and equipping nurses to provide excellent care. Strong empathy, plenty of patience and compassion are great traits for educators, along with confidence in being a leader. Aspiring nurse educators in a masters of nursing educator program will:
Expand their understanding of the procedures, skills and clinical reasoning related to health and nursing to improve patient outcomes

Learn how to create materials that encourage professional development and training

Study theories associated with optimizing the teaching experience and student outcomes, and gain an understanding of evidence-based teaching.

Gain hands-on experience as you work as part of an interdisciplinary team.

Practice designing and implementing nursing curriculum
Taking the First Step
Earning an online Master of Science in Nursing: Nurse Educator degree is the first step to launching your career as a nurse educator. Walsh University's online nurse educator program provides busy nurses with plenty of flexibility while they study for their MSN. 100% online coursework paired with experiential learning in a health system or academic setting helps students deepen their knowledge, put their skills to practice, and connect with their peers.
42-credit program

Graduate in as few as five semesters

Three program start dates per year

Eight- and 16-week courses
Contact us to find out more about Walsh University's MSN-NE online program.
Read our earlier blog posts on Why Nurse Educators are Needed to Address the Nursing Shortage and What Does a Nurse Educator in a Hospital Do?