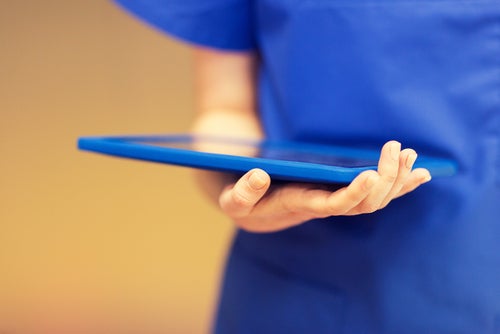 What Tools Do Nurse Educators Use?
The regulatory changes and fast paced advancements in medical innovation continuously challenge the healthcare system and its providers. One of the healthcare professionals who is affected the most by these whirlwind changes is the clinical nurse educator. There is little room for error when obtaining up-to-date information for staff and healthcare providers.
Obtaining a high-quality education such as the 100% online MSN-NE offered through Walsh University is a good way of becoming a confident clinical nurse educator. A foundation built on clinical and educational excellence, competency in nursing practice and critical thinking skills translates well to advanced practical application in nursing.
Access to Current, Accurate, Authoritative, and Evidence-Based Information
A clinical nurse educator requires access to the best and most relevant information on a daily basis to fulfill her or his job requirements. Critical thinking skills gained through a quality education are essential to selecting accurate information and communicating it. Requests for instruction and associated materials are made of the clinical nurse educator on a regular basis. The ability to find timely and accurate information is crucial to effective and efficient patient care.
Leveraging Cost-Effective Solutions and Ensuring Clinical Excellence
The nurse educator position requires efficient and effective tools that are easily accessed. Nurses educators juggle many roles and are the primary interpreter, instructor, overseer and general manager of educational information. Nurse educators do not only instruct nurses, they must also be able to communicate well with non-nursing staff. Their strong communication skills are required for the following tasks with other stakeholders:
Training and onboarding of new staff

Training and continuing education of existing staff

Updating facility policies and procedures

Collaboration with management on goal setting

Point of care patient education
It is essential for a nurse educator to be able to access the right information quickly and efficiently. The nurse educator who uses the right resources to implement the right systems at the right time will do much for the efficient and effective flow of relevant information in their facility. The ultimate result is improved patient outcomes.
Resources for Excellence; Maximizing the World of Technology
Optimally, a healthcare facility invests in an excellent point-of-care reference tool that streamlines the best and most up-to-date information for easy reference and access. Access to this type of resource dramatically reduces the waste time of research for nurse educators and improves overall efficiency and effectiveness of research. A nurse educator must have core knowledge to recognize an exemplary system. Resources may include:  
User-friendly online access to evidence-based skills and procedures

Continuous updating of content to reflect current evidence-based care

Customization of content to facility's protocols, vocabulary, and workflow

Up-to-date drug information and calculators

Access to leading medical and nursing journals

Patient educational handouts
It is a digital world, and this is terrific news for nurse educators. Gone are the days of laborious research in out-dated manuals. Relevant information is as easily accessible via smartphone or computer. Unfortunately, incorrect and irrelevant information is just as available.  It is essential that the nurse educator have knowledge and access to excellent, timely, and relevant tools.
The ANCC reports a continued nursing faculty shortage, and there is no better time to lead the nursing education charge in the future. The MSN-NE degree offered by Walsh University which provides quality education that is online, affordable, and 100% online. Contact us to learn more.
Sources:
Point-of-Care Tools - Evidence-Based Medicine Resource Guide
Empowering Clinical Nurse Educators With Tools To Drive Efficiency