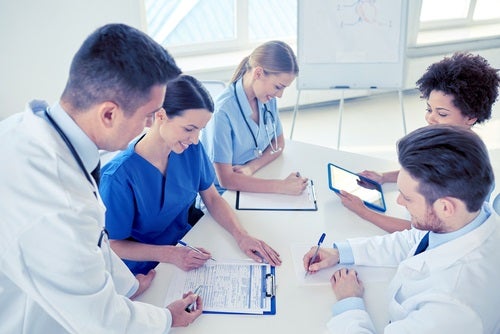 What is a Nurse Educator?
What is a Nurse Educator?
First and foremost, all nurses are educators. Nurses are continually challenged to take difficult and sometimes life-saving information and translate for optimal patient understanding and compliance. Nurses instruct on medications, procedures, appointments, wound care, hygiene, safety and everything in between. In some ways, nursing IS education and so much more. Today's healthcare environment is ever-changing and evolving. The need for accurate, timely, and relevant instruction is even more crucial. A nurse educator is specifically a nurse who has obtained advanced preparation and education so that they may teach and prepare student nurses and also provide continuing education to staff. There is a nursing shortage, and according to the Bureau of Labor Statistic's Employment Projections of 2014-2024, nursing is one of the top occupations for job growth through 2024.
What Does a Nurse Educator Do?
Nurse educators, in essence, educate nurses. Nurse educators combine their passion for clinical excellence and advanced educations to become the gatekeepers for the nursing profession in nurturing, instructing and mentoring future generations of nurses. Nurses are in demand overall, and there is a particular need for nurse educators. There is a nursing shortage with no signs of slowing down in the immediate future with baby boomers aging and overall increasing health care needs. The AACN reported approximately 65,000 applicants were turned away from nursing programs in 2016. The "2016-2017 Enrollment and Graduations in Baccalaureate and Graduate Programs in Nursing" by the ANCC cites insufficient faculty as one of the reasons. Of all the nursing schools surveyed, reportedly two-thirds responded faculty shortage as one of the reasons for non-acceptance.
Nurse educators work in academic and continuing education settings and assume a wide variety of responsibilities which include the following.
Curriculum Design
Course development
Developing Programs of Study
Teaching nursing students
Teaching continuing education
Mentoring students
Measuring outcomes of education
Advising Students
Writing grant proposals
Where Do Nurse Educators Work?
Nurse educators usually work in settings where they can teach. All nurses engage in patient teaching, but nurse educators provide education in more specific and structured settings, and their students are usually nurses. Nurse educators frequently work in the following settings.
Colleges and Universities
Community Colleges
Nursing schools based in hospitals
Home Health Care
Nursing Homes and Long Term Care
Community-Based Health Centers
Distance learning
Do Nurse Educators Have Specialties?
Most nurse educators teach what "they know." A professor is challenged to understand the nuances and depths of all facets of their specialty as they are charged with instructing novice learners. All nurses are gatekeepers to the profession of nursing and seek to raise the professional bar by attaining expert nursing status.
Nurse educators have options to focus primarily on teaching or split their time between teaching and clinical practice in their specialty. By continuing work as a patient care provider in their field, nurse educators ensure they remain on the cutting edge of evidence-based information.
Nurse educators often teach clinical courses that align with their specialty practice. Nurse educators often have a specialty niche and concentrated their graduate work on this specialty. Nurse educators who practice in specialty settings are often found in the following areas.
Cardiology
Acute Care
Mental Health
Oncology
Family Health
Pediatrics
What Qualities Does a Nurse Educator Need to Have?
Flexibility
Excellent communication skills
Solid clinical background in their area of expertize
Lifelong commitment to learning
Future-oriented
Leadership qualities
High ethics
Commitment to being a gatekeeper to the profession of nursing
What Are the Educational Requirements for a Nurse Educator Position?
A nurse educator certificate is strongly encouraged through the National League for Nursing (NLN) in addition to educational requirements. Although it is not required, it should be an end goal for the nurse educator wishing to advance his or her career. All nurse educator positions require an active, unencumbered license in the state of practice. Although there may be some posts available at the baccalaureate level, most nursing educator positions require master's level or above education.
NLN Education Recommendations for Nurse Educators
Master's or doctoral degree plus a post-master's certificate in nursing education
Professional Organizations for Nurse Educators
Nurse educators serious about their role as mentors and instructors for the nursing profession often seek certification as a nurse educator through the National League for Nursing (NLN). In addition to attaining certification, it is important for the nurse educator to become active and involved in professional nurse educator organizations. Learning and developing as a nurse is a continual process. Health care is evolving and changing on a daily basis, and nurses are challenged to keep up with expanding technologies and ideas. Professional nursing organizations offer opportunities for nurses to network with like-minded professionals and stay on the front of their professional journey.
Professional organizations offer nurses many advantages.
Education
Annual conventions
Networking
Certification
Targeted products and resources
Discounts on education
Career Assistance
Web sites to explore
Nurse Educator Organizations
National League for Nursing (NLN)
National Organization of Nurse Practitioner Faculties (NONPF)
Association for Nursing Professional Development (ANDP)
Association of Community Health Nursing Educators (ACHNE)
Professional Nurse Educator Group (PNEG)
Walsh University MSN Nurse Educator Program
Walsh University offers a 100% online MSN Nurse Educator Program that may be completed in six semesters. The Higher Learning Commission, as well as the Commission on Collegiate Nursing Education, accredits Walsh University. Ranked #49 in Regional Midwest Universities by U.S. News & World Report, Walsh University is an excellent choice for a degree in nursing education and the chance to impact future generations of nursing.
The baccalaureate degree program in nursing, master's degree program in nursing, and doctor of nursing practice program at Walsh University are accredited by the Commission on Collegiate Nursing Education (http://www.ccneaccreditation.org).
RESOURCES