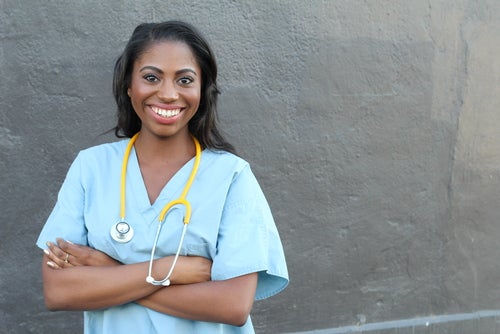 What Is the Day-to-Day Job of a Nurse Practitioner?
The daily role of a nurse practitioner is different from the standard nurse job description. Family nurse practitioners, or FNPs, are advanced practice nurses who have earned a Master of Science in Nursing and taken the licensure exam that allows them to practice as an FNP.
The FNP's Role in Primary Care
Family nurse practitioners often work in primary care. Primary care involves providing routine checkups, health promotion, and disease prevention education. Primary care providers also diagnose and treat new symptoms as they arise, and help patients manage both chronic and acute health conditions.
A Family Nurse Practitioner's Daily Duties
The daily job of an FNP can vary widely, even in primary care. FNPs can provide primary care in physician practices, urgent care centers and even mobile clinics.
In primary care practices, FNPs typically begin their morning routine by reviewing a list of patients with scheduled appointments for the day. Some may accept drop-in patients in addition to scheduled patients as time permits.
Before the patient is seen by the nurse practitioner, they will have their vital signs, height and weight taken. This is typically a medical assistant or nurse responsibility in primary care offices. The FNP will then review the patient's vital signs, discuss the reason for the patient's visit, and conduct an assessment.
Assessing Patients
The assessment involves collecting information on the patient's vital signs and symptoms and assessing each body system as needed. This may include listening to the patient's breath sounds, heart sounds, or bowel sounds, and checking for tenderness in their abdomen, for example, depending on the patient's symptoms.
Ordering Tests
The FNP's assessment helps to determine whether further testing is needed to help them diagnose their patient. Nurse practitioners have the authority to order tests, including X-rays, bloodwork, strep throat or flu swabs, which are common tests in the primary care setting.
Diagnosing and Treating
The patient's assessment and test results (if needed) are then used by the nurse practitioner to make a diagnosis. After a diagnosis is made, treatments or medications may be prescribed, and the patient will be given education on how to manage their specific health condition.
Well Patient Exams
Patients often see their primary care provider for routine checkups, known as well patient exams. In these cases, the nurse practitioner will still review the patient's vital signs and perform an assessment. They may ask the patient how their chronic conditions are being managed, how their current therapies or medications are working for them, and if they have any concerns.
FNPs provide their patients with information and education on routine health maintenance tasks, such as routine bloodwork, vaccinations that become necessary as they age and health promotion activities.
Documentation
After seeing patients, the nurse practitioner documents the patient's visit, noting their vital signs, the patient's concerns and symptoms, and the results of their assessments and tests. The FNP also documents any treatments or medications that were prescribed, and informs the patient about any required follow-up. Documentation practices vary by nurse practitioner and workplace. Some practitioners may perform their documentation while speaking with their patients, and some may carry out this step in between patients.
Becoming a Nurse Practitioner
The role of family nurse practitioners is critical in healthcare. FNPs are helping to address the national shortage of primary care providers, giving more people access to healthcare. If you want a rewarding career with the ability to make a difference in the lives of many, becoming a family nurse practitioner may be an excellent option for you.
Walsh University's online FNP program makes obtaining a Master of Science in Nursing an achievable goal for working nurses. Our online format and affordable tuition rate helps students balance their personal and professional lives while achieving their dreams.
Becoming a Nursing Practitioner
View our complete guide on how to become a family nurse practitioner.