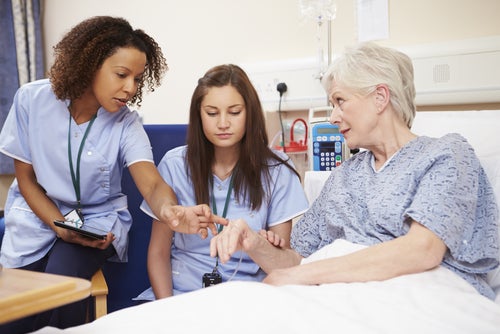 What Does a Nurse Educator in a Hospital Setting Do?
A Master of Science in Nursing (Nurse Educator) degree allows you to channel your passion for education and quality care into a career shaping the next generation of nursing professionals. Nurse educators work in a variety of environments including academic institutions and clinical settings. According to the American Association of Colleges of Nursing, the master's degree–prepared nurse educator builds on baccalaureate knowledge with graduate-level content in health assessment, physiology/pathophysiology, and pharmacology. This coursework strengthens the nurse's scientific background and facilitates his/her understanding of nursing and health-related information. Walsh University's online MSN-NE program will prepare you to assume the nurse educator role and create materials that encourage professional development and training in the hospital setting.
Role of the Nurse Educator
The education of healthcare professionals is constantly evolving. Appropriate preparation of nurse educators is critical for nurses to develop the knowledge, skills, and attitudes necessary for success within the profession. As noted by the World Health Organization (WHO), quality education is the foundation for developing effective, efficient and skilled healthcare professionals who are equipped with the knowledge, attitudes and skills necessary to deliver quality care. Lifelong learning is essential in nursing.
In today's healthcare environment, ongoing professional development is expected of all nurses. This is where nurse educators come in. They are the people tasked with fostering staff in their continual growth and development to improve care decisions by serving as role models for evidence-based decision making. This requires staying abreast of shifting healthcare expectations, evolving practice requirements, new information technologies and rapidly expanding evidence-based health services.
Nurses new to the profession must practice, lead, and adapt to new evidence, increasingly diverse populations, and changing needs. Education is an important starting point for change. Nurse educators may be employed by local hospitals and private practices to train other nurses. They may also work in community colleges, universities, and as a professor through online learning programs. In all settings, knowledge of educational theories and principles is fundamental to the nurse educator role. However, the purpose, practice, roles, and responsibilities of a clinical nurse educator, also known as a nursing professional development specialist, differ from those of an academic nurse educator.
What Nurse Educators Do in a Hospital Setting
Nurse educators serve an important function within the hospital system. They promote professional role development and growth along the continuum from nursing novice to expert. The rapid pace of change in the healthcare sector creates knowledge gaps for all professionals. Nurse educators assist nursing staff in developing and maintaining their competencies, advancing their professional nursing practice and facilitating their achievement of academic and career goals. These professionals understand the challenges faced by nurses and how to convey critical and lifesaving knowledge to them. This is essential to a hospital's success. A nurse educator can help mitigate errors, streamline processes, shorten new hire ramp time (the time between when an employee is hired and when he/she starts to become productive at their new job), and identify opportunities to improve processes and mitigate risks to the patient, nurse, and hospital.
Within the hospital setting, nurse educators serve as partners for practice transitions, learning facilitators, change agents, mentors, leaders, champions of scientific inquiry, and advocates for the specialty. Clinical nurse educators use multiple modalities to educate staff, such as simulations, online education, and traditional face-to-face education. They create and implement cost-effective, efficient, and timely education using innovative teaching methods and technology. Their goal is to help nurses gain competence and confidence in their practice and to foster lifelong learning. Nurse educators motivate and educate staff to adopt new practice changes incorporating evidence-based practices that promote positive patient outcomes. They serve as mentors, role models, and preceptors to influence staff nurses' professional development. The nurse educator possesses influence as an organizational leader—leading teams, managing programs and projects, ensuring compliance with regulatory requirements, and evaluating outcomes.
What Nurse Educators Do in an Academic Setting
This is likely the nurse educator role with which you are most familiar. These nurse educators work within academic systems and hospital training settings to assist in the development of new nurses. They may teach diploma programs within a hospital setting, ADN programs through a college, or BSN programs through an accredited university. Teaching can occur in one or more settings, such as classroom, distance learning, laboratory or simulation settings, and healthcare organizations. Nurse educators may also teach refresher courses for nurses re-entering the field after time away.
According to the National Council of State Boards of Nursing (NCSBN), the tasks nurse educators carry out in the academic setting fall into three main categories: collaborator, director of student learning, and role model. These include developing curriculum, teaching, advising, mentoring, conducting research, disseminating information through national presentations and publications, writing grant proposals, participating on the institution's programs or committees, and maintaining standards within the clinical nursing setting. Nurse educators provide students with the technical skills that they need to be successful, as well as the refined skills and depth of knowledge that will help advance the quality of patient care. They help students identify problem areas and surpass expectations for coursework.
There is a strong need for nurse educators in all settings. It is extremely rewarding to facilitate the learning, growth, and development of others in today's evolving healthcare environment while helping to improve patient outcomes. The first step on the path to this gratifying career is to complete a nurse educator program. Find out more about Walsh University's online MSN-NE program and how it can prepare you with a deep knowledge of clinical care and a sound understanding of contemporary educational theories and principles—both necessary for success as a clinical nurse educator.
Sources:
American Association of Colleges of Nursing (2011, March 21). The essentials of master's education in nursing. Retrieved from the AACN website.
Lindell, D., Hagler, D., and Poindexter, K. (n.d.). Career options for nurse educators: Academic nurse educator. American Nurse Today.
National Council of State Boards of Nursing (2008, August). Nursing faculty qualifications and roles. Retrieved from the NCSBN website.
Swihart, D. and Johnstone, D. (2010). What does a nursing professional development specialist (nurse educator) do? American Nurse Today, 5(8).
Warren, J. I. (n.d.). Career options for nurse educators: Nursing professional development specialist. American Nurse Today.
World Health Organization (2016). Nurse educator core competencies. Geneva, Switzerland: WHO Document Production Services.