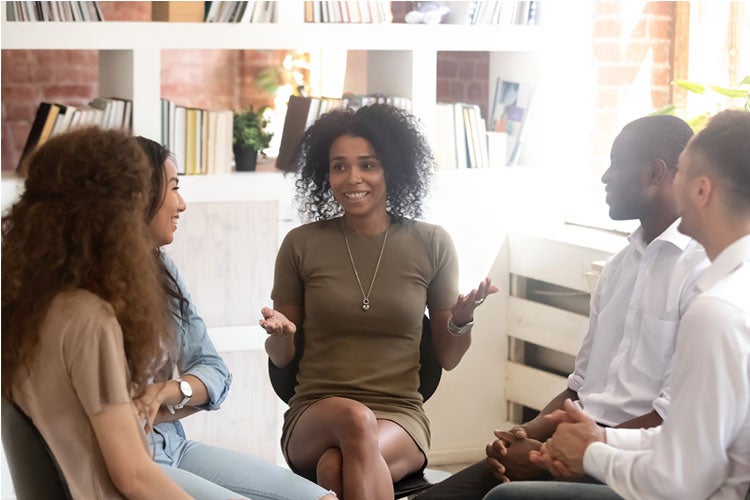 The Top Three Counseling Professions
The United States needs more counselors. Amid the global pandemic, millions of people across the nation grappled with uncertainty in their careers, schooling, and lives. The mass lockdowns led to isolation, and people reported feeling increasingly lonely, anxious, and depressed. Additionally, the pandemic disproportionately impacted young adults, who documented the highest rates of loneliness, further exasperating their mental health concerns. According to the American Psychological Association (APA), psychologists report longer wait lists and heavier workloads since the start of the pandemic and underline the need for additional counseling treatment to meet the growing demand. 
In the United States, three primary counseling professions can help close the widening gap for counseling services, including career counseling, school counseling, and clinical mental health counseling. Learn more about the top three counseling professions for passionate and driven professionals who desire to help youth and adults navigate their careers and address mental health concerns. Although questions like, "how much does a counselor make," "what is the current job outlook for counselors?" and "how to become a mental health counselor?" are important, the most critical question remains, "how can I improve the life of another person?" The most rewarding aspect of counseling is the ability to use one's skills to inspire, motivate, and enrich the lives of others.
What is professional counseling?
Professional counseling is a collaborative career where counselors and clients meet in person or remotely to improve client outcomes. First, the counselor and client establish goals related to emotional, behavioral, and/or career pursuits. Then, a counselor meets with the client to work through problems and establish treatment plans, hoping to arrive at possible solutions for client concerns. 
For example, suppose a client struggles with negative self-talk. In that case, a counselor may help identify repetitive negative thought patterns, help clients determine when these loops begin, and suggest positive reframing to recondition thought patterns for a healthier dialogue. In another example, if a client struggles with problematic alcohol consumption, a counselor may help the client manage stress more healthily and refer them to 12-step support groups such as Alcoholics Anonymous. There are many ways counselors aim to improve their client's quality of life by imparting new skills and helping them find resources. 
How do you become a counselor in the United States?
There are several steps an individual must take to become a counselor in the United States. First, professionals must earn a Master's degree in counseling, preferably from a CACREP-accredited school. However, some states offer a path toward licensure for students who graduated from a non-CACREP-accredited program. Throughout the Master's program, students must complete the necessary supervised field experience (practicum and internships). This hands-on experience allows counselors-in-training to work under licensed counselors' supervision and in real-world settings. Next, counselors must pass a licensure exam and earn the required counseling credential to practice in their state; credentials vary depending on the state and the type of counseling work one is qualified and licensed to do. Finally, counselors can choose to become certified by the National Board for Certified Counselors (NBCC) to demonstrate to colleagues and the public that they have voluntarily met high national standards for counseling. Those interested in becoming a licensed professional counselor (LPC) should contact their state licensing board for confirmation of their state's requirements, including the number of supervised practice hours. Some counselors continue to further their education through doctoral work in order to enhance and even further their knowledge and skills, to expand career opportunities.

What skills can you learn in a master's degree in counseling?
A master's degree in counseling imparts the skills needed to pursue job opportunities in career counseling, school counseling, and clinical mental health counseling. Counselors generally possess soft skills that allow them to lead interpersonal communications and steer conversations, including displaying active listening, empathy, self-awareness, patience, integrity, and emotional stability. In addition to soft skills, counselors must demonstrate an understanding of the following areas:
Foundations for practice
Lifespan development
Social and cultural diversity awareness
Developmentally-informed trauma, crisis, and grief intervention
Children and adolescent development
Familiarity with new technologies and virtual platforms
 
What are the types of counseling specializations, and how do they differ? 
When deciding to pursue a career in counseling, bachelor's degree holders have several options to specialize in their pathway. Students can pursue a master's degree in counseling to focus on career counseling, clinical mental health counseling, or school counseling. Each counseling area allows professionals to work with different clients/students, job responsibilities, and work environments. Discover the typical outlook for these distinct counseling specializations to help match your unique skill set to the compatible career path.
Career Counseling 
Career counselors guide their clients by helping them match their passions, skills, and interests to suitable career options. Career counselors have an in-depth knowledge of the job market and fast-growing job opportunities for their clients. This counseling field is rooted in advocacy and requires patience, creativity, and professional guidance related to careers. In addition, colleges and universities often employ career counselors to assist students in post-secondary school in their journey after graduation. Professionals who work in student development or student affairs do not always require licensure to advise students on their careers, however, professional counselors must obtain the necessary Master's degree and license to practice. 
Career Counseling Duties
The following duties represent the core responsibilities of a career counselor:
Communicating with clients/students about their personal and educational objectives
Offering clients/students career and personality inventories to help guide decisions
Explore potential career possibilities and job opportunities
Informing clients about the job market, networking, and career postings
Career Counseling Salary
The annual wages for career counselors in the United States vary based on the industry, location, and experience. However, according to the U.S. Bureau of Labor Statistics (BLS), the typical career counselor earns approximately $60,510 per year and upwards of $98,190 per year. 
Career Counseling Job Outlook
Between 2021 and 2031, the U.S. BLS reports a 10 percent job growth for career counselors and advisors, which is faster than the average for all occupations. The same report finds that there will be approximately 32,400 openings for career counselors each year, on average. 

School counselors work in elementary, middle, and high schools to help motivate and direct students in their personal, educational, and career pursuits. School counselors are essential to schooling because they act as an accessible resource to help children and young adults navigate today's challenges. In addition, school counseling is changing; students face new challenges, and societal shifts require counselors to adapt to meet evolving needs. Therefore, schools need passionate counseling professionals who want to improve the next generation's lives.
School Counseling Duties
The following tasks represent the primary responsibilities of a school counselor:
Helping students develop essential life skills
Monitoring students' behaviors, such as attendance and grades, to identify vulnerable students that may benefit from counseling
Communicating and collaborating with teachers, school staff, and parents about student outcomes 
Reporting possible abuse or neglect to protect students
School Counseling Salary
School counselors generally earn a similar salary to career counselors at a median annual wage of $60,510 in the United States. However, the salary range depends on the institution where the school counselor is employed. For example, school counselors working in the state, local, and private elementary and secondary schools earn, on average, $63,460.
School Counseling Job Outlook
The job outlook for school counselors in the United States is the same as the forecasted increase for career counselors, with a 10 percent growth. The favorable job market indicates that graduates should have ample career opportunities after completing their education and qualifications.
Clinical mental health counseling can lead to jobs as Substance Abuse, Behavioral Disorder, and Mental Health Counselors. They learn essential skills in a Master's in Clinical Mental Health Counseling degree, helping clients by diagnosing, treating, and managing mental health conditions, from eating disorders and substance abuse to mental illnesses and behavioral disorders. Counselors in this area must be emotionally stable, communicative, and self-aware to put their clients' needs first. They are essential to enhance millions of Americans' mental health and changing people's lives in meaningful ways. 
Clinical Mental Health Counseling Duties
Clinical Mental Health Counselors are typically responsible for the following:
Assessing the mental and physical state of their clients
Creating, recommending, and monitoring treatment plans for clients
Referring clients to helpful programs and resources
Educating families and the public through outreach programs about signs of addiction or behavioral disorders, and other mental health issues
Helping clients build the necessary skills to manage and/or overcome mental illness, addiction, and behavioral disorders
Clinical Mental Health Counseling Salary
In the United States, a Clinical Mental Health Counselor can earn $48,520 per year, or as much as $77,980 per year, based on their placement and experience. Counselors working for the government typically earn the highest salaries compared to those working in hospitals or private practices.
Clinical Mental Health Counseling Job Outlook
The job outlook for Behavioral Disorder and Mental Health Counselors is growing much faster than the average occupation, at 22 percent. As a result, there will be approximately 77,500 job openings in this area every year for the next decade, giving graduates an entryway to a diverse range of career settings and locations. 
Lead the future of counseling and create meaningful change at Walsh University
Are you an empathetic, compassionate, and emotionally intelligent individual with a desire to improve the lives of others? Walsh University Online offers students three specializations in the Master of Arts in Counseling and Human Development program, including Clinical Mental Health Counseling, School Counseling, and Dual Clinical Mental Health and School Counseling. 
Walsh University Online offers the counseling program 100% online with no on-campus visits required, allowing students to complete the degree entirely in their area. A compassionate and experienced faculty teach the program. It offers five intake options per year, field experience support, and in-depth coursework that instills foundational and specialized counseling education for clinical counseling practice. 
In addition to unparalleled support from the faculty, Walsh University encourages students in Northeast Ohio to apply for the $10,000 stipend available for those who are later accepted into the COPE program, in which students commit to doing their field experience in an underserved or high-needs area in Northeast Ohio. 
Fulfill your mission to engage in meaningful work and start your journey to expand your counseling competence today.
Learn more about Walsh University's online Master in Clinical Mental Health Counseling program and the online Master of Arts in Counseling and Human Development School Counseling program.