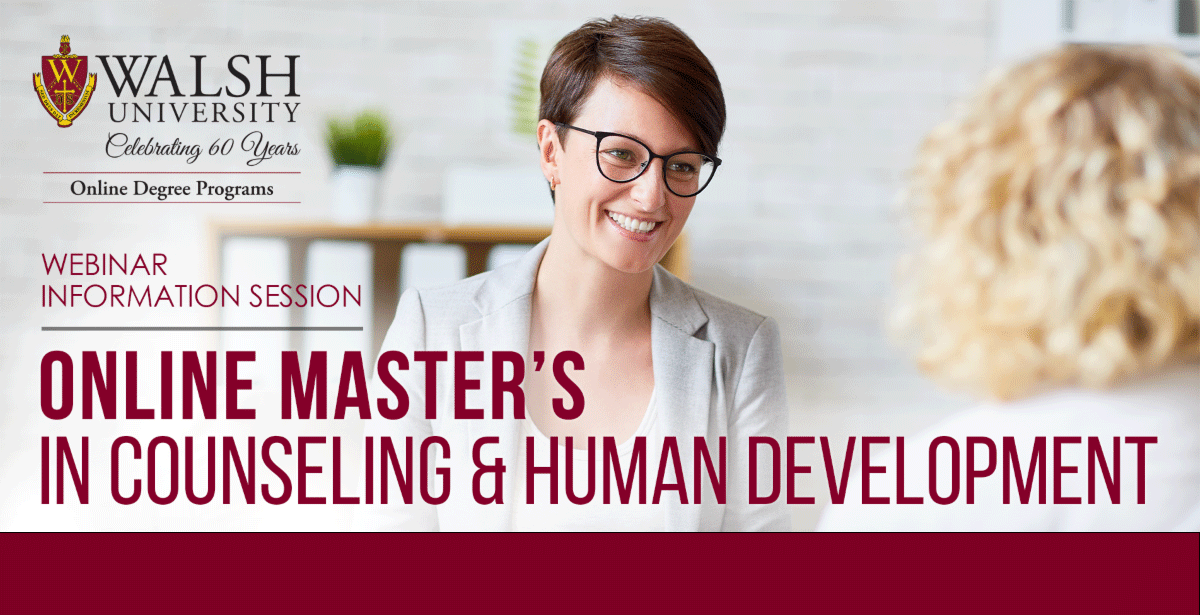 Online Master's in Counseling: Information Session
Learn more about our flexible, online Master of Arts in Counseling and Human Development (MCHD). In this session, faculty provide an overview of the counseling program including our concentrations in Clinical Mental Health, School Counseling and dual concentration and share more about:
Program curriculum and structure
Internship and Practicum experience
Online experience and student support services
Admission requirements and next steps
Speakers:
Henrique Alvim - Interim Program Chair and Assistant Professor 
Tiffany Peets - Associate Professor, Coordinator of Clinical Mental Health Professional Practice 
Kristen Lafevor - Admissions Counselor 
Presented live: October 4, 2021
Watch clips from the webinar
Transcript:
Christina Walsh: Hello everyone, and welcome. My name is, Christina, and I want to welcome you to today's webinar on the online Master of Arts in Counseling and Human Development program, offered through Walsh University, School of Behavioral and Health Sciences. Before we get started, I'd like to go over a couple housekeeping items. First, all attendees are muted.
During the webinar, please feel free to type your questions into the Q& A box located in the bottom of your screen as you think of them. We'll reserve some time at the end of the session to answer your question. And here are our speakers for today's webinar.
As I just mentioned, I'm Christina Walsh, and I'll be your moderator today. I'm joined by Kristen Lafevor, one of our admissions counselors. And from the faculty, we're excited to welcome Dr. Henrique Alvim, and Dr. Tiffany Peets. Dr. Alvim serves as interim program chair and lead faculty for the Student Affairs in Higher Education Specialization. He earned his PhD in cultural foundations of education and his master's in counseling with an emphasis in student affairs.
He also went to law school in his native country of Brazil. Having worked with graduate and undergraduate students, both in and out of the classroom, he joined the Walsh faculty in 2014. His past experience as a student affairs educator and a higher education administrator at private and public institutions of higher learning includes working with college student in multicultural development, academic support services, including advising and peer monitoring, leadership development, residence life and judicial affairs.
Dr. Alvim's research interests included diversity and multiculturalism with a focus on religious convictions in public higher education, the integration of faith and learning, moral dialogues and respectful conversations as pedagogy for student development and formation, and the internationalization of higher education. He received the Walsh Faculty Scholar Award, which allowed him to recently write and publish an article in the spring 2021 issue of, Growth: The Journal of the Association for Christians in Student Development.
Dr. Peets holds a professional clinical counselor license with supervisory status in Ohio and a diverse mediation certification from the university of Akron. She has a PhD in counseling and human development services from Kent State University, and an MA, master of arts in marriage and family therapy from the University of Akron, as well as BLS from Viterbo College. Dr. Peets, has extensive professional experience in counseling, a variety of populations and mental health diagnosis, as well as teaching in both mental health and child development programs.
In her current role at Walsh University, Dr. Peets, now only teaches several of the clinical mental health courses, but also serves as the coordinator of clinical mental health practice and co- director of the COPE in the Community Program, a grant effort that focuses on interprofessional collaboration and student support trainings to better address the behavioral health needs of our community. Okay. In today's agenda, first, we'll share some information about Walsh University and the online experience in the counseling program.
Christina Walsh: Dr. Alvim will share a bit about the counseling field and the career outlook, and then provide an overview of the online counseling program, including program structure, concentrations in curriculum. We'll cover what to expect during the practicum and internship experiences. And then finally, we'll provide information on the admissions process and save time for any questions you might have. All right. With that, I will turn it over to, Kristen, to share a little bit about the university.
Kristen Lafevor: Thank you, Christina, and welcome everyone to the presentation.
I'd like to first start out sharing a little bit more about Walsh University.
We were founded in 1960. We are a private nonprofit Catholic university. Our physical campus is located in North Canton, Ohio. We do like to keep our class sizes small, so 20: 1. We're recognized as the college of distinction among Ohio universities, Catholic universities, and overall for 2020-2021. We place an emphasis on developing the whole person and fostering meaningful relationships with the community of faculty and students.
The program is fully aligned with our CACREP- accredited on ground program as well. Here are just a few details about the online learning environment.
Kristen Lafevor: Your coursework will be online, 100%. We do, again, keep the class size as small. If you need any additional support throughout your coursework, we'll be able to provide that for you. Our faculty members are all experienced in the field of counseling. Now, your classes, and we discuss this during the interview process, they can range anywhere between seven to 16 weeks, depending upon when you start the program. Overall, it was designed to create flexibility for working professionals. We do ask that at the point of the internship practicum that you do have a little bit more flexibility in your work schedule, but the goal is to allow you to continue working while going to school.
And we assist with the internship and practicum experiences as well. We'll dive into that during the presentation today.
Henrique Alvim: Good afternoon, everyone.
I wanted to welcome each one to this webinar and thank each one of you for joining us this afternoon or wherever you might be at least this past noon here in Ohio, but we're glad that you joined us to learn a little bit more about our program.
And of course, I think one of the things we're going to highlight is the idea of the purpose that each one of you might have for joining a career in counseling. Of course, one of the goals that we have is that you would join, the growing this compassionate workforce that's striving to heal our world one person at a time. It is very appropriate for us to say this too, we are a Catholic, a faith- based institution grounded in Judeo- Christian tradition. And one of the things that we talk quite a bit about here at Walsh is about the idea of purpose.
Of course, we want students to have a purpose for joining the field, for being a helping professional, whether in clinical mental health counseling, or school counseling, and really fulfill their purpose in one of these helping professions. And of course, we see here, even on your screen, you see that there is a tremendous perspective for job growth through 2029. We see some statistics here on your screen, and of course, the need is so great. We know this not only statistically, but even intuitively, that many people could really use the help of a helping professional, whether a clinical mental health counselor, or a school counselor working in these distinct environments whether in agencies, in the communities or in school districts, all towards seeing to it that students and clients would live whole lives.
And I hope that you're excited about that. I hope that you can see a purpose for your life and joining a field like counseling, to be able to do the good that we can do for others.
Tiffany Peets: And I like to share a little bit more, I am Tiffany Peets. Thank you everyone for joining. One of the things that I'd like to piggyback on is there is this growth, and we see that as practitioners in the field. Most of the students that secure an internship in a community mental health agency, or a practice of such in behavioral health during their internship experience, their supervisors are often supporting them in securing a job placement at that site because these agencies are often sharing with me as the coordinator of a professional practice.
We want an intern in hopes that we can secure them for a job position. There are so many needs not only in the North Canton community, but across the nation. And students are finding that their internship supervisors are very supportive in helping them launch into that first career position right after graduation.
Henrique Alvim: Dr. Alvim here again, our program is structured in a way that students, whether in the clinical or school counseling specialization or concentrations, they be taking 60 credits.
And this leads to, if you're going at least part- time, taking two courses at a time, you'd be taking 10 semesters to finish the entire program. Of course, Kristen, has spoken about this and I want to add this piece. We aim at forming meaningful relationships, working relationships with students, starting as the role of faculty, aiming to get to know them. Faculty at Walsh University serve as advisors also for students. We work very closely with our students.
It is actually part of our mission at Walsh to have a close teacher- student relationship. And as part of this community of learners, we want to strive for that. And we see this as an important factor because tomorrow, our students become our colleagues in the field. In fact, we have even some of our former students who come back to teach for our program, some of them will serve as site supervisors later on for future students. We have a great relationship established both on campus and with our students beyond their time at Walsh University.
We're now having five intakes per year, which means that students can actually start at five different points in the year. They can start in spring A or B, which would be the first part of spring or the second half of spring. They can also start in the summer. And then later on in a fall, first fall or second part of fall. Students will also partake in this experience toward the end of their time in their graduate program here at Walsh in 100 practicum hours followed by 600 internship hours.
And Dr. Peets will expand on that, which is really one of the most practical experiences that students will have in the field, whether in agency in the community doing clinical work or in school districts doing the work that school counselors would do, or at least, students first, and then later on with the hopes of joining the workforce as well. Faculty will be assisting along the way, along with other members of our team here to actually help students to find, again, places agencies or schools, where they aspire to be part of during their internship and practicum experiences, so that they can find again, purpose for what they're doing there.
And sometimes this would be conversations that we'll have with students guiding them and mentoring them, helping them to reflect, what are the populations that they want to serve and what communities do they want to serve? Again, one of the things that's also very central to our mission as Walsh University is the idea of forming leaders in service to others. And of course, these helping professions really advance that very purpose. And we want students to find that. Some students will start their coursework, and they will realize having taken one, two, three, four or more classes that they would find purpose in working with this population or that population within this community or that community.
Some of them will come already knowing that they want to go in that direction. Some will be gladly surprised to find new opportunities and we're going to help them, also again, walking alongside them to find their purpose and to find a site where they can fulfill their purpose in these helping professions. We have also experienced gladly a very high passing rate whether in the licensure for clinical work or school. And we're glad to see that our graduates are going on, again, to fulfilling their purposes as licensed professional after they graduate from Walsh.
We are, again, offering three concentrations. One of which is the combination of clinical mental health and school. There is an option for, of course, students would take some additional credits, actually a total of 78 credits for them to full fill both concentrations or 60 credits for either clinical mental health counseling or school counseling, but they can do both. And some students will come, again, they might be aiming at deepening their knowledge, so they will pursue both specialties, or they just want to have more opportunities later on to be able to apply for a job in clinical mental health or in schools.
And again, doing the dual concentration would lead them in that direction. In addition to that, they can fulfill an optional graduate certificate, an academic certificate in addictions counseling. This would apply for Ohio students only, but overall, it only takes a few additional credits for them to also acquire that certificate in addictions counseling. Of course, the courses in addictions would also fulfill electives, for instance, in the clinical mental health or school concentration.
It really helps students to be able to walk away with various options.
Tiffany Peets: I would like to share a little bit about the clinical mental health counseling concentration.
This program will be designed for distance learners who want to counsel and support individuals in a clinical setting. And students will learn how to address clinical problems, working with clients to improve coping and functioning skills. They will analyze conflicts and crises. They will confidently diagnose and treat mental health and emotional disorders, and they'll promote overall wellness and fill the development of individuals, groups, and families. The concentration in clinical mental health counseling is preparing you to secure a professional role in treating and serving the community.
Whether that be in a hospital setting, private practice, a community mental health agency, a campus clinic, a residential site. Clinical mental health counselors are unique in that they actually do diagnose, they actually do treat. Part of your coursework will position you to be very savvy in the world of mental health. It'll position you to look at the whole person, the biological, the psychological, the social, the cultural, and the spiritual needs of your clients.
It will position you to develop unique interventions that treat each client's specific behavioral needs. It will help you prepare as a professional to look at your own counselor identity and how that therapeutic relationship is impacted by who you are and the process in which you are in the room with your client. It'll also allow you to look at your own theoretical perspective and how you assess both the client's behaviors and their symptomology, as well as how you're going to move them towards wellness.
Clinical, mental health counseling, as we said in a few slides back, it's a growing field. We encourage our students to entertain all different types of specialties and to seek out placement and clinical practicum and internship experiences that will encourage them to look at some different ribbons of interest per se. Clinical mental health counseling is a program that I've been involved in for many years as an instructor.
And I find that our program is unique in that we laid such a strong foundation of the skills, and then our classes later on in the curriculum are designed to practice, practice, practice, because we believe practice makes for a very strong clinician.
Henrique Alvim: Of course, I will echo here what Dr. Peets, just mentioned. The same foundation applies for students in the school counseling concentration. Of course, we are one master of arts in counseling and human development program. The very foundation of the clinical mental health counseling concentration applies to school counseling. And then later on, they will split into their own specialty addressing different things that pertain more specifically to these two concentrations, because the scope of work or scope of practice at school counselors are slightly different.
It's slightly different than of clinical mental health counselors, because they're practicing within schools. And the population that they're working with is sometimes the same, of course, but sometimes different than clinical mental health counselors. But in any event they're in a specific in environment, in an educational environment, fulfilling a very specific and special role that they're as counselors working, not only with students, but also with administrators and teachers in a school district. This other concentration will help our students to become licensed school counselors and pursue a career in that particular field.
They'll work with youth, they work with young people addressing in a very positive way, in a direct way their social, emotional competencies, children or adolescents and teens. And as part of that preparation, our students will learn to address a variety of issues from academic achievement, mood and anxiety disorders, oppositional and defiant behavior, sexuality, substance abuse, and many other issues that within the scope of practice of school counselors, they'll be able to be, again, a competent, compassionate helping professional within that role.
And we've added actually, I'll say some things later on even about the curriculum, but we have a number of courses that even since we're aligning ourselves with the newer standards of CACREP accrediting body, we have some newer courses that pertain to counseling children, adolescents in various developmental issues and disorders. We also added courses in trauma and crisis and grief. That way, again, these issues that we also hear from colleagues in the field speaking about their own, or from their perspective of their practice as students would hear from their instructors, we're also practitioners in the field.
Many of them are, they'll be able to hear these various issues. We bring that to the curriculum also, again, with the intent to form leaders in service who are competent and compassionate to be able to do this work in the school setting. Of course, those who pursue, again, the dual concentration clinical in school, they can maximize their counseling knowledge. Some of them are actually going with a dual license, but practicing within one particular field. But nonetheless, that knowledge, that background tends to really, again, maximize what they know and in turn, continue to do the good work within either one of these environments, if you will.
And with that, again, as you maximize through a dual concentration, your counseling knowledge, you're able to support a wider range of clients and students as well. Here's some examples of the curriculum.
Henrique Alvim: And one of the things that's important to highlight here is that, whether students are pursuing the clinical or the school concentration, the foundation of our counseling training and professional preparation is very similar.
All of our students will take courses like the ones that you see on your screen here, starting intro to counseling and the counseling professions which we have very practical elements to it, where students learn in the most foundational of ways how to listen better, how to paraphrase what others are saying, how to summarize in various counseling techniques that can be used in both of these environments, whether school or a clinical setting. Students will learn about research, how to interpret what they read in research, because it is obviously our hope that students are practicing as scholar practitioners, so they are competent practitioners, but also grounded in research and what we know to be effective in the field.
And they will learn other courses. They'll learn about the counseling profession through various courses that we'll teach them, about various theories of counseling, about counseling throughout an individual's lifespan, because again, we're working with various age groups and so on. Counseling from the perspective of careers and perspective of groups. Of course, students will learn, whether or not they pursue the certificate in addictions counseling.
There is a required core addictions course that every student will take. That way, they are mindful of this particular issue that oftentimes afflicts many clients and students. They will be mindful of that as well. A course in social and culture diversity. Again, students will work in the future with clients and students who come from diverse backgrounds and that will be an important piece of their training as well, to learn to attend, to listen to the narratives, the stories, the lived experiences of clients and students who will come from a variety of backgrounds and experiences.
Of course, central to all that we do is ethics. We want students to be competent. We also want them to practice with a good grounding on ethics. We will talk about that and we will also discuss that in our curriculum, not only in a specific course, but this will come up in various courses, which is again, ethics will be so central for all things done in the counseling field. Then of course, we go on to the specific concentration.
Henrique Alvim: Dr. Peets, would you say a few words about the clinical itself, please?
Tiffany Peets: I sure will. As you can see, there are 21 credits that are part of the specialization in clinical mental health counseling. These classes are designed to be in somewhat of a lock step. You definitely build upon one another. Advanced abnormal behavior is for those students that have had an undergrad degree in psychology. It's a great review that not only looks back at the behavioral disorders, but it also in this particular course also will incorporate some neuroscience as well as some psycho- pharmacology.
And really, encourages the student to look at these disorders on a deeper level. That sets the foundation for the course called that diagnosis of mental/ emotional disorders. This course is a long time favorite of many students in the clinical mental health counseling program, because this is designed to roll up your sleeves and practice. Your textbook is actually the diagnostic manual of disorders and you become very savvy in going through cases in vignettes and practicing what diagnosis might look like out in the field.
Upon that, you are now moving into the treatment program or the treatment course, which takes all the information you gathered in diagnosis. And you're looking at designing a treatment plan based on the specific needs of each client and each disorder. You'll become more trained in not only treatment planning and how to write up a treatment plan, but some possible interventions and how to do goal setting with your clients. The last course in the clinical concentration is personality assessment.
This is a deeper dive into a course that is early in the curriculum called assessment. Personality assessment is giving you the opportunity to get hands on experience with some of the more advanced tools. And you'll be given cases and interactions with peers on how to assess personality traits and how that might impact the counseling therapy relationship, as well as the individual that you're working with in session.
These courses in general have really laid the framework. I get a lot of feedback on these courses when I'm out doing site visits for internship and practicum students. Typically, speaking, the Walsh students are very well prepared in regards to developing diagnosis and treatment plans for their clients.
Henrique Alvim: Thank you, Dr. Peets. And of course again, in the school counseling concentration, the scope of practice though, the foundation is very similar, the scope of practice for school counselors is different. There, they're practicing within the school environment. And because of that, they'll be in these more specialty courses, be learning about all the foundations of what makes the work of school counselors and within that particular environment, which includes consulting with others, collaborating with teachers and ministry, and even clinical mental health counselors who are now doing work in school.
There's a specific leadership role that school counselors will play. And these themes will come up in these various courses as well. Of course, because schools are special environments, there are different issues that happen in schools informed also by other issues that have not just implication for schools, but for families and students. In particular, issues that come from various settings, including policies and politics and all kinds of things that will happen that impacts schools and how they work.
Of course, there are lots of things happening in school as a result of policies, things that happen outside of the school that school counselors will also be knowledgeable of. And then as I mentioned previously here, we have some additional courses designed for students to learn more about how to counsel and how work with children and adolescents. Some courses on targeting developmental issues and disorders.
Of course, the issue of trauma and crisis and grief has been very prominent these days in schools. And we now have a dedicated course to be able to talk directly and teach student directly about that. And again, it is our hope that they'll also learn alongside folks who are in the field and seeing that in person as well. One of the things that you'll notice here is that both clinical mental health in the school counseling concentration have elective courses. And in some instances, of course, as you work together with your faculty advisor, you might be able to use a course that is school designated as a clinical mental health elective, or vice versa.
We don't have the electives all listed here, but there are different electives that we will be offering throughout a student's experience in the program. That way, they might be able to, in a very specific way, learn more about specific populations or issues in counseling, both clinical and school and they would be able to use these courses as electives. If students choose a dual track to do both concentrations, we do not require students to take an elective because they're already taking a number of courses that would've been an elective if they had chosen to take one or to work on one concentration only.
After, let's say, these specialty courses, come our practicum and internship experiences, which are the most practical of the courses. Dr. Peets will speak about that too.
Tiffany Peets: The practicum experience. We'll simply do an overview, is the intensive counseling experience with individuals and group supervision. Emphasis is on developing therapeutic relationship, counseling procedures, ethical practice, and the application of counseling theories to various client concerns. The practicum for clinical mental health counselors is going to be 100 hours. And that is also 100 hours if you are in the school counseling specialty. If you are one of the students that have to chose that more extensive experience as a dual student, which has both the counseling, mental health and school counseling components, your practicum experience would be 120 hours.
Now, there is something very important to note, of that 100 hours for the clinical mental health in school tracks, 40 of them must be direct service. What is direct service, one might ask? That is going to be just the graduate student in front of, and actually doing hands on work with a client, patient or student. That could be in the area for clinical mental health counseling of providing group counseling. You're acting as a group leader. It could be in the area of doing a diagnostic interview.
It could be in the area of doing crisis management, or it could be doing actual counseling, marriage and family counseling or individual counseling. That is considered direct service. The other 60 hours of that 100 hours is wearing the hat of what it means to be a professional counselor, possibly attending trainings, keeping up with your documentation, keeping up with your case preparations and planning, making phone calls, referrals, attending meetings, being part of a collaborative team, working with your supervisors, possibly even observing other practitioners in the field.
That 100 hours for school counselors will look similar. There's a lot of duties that a school counselor and a lot of hats a school counselor wears. 40 hours of those must be, however, where you're working directly with students, whether you're doing career planning, whether you're doing a lunch bunch or doing a group on social skills, whether you're helping them with resume building or whether you're reviewing their academics with them personally. It's that hands on interaction you are having with students. Now, you'll take those hours and combine them for a dual student.
A dual student's practicum experience has to have both clinical mental health hours in which they're actually treating and diagnosing, but they also have to have that hands on experience in the school setting. They will actually have two supervisors, one for their clinical mental health work, and one for their school work. Supervision is a very important part of the practicum experience. Each student will have a supervisor out at their site that works closely with them to mentor them and support them in their training and their growth, and to make sure that they're providing appropriate client care and/or student care.
And then they have to attend practicum course. The practicum course is really what CACREP and most states recognize as group supervision. A practicum course doesn't look like a typical course. There will be a lot of dialogue about your professional development, normalization of your stress and anxieties about becoming a counselor, processing your feelings. But most importantly, it'll be a time for you to get feedback from both your peers and your faculty member regarding that client and/or student care and the process of becoming a professional helper.
All right. I think that sums it up.
Tiffany Peets: To piggyback on that, I will talk about the clinical mental health internship. The clinical mental health internship, again, can be completed at a multitude of sites. Some students may choose to work in community mental health hospitals, residential programs, intensive outpatient programs. They may choose to work in a private practice or in interprofessional care. A clinical mental health internship is going to be 600 hours. It is designed as the capstone of your clinical training.
It is done. It is completed and activated after you have completed the majority of all your core coursework, as well as all of your clinical coursework as well. It is a performance- based course in which students must demonstrate that they have competence in diagnosis and treatment, and that they are practicing these skills in an appropriate clinical setting. This class emphasizes application of taking all you've learned in your academic training and applying that to skills with clients.
In that 600 hours, that is your total experience. A clinical mental health internship per CACREP standards and per the programmatic design has to be taken as an internship one for three credits and an internship two for three credits. A clinical mental health internship must go over two semesters. Your site, typically, approximately 20 hours a week. In that time, you will need 240 hours in the total of 600 hours. Of that 600 hours, 240 must be that direct service as I talked about in practicum.
That hands on client to therapist service in which you are doing individual counseling, group counseling, marriage and family counseling, diagnostic assessment, crisis management, et cetera. During the clinical mental health internship, you have that one- on- one relationship with a site supervisor that you must meet with weekly. They are typically and specifically very trained in the field to mentor and provide guidance in your client care.
The clinical mental health internship course will meet weekly. It parallels the practicum experience except you are more advanced in your skills, and you can do a deeper dive into your application of your skills. Again, the internship course provides group supervision in which you and your peers will case conceptualize, you'll provide one another support, you'll brainstorm ideas for better client care, and you'll focus on your professional development. Henrique, would you like to speak a little bit about the school internship?
Henrique Alvim: Yes. Thank you. And I think much of what, Dr. Peets, has mentioned here applies also to school counseling. Again, just to echo a few of the highlights here that I heard from, Dr. Peets, that apply to the school internship. Again, it is a capstone training here. It is the most practical of courses, also meeting on campus for group supervision. We have a class, a course that runs parallel to the experience that students have in their respective internship sites.
They will meet there to fulfill their hours, but also they will meet as a class to be able to do group supervision. Supervision is also at the center of the experience because it is through supervision that students can reflect on their practice. That way, they're not just doing the practice, but they're thinking about their practice. And they're also finding support within a group and also the support of their faculty supervisor in addition to their site supervisor, to be able to really reflect on their counseling skills, on their practice, on their experience, on their feelings and be able to grow as a result of this capstone experience.
School internship is also divided in two experiences, for internship one and two. Roughly, students will spend 300 hours in internship one, 300 hours in internship two as well. But the scope of practice is different because, again, the school internship happens in the context of schools. And because of that, the application of theories and skills will happen with different constituents, with individuals, with groups. Of course, in schools, they'll also be dealing with families. They might be working with children or adolescents, teens in the context of school setting.
They'll also work alongside teachers and administrators and their own internship supervisor, who would be a licensed school counselor. Again, the experience is, again, I will largely echo what, Dr. Peets, mentioned here, because when we think of internships, we think from that perspective, but of course in the school setting that's the environment where our graduate students in this particular concentration we'll be practicing in. And of course, with the dual concentration, they have a combination of both.
They'll have their experience in a clinical setting and they'll have their experience in the school setting for then a total of 1200 hours. They'll just be doubling that in order to gather the full scope of the experience in both concentrations. Dr. Peets, perhaps you want to add some words-
Tiffany Peets: Absolutely.
Henrique Alvim: About how we might assist students.
Tiffany Peets: Absolutely
Henrique Alvim: To get out there.
Tiffany Peets: The seed is planted as you are either in your upper-level clinical courses for clinical mental health or in that second step up in your school counseling courses to start exploring internship sites and what being an intern or shall I say, practicum student might look like. Because of the close faculty interaction you'll have with Walsh, faculty can start supporting you in making the necessary steps to secure a site.
They may give you guidance in where to look, how to explore that and help you even have those dialogues about what that experience might look for and what life adjustments you might need to make. If you are going to start that practicum or internship experience. Ultimately, there will be assistance in regards to handbooks and manuals that help you outline and best understand what an appropriate internship or practicum site might look like. What types of credentials and experiences you might need to look for in regards to a supervisor.
And how to get out there and start interviewing and finding a place that is a fit for you. The Walsh program also makes sure that the supervisor is given the appropriate directives and expectations. They are aware of how they can best support you as a student. The internship supervisor is also going to be provided contact information and typical and consistent communication with someone from Walsh Faculty and or placement to help support them and make sure that the necessary documents and goals are being met.
There will always be someone available to you as well to guide you through any questions, concerns, transitions, or changes that may happen during this experience. Different states have different requirements. There will be someone to support you in investigating that and facilitating that and acting as a liaison, should you need any support in moving from your clinical experience to actually gaining licensure.
Kristen Lafevor: All right, guys.
I really hope you all have enjoyed the presentation up to this point. I wanted to go over with the admissions requirements with you. You must have a bachelor's degree from an accredited college or university. We are looking for a cumulative GPA of 3.0 or higher to get the GRE or MAT waived. Two letters of recommendation and affidavit of good moral character. An interview with, Dr.Alvim. You will also have to submit your resume as well as a writing sample. And I do assist you in completing the application steps. If you are considering the program, the first step would be to have a conversation with me.
I want you be able to answer any questions you have about the program, confirm that it is a good fit for you. I, again, will assist you through the application process. We do not have an application fee. We have also outlined here the documents that need to be submitted. And I, again, will support you through this process. My goal is to always make sure we are creating a strong file to present on your behalf to the faculty. We would now like to open the floor to see if you guys have any questions.
Christina Walsh: All right.
Yes. Thank you everyone for that great presentation, we're going to open up the floor and the questions now. If you haven't submitted any questions yet, go ahead and type your questions into the Q& A box on your screen. To get things started, for the first question we'll cover, how large are the class sizes? Kristen, do you want to talk about that first?
Kristen Lafevor: Sure. We definitely try to keep the class sizes small. So 20 students to one professor in the event you need additional support as you're taking the program with us.
Christina Walsh: Wonderful. What type of support will a student have throughout the program? Kristen, do you want to start or.
Kristen Lafevor: Yeah, absolutely. I will be assisting you through the application process. You will also have a student success coach. Her name is Alyssa. She's a sweetheart. She'll assist you on the back end once you start courses. And then we also have our wonderful faculty here at Walsh that'll assist and support you throughout your time with us as well.
Christina Walsh: Okay. Is this program 100% online?
Kristen Lafevor: Would you like for me to take that one too? Your academic course, yes, will be online. However, as Tiffany Peets, and Dr. Alvim mentioned, you will have parts of the program that will be in the field with a practitioner. Is there anything else you guys would like to add to that?
Tiffany Peets: I think it's important to note that the practicum and internship experience, those courses that parallel the experience, the courses will need to be synchronous which means live learning because there is that group supervision piece.
Kristen Lafevor: That transitions to another question that we just had from an attendee about the live classes. Could you talk a little bit more about that live experience and then typical coursework in the classes?
Henrique Alvim: Yeah. It's a great question by the way, because I think everyone who might think about online learning might have their own concept of what online learning is given their own experience. And we want to be mindful of that because, again, we are trying to be creative while using the knowledge and skills that each faculty will bring to these courses and create an environment where students can really thrive. I see one of the questions here, what are we going to do?
Are we going to just be reading, writing a couple papers a week? I think that's going to depend on the course itself. Our hope is to, again, bring to students an online experience that would be engaging and each course would have its own capacity to be able to do or capability, I should say, to be able to do more of one thing or another, a combination of things, depending on the nature of the course. What we are doing though, which I think is important to stress, is really each course that is designed take many, many weeks before they go live and is delivered to students.
It is not something that we're just improvising on the back end and then sending it live. Faculty spend a great deal of time bringing their expertise, oftentimes, converting or translating what they've done sometimes in classrooms and in traditional classrooms to be able to design an online course that is engaging, that we can make good use of technology. That it's not just like in one mold, if you will, but there might be a variety of ways in which we might deliver that.
Sure, there might be courses, there might be forums, there might be opportunities for students to submit their work, both in writing, maybe even in recorded fashion, audio, video, I mean, using full capability of technology, but there might be other ways points in which we will stop and touch base with students in live sessions. Some courses might have more of that, some courses less of that, depending on the nature of the course. I guess the central idea is that we'll try to use the best that we can find in terms of bringing an experience that would be engaging.
And that would really add meaning through the experience of our graduate students.
Kristen Lafevor: I like to add to this. I tell students during the interview process that this program is designed to be interactive. We're preparing you for interactions with either students or clients long term. You do need to expect to participate in your courses. You do need to be ready for group projects or assignments working with others.
Christina Walsh: Thank you for that. That was wonderful. This next, just confirming these, how flexible are the classes in terms of working around the work schedules?
Henrique Alvim: Well, it is my hope that it'll be quite flexible because, again, given the fact that there will be quite a bit of work that will happen asynchronously that students will really find a way to fit that in their schedules and be able to navigate the course at their own pace. Of course, that requires the students to stay on top of things. Of course, they'll have support from faculty and student success coaches and all, but there is, of course, a responsibility on the side of students there too. I do expect that they'll be flexible and whatever we might plan to be, let's say, in a live session that will be shared in the context of the syllabus, hopefully depending on, again, the course.
Students will know with plenty of notice to be able to make their plan or adjuster your schedules, if you will, to be able to be present in, say live sessions that will run synchronously, likely via Zoom also. It is my hope that it'll make for quite the flexible experience for students, which again, will come also with the responsibility to keep up with the work and all. We'll bring the best of ourselves and we will trust that students will bring the best of themselves also to this experience.
Kristen Lafevor: I would like to add here too. The more the professors know about you, the more they can support you. Just like if you were taking this program on campus, if something were to come up, you may need a little bit more flexibility, share those things with your professors, even in the online environment to see what they can do to support you.
Tiffany Peets: I want to share one last little nugget of information that when you are out in the field for either the practicum or internship course, typically speaking, that is a dialogue you have with the agency or setting or supervisor. An example might be for students that have full- time eight to five job, possibly, they will entertain agencies or sites that have a lot of their client care in the evenings or on weekends.
And that would be something that you could be supported in and faculty or someone in regards to helping you with your placement, can help you have those conversations. You can find a practicum or internship placement that works with your current situation, as far as balancing home life and career.
Henrique Alvim: Dr. Peets, on that note, I'm glad you mentioned that because on the school counseling side, of course, these practicum and internship experiences will happen in the context of schools. Their hours are a bit more limited given what they are. But then again, it is my hope that students applying for the program, knowing that there is a program of study that they know what comes first, what comes next, is that they would be able to budget that time. That they may, in some cases, have to take off to be able to be at an internship site and particularly for school sites or school counseling sites at a school district.
But again, knowing that from the beginning, they would be able to start thinking what life might look like two years down the road when they approach practicum and internship. That's something certainly that would take a bit more planning at that time.
Christina Walsh: Wonderful. Thank you everyone. If you have any other questions, go ahead and submit them at this time. We're just about ready to wrap up our Q& A it looks like. Kristen, can you review, again, the steps to apply and what to expect during the application process?
Kristen Lafevor: Absolutely. I know a lot of students even apply prior to speaking with me, but I really want to talk to you first, make sure the program is a good fit for you, and you're a good fit for us. I will assist you in the application steps. Obviously, the first step would be submitting the application. Again, it is free to apply and to take you through the process. Official transcripts from all schools attended to complete your bachelor's degree. Two letters of recommendation, the affidavit of moral character, which is a document I'll send after our conversation.
Your writing sample, another document I'll send after our conversation. Your resume. That will complete your file. Like I said, I will walk through every step with you. Again, I want to make sure we're creating a strong file to present to, Dr. Alvim, and Tiffany Peets.
Christina Walsh: Great. Thank you. Let's see, Dr. Alvim, I see that we have the comment from a faculty member that's listening in. Did you want. to add.
Henrique Alvim: Yes. I probably should add that. And I think that's a great contribution. We're joined here by our other two colleagues, Dr. Clint Limoges, and also Dr. Ken Myers. And I'm glad that they have joined us today here. And Dr. Limoges had added a comment here, which I think is worth highlighting too. He's saying that we are sensitive to the needs of adult learners and we're willing to work with students to be successful. Again, we went through ourselves not only one but two graduate programs, a master's and the doctoral program, each one of us.
And so we know that, that can get very, very busy. We've had families and children and raising them and living life along while pursuing our academic pursuits and all, and we continue to do that in an academic environment. We're very sensitive and I'm glad that Dr. Limoges reminded us to share that. It is our hope that we can work closely with each of our students as we've done throughout actually several decades to be able to see two of the students would be successful in this endeavor, and not only successful during their academic pursuit, but beyond their pursuit.
Henrique Alvim: Again, we're seeing lots of examples from students out there doing good work, again, serving others, being as the world mission calls us to being leaders in service to others. And we're excited about that. And I'm glad to see our students going on to promoting the common good in their respective fields in counseling. I'm very grateful. Again, let me add a word of thanks here on behalf of our program, of our faculty of Walsh University, and as chair of the program, I just want to extend a sincere word of gratitude for those who joined us today.
Christina Walsh: Wonderful. Thank you. In the interest of everyone's time, I'm going to go ahead and wrap up the session today just to be conscious of your time. Thank you everyone for joining today. If you have any additional questions that you think of following the webinar, please don't hesitate to reach out to your admissions counselor, Kristen. Let us know. I hope today, this webinar was helpful for you. It certainly was insightful for me as well. And if you're interested in learning more or applying to the program, please reach out to your advisor.
Also, as this webinar closes, a very short survey will pop up. We'd certainly appreciate any feedback or comments that you may have on the session today. And finally, we've recorded the webinar today, and you'll receive an email tomorrow with a link to the recording, if you'd like to reference the presentation today or share it with others. And just thank you again for joining us. We hope to speak with you soon. Would anybody else like to have any closing comments today before we sign off?
Kristen, you want to go first?
Kristen Lafevor: I just look forward to speaking with anyone that's in the program and helping you to get accepted.
Christina Walsh: Dr. Peets.
Tiffany Peets: Well, I look forward to hopefully seeing some of you in my courses as we move forward and I look forward to working with any of you.
Christina Walsh: Great. Dr. Alvim, any other words?
Henrique Alvim: Just wanted to say thanks again. And I do appreciate each one's interest in our masters of arts and counseling and human development. We're really grateful that you're considering Walsh University as a university that you could join.
Christina Walsh: Wonderful. All right. Thank you everyone. Have a great rest of your day.