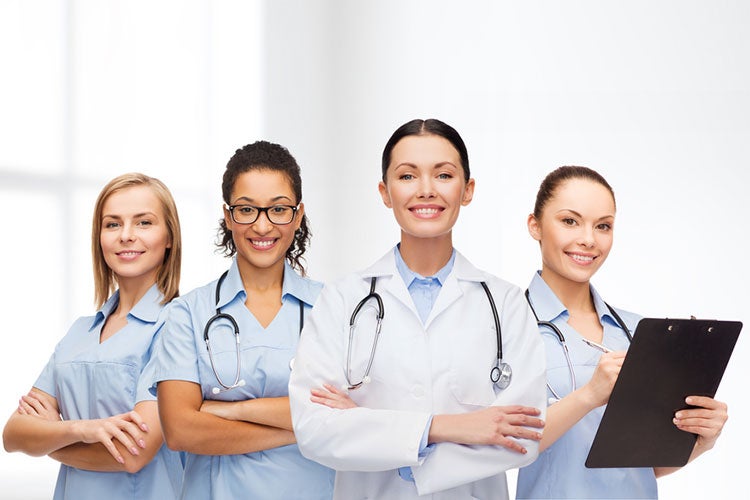 Walsh University Online FNP Programs Information Session
Are you ready to become an family nurse practitioner? In this webinar, you'll learn more about Walsh University's Family Nurse Practitioner (FNP) online programs, including the MSN-FNP and the BSN to DNP-FNP directly from program faculty.
Watch to gain: 
An overview of the FNP programs at Walsh and why to choose the MSN or DNP

Details about the clinical placement process

Highlights on the campus intensive experience

Admissions requirements & steps to apply
Panelists:
Dr. Jan Finneran, DNP, FNP - Chair, Graduate Nursing Programs, Clinical Associate Professor

Dr. Christina Gabele, DNP, FNP, ENP - FNP Program Coordinator, Clinical Assistant Professor

Thomas Nunes - Admissions Counselor
Presented Live: June 28, 2022
Watch clips from the webinar
Christina Walsh
Well, hello and welcome everyone. My name is Christina, and I want to welcome you to today's webinar on the Family Nurse Practitioner online programs offered through Walsh University's Byers School of Nursing.
Before we get started, I'd like to go over a few housekeeping items. First, all attendees are muted. During the webinar, please feel free to type your questions into the Q and A box located near the bottom of your screen as you think of them.
We've reserve some time at the end of the presentation to answer your questions. And here are our speakers for today's webinar.
As I mentioned, I'm Christina Walsh, and I'll be your moderator today. I'm joined by Thomas Nunes, an Admission Counselor for Walsh University's online graduate programs.
From the faculty, we're excited to welcome Dr. Christina Gabele, FMP program director. And Dr. Jan Finneran, Chair of the graduate nursing programs.
In addition to our roles within the FP program and as clinical assistant professor, Dr. Gabele practices in the emergency department at the Suma Health System.
She brings diverse experience for more than 20 years of nursing experience, including flying with the Cleveland Metro Life Flight, and Akron Children's flight team.
Dr. Finneran is chair of the graduate nursing programs and clinical associate professor in the Bayer School of Nursing. Dr. Finneran assumed the post of chair in 2018 and brings a wealth of experience as an FMP to the position, having worked in a private doctor's office, as well as an adult clinic at a health department.
So here is our agenda for today. First, we'll share some information about Walsh University and provide an overview of the online FP programs, including program, structure and curriculum.
Then we'll move on and speak about the clinical hour requirements and our clinical placement services, as well as our two intensive experiences. And finally, we'll provide information on the admissions process and save time for any questions you might have.
So with that, I will turn it over to Thomas to share a little bit about the university.
Thomas Nunes
Thank you so much, Christina. And hello, and thank you all for joining us on today's webinar. Many of you may have spoken with me in the past, potentially a colleague of mine, or you might be new to Walsh as a whole.
So before we get started, just a little background information here, Walsh University was founded in 1960 and we are a private, nonprofit Catholic university located in North Canton, Ohio.
We do have a physical brick and mortar campus, and we have grown to more than 2, 600 students and 14, 000 alumni. And again, even though we do have that brick and mortar campus, regarding this particular program, it is 100% online in regards to coursework.
We do focus on keeping small class sizes. So that being said, we cap our online courses to 20 students to one professor. And this is very important because it does give students the ability to work directly with their professors and form relationships, as well as their fellow classmates and peers within the program.
We are ranked number five in Ohio for best school of nursing per the nursing Almanac, as well as ranked as a best online masters in nursing program in a 2022 report by US News and World Report.
So very exciting rankings to be able to share with you here today. I also wanted to briefly touch on accreditation as this does come up quite frequently in my conversations with students.
But Walsh University is of course, regionally accredited by the higher learning commission and our Byers School of nursing that does house all of our nursing programs is accredited by the CCNE, or the Commission on Collegiate Nursing Education.
And then one final note, as you can see, there is an emphasis in this program on developing the whole person and fostering meaningful relationships within the community of faculty and students. And I do think that word is the most important, community.
We want all of our students to feel that even though they are pursuing an online program and completing this program remotely, that there really is that strong focus on creating that community setting within the classroom, and really giving students the opportunity to foster the ability to form connections and relationships with both faculty and peers.
All right. So next slide. There we go, thank you. And then on our next slide here, just to give you a brief overview of the Walsh online family, nurse practitioner programs.
As you can see, and as I mentioned, the program is 100% online. It is an asynchronous program, which really is truly designed with the full- time working professional in mind.
This allows students to be able to structure their schedule around being able to complete the program by logging in around your existing, personal and professional commitments.
Again, our classes are capped at 20 students. And as discussed, this allows for students to have access to their peers, as well as faculty who will provide their open office hours, as well as additional options to connect with them as needed.
Our experienced faculty brings years of clinical nursing experience to the classroom and all of our clinical courses are taught by faculty who are active in the field.
The program offers a combination of eight and 16 week courses. And just to note that all of your clinical rotations will be 16 weeks in length as this is a particularly popular question with students that I speak with.
You also do have the option to do full- time as well as part- time coursework. And I would be more than happy to connect with anyone after this presentation to walk through what those scheduling options would look like and assisting you in selecting the pace that you feel is most appropriate and would be the best fit for you personally.
We also have two dynamic intensive experiences that are incorporated into the program, which offer a special opportunity to connect with fellow online classmates and peers, as well as faculty and person over a two day experience.
And we will go into much greater detail regarding this intensive experience later on in the presentation. At this point, I would like to pass it over to Dr. Finneran.
Jan Finneran
Thank you, Thomas. I'm Jan Finneran as I've already been introduced. And I want to personally thank all of you that have an interest in the FNP program.
And we have a master's of science in nursing with the FNP focus. It's 62 credits, and depending on whether you go part- time or full- time, it could span anywhere between two and a half to three and a half years.
We accept students three times per year, spring, summer, and fall. And along with the five clinical courses that you will have, I can discuss those in the slide, there are 650 clinical hours, and that is one on one with an experienced preceptor.
So you'll be getting that hands on experience, bridging from the classroom to actually taking care of patients with a preceptor as your guide and mentor.
You can sit for the AANP exam or the ANCC certification exam. Either one would make you eligible to sit for the exam, pass the exam, and get licensed.
We do have a nurse educator graduate program certificate. And if you would like to add that on, at this point we have five NE courses, and we of course can discuss that as well to people who are interested.
But I want to just point that out that there is a need for nurse educators. So down the road, if you decide to go into academia, you would have that certificate as well.
So the masters of science, you'd be working with primary care physicians. Our students are all over. Some of them do specialize in different areas, such as cardiology, but the program is focused on the primary care arena.
And it says here, the increased autonomy and transitioning to the work in an office clinic or an ambulatory care center.
So there's a lot of places that you can use your education. So the curriculum is laid out here.
You can see that there's the core courses, the pathophysiology, pharmacology, advanced health assessment. Those are very much core courses, as well as a role course, a research course, a theory course.
At Walsh we have two pharmacology courses. Typically, you'll see the advanced pharmacology, but we also have added on clinical pharmacology, which that course really gets into the piece of prescribing and how do you prescribe, and what do you need to look for as a clinician in your prescribing practices?
So at Walsh, you'll receive education in two pharmacology courses, which I think is a plus. We have a clinical assessment in management, which is a diagnostics course.
And then policy, healthcare technology, and epidemiology rounds out those core courses. When you look at the other side, these were the ones I was just referring to, and these are the clinical courses.
And there's 650 clinical hours associated with these courses. So FNP 1 is care of adults.
You'll have online coursework and assignments to complete there, as well as completing a hundred hours with a preceptor in that area of adult care.
FNP 2 is the child and adolescence. So again, 100 clinical hours that you will be with a preceptor in the pediatric area.
FNP 3, care of women, 100 hours would be completed with a preceptor in the area of women's healthcare. FNP 4 is care of the adult and elderly with multiple chronic conditions.
And it's here where you pull it all together because as we all know, patients don't typically come in with one problem, especially as we age.
So there is a bump up on the hours there, it's 150 clinical hours that you'll spend with a preceptor. And then finally, FNP 5 is capstone.
It's 200 clinical hours. Again, all of these courses have online components, but then you're really out there in the field with an experienced preceptor.
So FNP 5 would be 200 hours with a preceptor. And I didn't skip over Intensive 1 in Intensive 2.
The Intensive 1 is online. And then the Intensive 2 is on campus for two days. And Dr. Gabele will be talking about that in a little bit.
So we also have a doctor of nursing practice degree that you can earn at Walsh University. And I don't know how much any of you are familiar with the doctor of nursing practice, but we're starting to see a shift towards students in practice receiving their doctorate and going out as an FNP or whatever specialty area that you're in.
We have some leading authorities that are calling for nurses to hold a doctoral degree. And the push now is that by 2025, the National Organization of Nurse Practitioner Faculties, they're moving towards entry level nurse practitioner practice to be at the DNP degree by 2025.
That is the goal. I'm not sure where that will go, but I wanted to let that is the shift that we're seeing in academia and in the hospital settings, and outpatient settings as well.
So the doctor of nursing practice. So how does that work? Well, there's more credit hours obviously. It typically takes a three years to get your FNP and then go forward for your doctor of nursing practice degree.
Again, same thing, three intakes per year. The five clinical courses that I just described for you, plus, when you move into the doctor of nursing practice, part of the program, there is a DNP project, a leadership residency, and you'll complete 500 hours of precepting.
But it's a different type of precepting because you're working with somebody in a leadership role. So, that is the goal, that's the focus of our doctor of nursing practice degree.
The DNP project is typically a quality improvement project that the student identifies and works through, perhaps implementing an intervention or something along that line.
And you will be in some courses that will help you work through the DNP project. And you'll also be assigned a chair, which is a full- time faculty member who will help you work through the DNP project process.
So a total of 1, 150 clinical hours. So the 650 that you would get with your FNP and then additional 500 hours to work with a leader in the healthcare field, and also complete your DNP project.
And so this is the highest clinical nursing degree. And again, it just goes over the leadership focus and the fact that we are seeing changes in the future that would have the advanced practice nurse at the DNP level.
So this is similar to the master's slide, but it just shows the DNP courses. So for example, in the MSN FNP program, you would be taking a role course at the master's level.
It's the same here. So your courses such as role, research, healthcare technology, policy, epidemiology, again, those courses would be at the DNP level, the doctoral level.
So in actuality, you would be using those courses for both the FNP portion and moving into the DNP.
So there is a course translating evidence into practice that is more geared towards putting your DNP project together, getting it off the ground, and moving forward with that.
You still have your FNP core courses, the intensives, your FNP clinical one through five, and then the DNP clinical is the project.
And then the leadership and the residency. And again, that is spent working with somebody at a leadership level, within a healthcare environment.
So again, this just is the same breakdown that we discussed earlier with the clinical hours. The MSN and DNP, the FNP one through five, total 650 hours, and then the additional DNP clinical hours, which is your project and your residency, and your leadership in management, which would be 500 hours.
So Christina, I'll pass it to you.
Christina Gabele
All right. Thanks Jan. So this slide, like Dr. Finneran just said, goes over your clinical hours. So if you look on the left hand side, that's the MSN breakdown for FNP one through five.
And she did go over that and told us a little bit about how each course has a didactic component to it. And then in the parenthesis, you can see how many clinical hours are associated with each class as well.
So for care of adults, 100 hours, usually done within a family practice setting or an adult healthcare setting. Children and adolescents, obviously pediatrics.
Care of women, this can be an OBGYN office, or I know a lot of students have done a women's health clinic, areas like that.
When we get into the multiple chronic conditions, we like you to have a little bit more variety of patients, so you're really seeing the whole patient with somebody who has quite a few comorbidities.
So you're seeing somebody who is diabetic, has hypertension, possibly COPD. So you're learning how to manage all those conditions within one patient.
And then finally, the FNP 5 which is 200 hours, that wraps it all up. So back to a family practice or an internal medicine office, where you can wrap everything back up, put a little bow on it prior to taking your boards for your master's degree.
And then with the DNP clinical hours, these are not the same type of clinical hours that you were doing for your MSNs. So you're not working side by side in a clinic or an office with a nurse practitioner.
You are working with somebody who is your mentor, preceptor, in a leadership and management capacity.
Usually this is done at a healthcare system where you're identifying a need in some sort of quality improvement area. And again, your DNP project really does define what these hours look like.
And my suggestion, if you are planning to go forward for the DNP, is that you really choose something that is important to you, that you're passionate about because you're going to be spending quite a bit of time immersing yourself in whatever topic it is that you become interested in.
So I'm going to go ahead and bounce it over to Thomas.
Thomas Nunes
Thank you so much. All right. Well, before we dive into clinical placement, I did want to take this opportunity to make sure to encourage any students who haven't spoken with myself or a colleague of mine, to reach out to us, to ensure that you currently live in and work in a state that does have state authorization with us here at Walsh.
This is what will allow you to move forward in pursuing the program. And most importantly, as it pertains to this slide, this will allow our clinical placement team to assist you with finding preceptors and ensuring that you are able to find a site to do so.
This information is also available and up to date on our website as well for your reference. So that being said, we do offer clinical placement here at Walsh.
And this is an area that I do really love to speak about with students, as many times, this can be the very first question or even potentially a concern a student has. And we do initially connect to discuss the program.
The good news here as well is that this process is very collaborative. Typically, the way this process would work is that our clinical placement team will reach out to you early on in the program before clinicals have started, and they will work together with you collaboratively to ask you for your suggestions, to assist and locating preceptors and sites as close to you as possible.
So very often it's questions like, where do you live? Where do you work? What is closest and most convenient for you? In a perfect world, where would be some places that you'd like to do your rotations?
Of course, we can never promise or guarantee that we'll get that exact site or preceptor that you want, but this is really a great starting point in allowing the team to assist you. And then if need be, they can also assist in expanding the scope of their search based on availability and qualifications, et cetera.
Many times the sites will potentially have an application process that will require your attention or your collaboration. There may be some additional documentation that is needed.
So on our end, we definitely do as much as we can, but again, there may be times when an additional step is required on your behalf to move the process along. So again, very collaborative process.
We do encourage students to really take some time to think about what options are available in their area, so again, we can work to keep these as close to where you live and work as possible.
And at this time I'll pass it back over to Dr. Gabele to discuss the intensives I touched on earlier, in a little bit greater detail.
Christina Gabele
Thanks, Thomas. So intensives are our hands on experience, immersive, on campus, well, for Intensive 2, I'll get to that in just a second here.
But it really helps even with the online intensives that we do for Intensive 1. We like you to complete those prior to your start of any of the clinical courses.
So prior to FNP one, two, and three. And it allows you to just become clinical ready. So we go over the things that you've learned in health assessment.
How to do an ear exam? How to do an eye exam? Heart and lung exams. Doing a musculoskeletal and neurological exam.
So even suturing, we cover in both Intensive 1 and 2. So, the things that you learn in the Intensive 1 area, currently it is virtual.
We just moved Intensive 2 back to on person since we were virtual for both prior to COVID restrictions being lifted.
But now we're having intensives online. It's a two day immersive experience in the fall for Intensive 2. You'll come on campus, you'll get to meet everybody.
You'll meet your fellow classmates, all of the faculty and staff members. We learn about radiology and we have a suturing workshop.
We learn about EKGs and billing and coding and telehealth and self care for the APRN. We have a checkoff where you do a complete head to toe physical exam and history on a patient.
And you have to bring your skills, bring your stethoscope, and know your stuff and get checked off. And that's completed hopefully prior to FNP 4, but depending where it falls for you, whether you're part- time or full- time, it may end up being either before FNP 4 or before FNP 5.
So yeah, intensives are a really great time to just dive in and get your hands dirty with all the skills that you need to be a good clinician.
Thomas Nunes
All right. Well, on our next slide is the student profile. And I do think that this slide is very interesting, especially for an online program. The first data point that does stick out to me is that 44% of the online population comes to us from outside of Ohio, where we are located.
And I do think this really is one of the true benefits of an online program, is getting to work with and collaborate with healthcare professionals across the country.
Having the ability to work with students with different perspectives, different experiences, and different backgrounds, I think again is a really great feature of our program. And we have continued to see this number grow over the years as well.
The other data point is regarding the age ranges of students in the program. As you can see, there really is a great mixture of students from all different age ranges. And again, I think this is another benefit in pursuing an online option.
Students having the ability to work with other peers who have varying degrees of experience, as well as have held varying roles in the field, is another great opportunity for collaboration within the program as well.
I can speak from personal experience, and I have spoken with students of all age ranges regarding this program, and I tell students that whether you're looking to pursue this as a next step in your career from a professional perspective, or perhaps you're closer to the end of your career than the beginning, but you do have some personal goals you'd like to achieve, as long as you're motivated and passionate, regardless of your age, you would be in great company here within our program.
And finally, I'd like to highlight that a 90% FNP licensure pass rate, as we want you to not only feel as though you've been guided and set up to succeed within your didactic coursework and your clinical practicum hours, but that you'll also be prepared post- graduation to sit for that licensing exam and to succeed at the highest level possible.
So we do want our students to be confident in this. And on our next slide, we will talk about some of the admissions requirements. And as I mentioned, some of you may have already spoken with me and started your application.
Some of you potentially may have already been accepted. However, if you are brand new to Walsh, the first step will definitely be to connect with me or a colleague of mine to discuss the program and to ultimately get any of your remaining questions answered after the conclusion of this presentation.
Regarding our admission requirements, we do not require the GRE or the GMAT. We do require a BSN from a regionally accredited college and university.
If you're unsure about your previous school's accreditation standing, that is absolutely something I can assist you with on my end. We do require that you have a current and unencumbered RN license, as well that you have completed a statistics course with a B minus or better.
This can be at the graduate or the undergraduate level. And if you haven't completed one, there are some options we can certainly discuss. This would not prevent you from being able to move forward and apply as well as to receive your admissions decision.
However, this course would need to be completed and your final transcript showing your final grade would need to be on file prior to being able to getting started with us.
We also require all official transcripts from all institutions attended, including any transfer credit. So any coursework that you have completed post high school, you would want to ensure that you do request and have it sent over to us.
And I can certainly provide you with the electronic address as electronic transcripts are the preferred option, as these usually get processed and turned around with a very quick turnaround.
However, I can also provide you with the physical address as well if an electronic option is not available.
All right. So ready to apply. So again, the first step would absolutely be to connect with myself and set some time to really discuss the program in detail, make sure you qualify based on state authorization, get all of your questions answered, identify what your goals are, what you see your career trajectory potentially looking like, and ultimately identify if you do feel the program is the right fit for you.
After our initial conversation, we will actually work together very collaboratively throughout the application process with your very first step being to fill out the application.
The application is free to do, so there is no application fee. And this is a great first step, as once you have created your application profile and entered in your information, it almost functions as a virtual filing cabinet, which allows you to work together with me to get your remaining documents added.
Your next step will be to then upload your most up to date resume. And one thing to keep in mind is that you will want to ensure that the objective listed on your resume references an academic pursuit of applying to graduate school versus a professional pursuit.
So it should match that. As we previously touched on, we do require all official transcripts from all secondary schools attended. And again, I can provide you with all of the information in regards to where to have these sent.
We do require two letters of recommendation. And what is really nice is that to make it easiest on your recommenders, you can actually add their contact information to that particular section of your application.
Once you enter their name and their email and click save and send, it will send an automated form over to your recommenders on your behalf with a link to a form to complete.
Once this form is completed and submitted, this will be automatically uploaded directly to your application. Keep in mind that one of these references does need to be from a current or former supervisor, manager, director, leader, cetera, that is BSN prepared.
So somebody that you directly reported to or currently report to. The other recommendation should come from a graduate prepared health professional in the field. So, that could be somebody with their MSN.
So another nurse practitioner. It could be a DNP. It could be an MD or a DO. So there are some options that you do have there.
Finally, we do require a personal statement or an essay. This essay is a great opportunity, really for students to add a personal touch to their application and allow students to identify what specifically are inspiring them or motivating them to take this next step.
What you've done in your career that's prepared you to take this step, and what you're currently doing in the field? This also gives students the opportunity to think a little bit about your long term goals and how obtaining this advanced practice degree will support those goals.
One thing to note as well is if you are pursuing the blended BS to DNP option, you will also want to make sure to touch on an idea or focus for your DNP project.
Typically for MSN, FNP students, this is about one to two pages. And for BSN to DNP students, this might be just a touch longer as you are, again, going to add that DNP project focus.
This should be double spaced and in APA format. Once all of these documents have been compiled, on my end I will quickly audit your file to ensure that everything is in place.
And once we are ready to get you submitted, your file will be formally submitted for review to our admissions committee. This process can typically take one to two weeks regarding your decision.
And once your decision is in place, you'll receive a notification via email. And on my end, I will also be reaching out to discuss the decision as well as any next steps that we'll need to take together here.
And at this time, we'll be opening up our Q and A section. So I will pass it back over to our moderator, Christina.
Christina Walsh
Yes. Thank you. Thank you everyone for that great presentation. It's now time for our Q and A session. So we're going to turn on our camera so you can see who's here and we can have a conversation.
If you haven't already, go ahead and put your questions into the Q and A box located on the bottom of your screen, and we will cover as many as time allows today.
So let's see. To kick us off today, we have a question about...
For Dr. Finneran, what part of being a family nurse practitioner has had the most impact on job satisfaction in your opinion?
Jan Finneran
I think I would say that it is taking care of the person across the lifespan, getting to know families, taking care of mom, dad, maybe the children, maybe a grandparent, and having that connection with the patient, not as an individual, but as a family.
So, that would be what I would say.
Christina Walsh
Christina, do you have any additional thoughts you wanted to add on that topic?
Christina Gabele
It won't let me start my video for some reason. It keeps flashing. You can see me? Because I can't see on my screen.
Christina Walsh
I can see you.
Christina Gabele
Oh, okay. Yeah. No, the only thing that I would add to that is, as a family nurse practitioner, you really get to take care of everybody. They call it cradle to grave, and it truly is cradle to grave.
So you see everybody, you take care of everybody. It's really all encompassing.
Christina Walsh
That's wonderful. Thank you. Next question. Related to clinicals, Dr. Gabele, can you talk a little bit more about the intensive courses?
What time of year do they take place? How do they work this into their schedule as well?
Christina Gabele
So like I said during the presentation, currently our Intensive 1 course is virtual still. And we offer that at the beginning of each of the spring, summer, and fall terms.
Since we are doing Intensive 2 on campus for the first time since COVID, that will be this fall. And since we have so many students, we're going to have two different sessions during the same week, so we're splitting everybody half and half.
So the students will come on campus. It's a two day immersive experience. We have breakfast, lunch, and dinner together on the first day. We have breakfast and lunch together on the second day.
And really just get you ready to practice. Make sure that you can do a complete head to toe physical, and that you're performing all the exam techniques correctly.
We get you ready to launch you out into the world. So that's for intensives. For clinicals, I wasn't sure what the question was about clinicals specifically.
Christina Walsh
Maybe as a typical student in the program, how might they work that into their schedules? What do students typically do?
Christina Gabele
For clinical courses?
Christina Walsh
For clinical courses too?
Christina Gabele
Okay. So for clinicals, generally you have to work your clinicals when your preceptor is available. So if your preceptor is available Monday through Friday, you have to make your schedule available Monday through Friday to do your clinical hours with them.
So some people drop back to part- time at their normal job. Some people are able to stay full time and work weekends and things like that.
So it really just depends. If you have somebody that that you can do clinicals with, we have a form that you fill out and our clinical placement team is great about trying to get you with who you need to be with or who you want to be with.
So it really is very personalized.
Christina Walsh
Wonderful. Thank you. And I believe you mentioned this during the presentation portion, but if they have a particular preceptor they're hoping to work with, are they able to do that?
Christina Gabele
Yeah, absolutely. So they'll just fill out a clinical... It's an intake form. And as long as it's within the realm of who you need to be with to meet those clinical objectives, our placement team will do whatever they can to get you with that person.
Christina Walsh
Wonderful. Let's see this next question here. Can I do clinicals at my workplace?
Dr. Gabele, you want to do that one too?
Christina Gabele
Sure, yeah. So, you can do them at the health system that you're at. A lot of nurses work at large health systems. So we're not going to say if you work at a university hospital, or wherever you're at that, you can't do your clinicals at that site.
We prefer that you don't do them in the department that you work in just because it gives you more of a diverse experience to not be with the people you're always working with on a day to day basis.
So, health system is fine. Your department not really recommended.
Christina Walsh
That makes sense.
Jan Finneran
And I also wanted to say that we discourage students from precepting with a family member or a very close family friend. We have decided that just hasn't worked well.
So, that would be another piece to think of when you're putting forward some suggestions on a preceptor.
Christina Walsh
Thank you for adding that. This next question. Dr. Finneran, can you talk a little bit about maybe the coursework online and working with faculty?
What kind of things can they expect with the coursework and assignments and things like that?
Jan Finneran
Okay. So we use an online platform called ECN. It's just a course management system. And once you get acclimated to using that system, although you'll have a variety of courses, a variety of topics, but the ECN page will look the same.
So you'll be quickly acclimated to start learning how to move around into the online course room. So it may be a little bit of a learning curve, but after you get it, you've got it.
So it's not very difficult after that. So every course is different. There's different assignments. There are due dates to submit your assignments online for grading,.
The content could be lectures, recorded lectures, pertinent videos that the professor might want you to view.
There's discussion forums typically every week where you have a question posed to you by your instructor, and then you interact with your colleagues online and discuss a topic along with the instructor.
And then you typically, if you have a question and it's of a personal nature, we ask you to reach out directly to the instructor.
And typically, the returned responses are anywhere from 24 to 48 hours. But typically, I know the faculty that we have, they try to get back with you as quickly as possible.
The 48 hours typically, that might be on a weekend, but the communication is there. If it's a general question, always in the course room there's an area where you could just post a general question.
And those would be things that maybe other people might be wondering or asking. So I feel like the communication is very good. A lot of our faculty hold Zoom sessions with the students prior to the class starting.
I know Dr. Gabele does that. And goes over the syllabus, gives you a time to meet the instructor, ask any questions. And it's just a launching off point for the course, which is really nice to have.
So a lot of the faculty do that. If you want office hours, I know our faculty will set up any time that is convenient to both you and the faculty member.
If you want to discuss something via Zoom on a one on one basis, that opportunity is available. The one thing we don't want is the online program, the place where you study, or you are taking part in the online portion, we don't want you to feel like you're isolated, you're alone.
It's a dynamic back and forth with the instructor, other students in your class. So we don't ever want you to feel like you are not getting a response or you don't understand something.
So I think we pride ourselves in that. And I think Dr. Gabele would agree that we want you to succeed. So the best thing is to reach out and the faculty member will get back with you.
Christina Walsh
Yes, I agree. Communication is key. Key to success. All right, so next question here. Dr.
Finneran, could you go into or share a little bit about how Walsh prepares students for the certification exams? What's your approach for that?
Jan Finneran
Oh, okay. We do not have a formal or review course. You will find that there are many companies, and we can suggest several.
And our students usually once they graduate will do a either online or in person review course. But how do we prepare you? Well, the hope is that we're preparing you from day one.
You start out typically with role development theory, pathophysiology if that's full time.
Then you go into your health assessment. And then you're going into those clinical courses. So we're preparing you all along to be successful on the certification exam.
In FNP 4, which is the adults in elderly with multiple chronic conditions, you will take a pre predictor exam. And its given through a company that does review courses that we've used for many years.
And it is a board certification style exam. And you get feedback on where you need to maybe hone in your studies.
Maybe you're not as strong in one area. It gives you a detailed plan of where you're at. Then in FNP 5, which is our capstone course, you will be given a post predictor exam.
And in that, same thing, it's fashioned just like a certification exam. And you will take that online and then feedback there.
So at the end there, we have you take those two practice exams because then you get a game plan.
What do I need to focus my study on? And then typically after graduation, like I said, students will take, it's entirely up to you, but students typically take a review class.
Christina Walsh
That was perfect. Thank you for walking us through that. Okay. A couple admissions related questions for Thomas here. How long does it take to get a decision on an application typically?
Thomas Nunes
Yeah, typically about one to two weeks. Really, what my role is, is to make sure that once you do feel that your file is done, I'll do a quick audit on it, make sure everything is where it needs to be, all the documents meet all the requirements that are needed because that really is key is being able to submit the strongest possible file that you can right away.
Give the admissions committee the best possible view of yourself as a potential student. But I'd say one to two weeks. And again, in terms of how you get notified, you'll receive an email notification with information regarding your decision.
And on my end, the minute that I am notified as well, I will reach out to you and then we'll connect to discuss any potential next steps, any questions that you have, and just really go through any information that you need to identify what we're going to be doing next year.
Christina Walsh
Awesome. And can you review the tuition for the program?
Thomas Nunes
Yes. So if you're looking to do the MSN FNP option, it is 62 total credit hours at 745 per credit, or a final tuition cost of $ 46, 190.
And then if you are interested in the BSN to DNP FNP program where you are earning your FNP alongside DNP, it would be 78 total credit hours at 745 per credit, or a final tuition cost of $58, 110.
And I guess here's a good time to touch on financing options too. One thing I always work with students on is, the minute you start your application, start thinking about what you'll be utilizing in terms of your financing options.
Are you going to be doing financial aid or FAFSA? Do you have tuition reimbursement? Do you have access to any kind of military benefits? Are you looking to set up a payment plan for out of pocket expenses?
So that's one thing that I tell students to start thinking about and thinking through as you start your application, just so that way, should you get accepted and be looking to move forward in our next upcoming term, then at that point it really is just connecting the final dots and crossing the Ts and dotting the Is, so to speak, to get your final financing options in place.
But great things we can talk about during our initial interview. And if you have any questions regarding what the FAFSA process looks like or how to set up a payment plan, that's absolutely something we could discuss.
Christina Walsh
Thank you. Let's see. I do have another question for Dr. Finneran. If a student is currently enrolled in the MSN FNP program and decides during the program they want to continue on into the DNP, do they need to reapply and go through the application process again?
Or how does that work?
Jan Finneran
If you apply for the MSN FNP, you would have to reapply for the postmasters DNP to move forward with your doctorate.
If you're applying for the BSN to DNP, then just a short form that says that you indeed applied for the BSN to DNP FNP, and that you're going to go forward with it.
So with the semester that you take FNP 5, you would just fill out a short form and then you would go forward with your DNP that way.
But if you start with the MSN FNP, then you would have to reapply for a postmasters doctor of nursing practice.
Christina Walsh
Okay, great. But if they know on the onset that they want to pursue their DNP, then they can choose that and then they have the three year program of the BSN to DNP FNP, right?
Jan Finneran
Yes.
Christina Walsh
Yeah. Okay, wonderful. All right. We're narrowing in on our time here. If there's any final questions, go ahead and enter them now.
I'm going to throw out the last question that I have here to Thomas. Do online students participate in the regular graduation ceremonies on campus?
Thomas Nunes
They do. And one thing that's great about the intensives, especially the second intensive coming back to campus, is that you already get the opportunity to get familiarized with your nursing faculty.
You get the opportunity to work with fellow peers and things like that as well. So we encourage students to take part in that.
Christina Walsh
Great. Thank you. We had one additional question come in. Let's see. To clarify, you do not sit for boards for the FNP if you are doing the BSN to DNP program, until you are completely done with the entire program?
Can you confirm, Dr. Finneran?
Jan Finneran
No. If you apply for the BSN to DNP FNP, you will finish your MSN first, you will graduate with your MSN and be able to sit for the exam and eventually for licensure.
So you will receive that. So you could actually be practicing as an FNP while you're going forward with your DNP.
Christina Walsh
That's a great question. Thank you. All right. Well, that looks like all the questions that we have for today.
So I will go ahead and wrap things up. I hope that today's webinar was helpful for everyone. If you're interested in learning more or applying to the program, please reach out to Thomas, your advisor.
Also, as this webinar closes, a very short survey will pop up. We'd certainly appreciate any feedback or comments that you might have. And finally, we've recorded this session and you'll receive an email tomorrow with a link to the recording if you'd like to reference the presentation again or share it with others.
Thank you again for joining us. We hope to speak with you soon and take care.