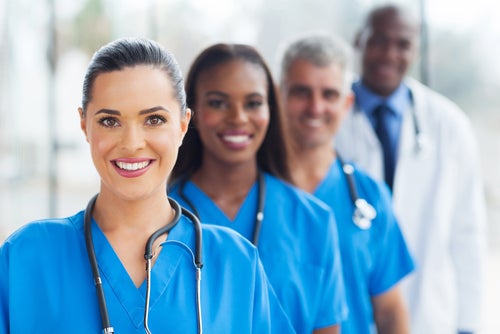 National Nurses Week - How Nurse Educators Inspire, Innovate and Influence
National Nurses Week — May 6–12 — celebrates nurses and educates the public about the nursing profession and its advancement. This year's theme is "Nurses: Inspire, Innovate, Influence." Nurses play a pivotal role in healthcare and inspire change and improvement in patient outcomes, which is certainly something to celebrate.
In recognition of this theme, let's take a look at nurses who play a role in inspiring and influencing fellow nurses: nurse educators.
Education is critical to advancing the nursing profession and healthcare. Nurse educators are leading the way. These educators within the nursing profession are inspiring present and future generations of nurses and driving innovation through their passion for helping others, whether in a hospital, corporation, college or university.
Nurse educators use their dedication, leadership and creativity to foster learning in their students. Walsh University's online MSN-NE program prepares nurses to teach in a variety of settings through expanded skills, improved clinical reasoning and better understanding of procedures.
Nurse Educators Influence the Next Generation  
Nurse educators teach the future generations of nurses and are in high demand due to the shortage of nurses. The growth of the nursing field is largely dependent on the supply of nurse educators.
The American Association of Colleges of Nursing reported that in 2013 alone, 78,089 individuals were denied admission to bachelor's- and master's-level nursing programs due to a lack of sufficient faculty to educate potential nursing students.

Nurse educators are a valuable resource, and the field is expected to grow by 19% from 2014 to 2020 due to the ever-increasing demand for nurses.
Nurse Educators Help Reduce Mortality Through Education
Higher levels of education among nurses have been correlated with reduced patient mortality. A study conducted in 2013 by Ann Kutney-Lee and associates found that:
With a 10% increase in the number of baccalaureate-educated nurses in a hospital, the number of patient deaths and failure-to-rescue events decreased by 7.47 out of 1,000 patients.

Nurse educators are the leaders who are increasing the number of nurses with higher education, helping to reduce patient mortality.

Many hospitals are pursuing the prestigious Magnet status, often led by nurse educators. Awarded to hospitals by the American Nurses Credentialing Center, Magnet status indicates that the facility meets high standards of quality in their nursing care.
Nurse Educators Use Creativity to Inspire Nurses and Students
Nurse educators are using new technologies, creativity and innovation to educate and inspire nurses and students.
Nurse education has been flourishing with the use of simulation-based learning, including simulations conducted using mannequins, or scenarios enacted by others.

A 2009 study by Knol and van Linge found that increased structural empowerment is associated with increased creativity and innovative behavior in nurses and nurse educators.

Strong mentorship helps lead and empower nurses and students to put their ideas and innovations into action.
Nurse educators are fueling the passion of current and future generations of nurses through their dedication to the profession. Their influence is critical to the nursing profession and healthcare as a whole, as innovation and creativity are sparked through the efforts of nurse educators.
During National Nurses Week 2018, we celebrate the inspiration, innovation and influence of nurses. Nurses begin their career with a dream of helping others, and nurse educators help them to realize this dream through inspiration and influence. Without nurse educators, there wouldn't be a next generation of nurses.
Happy National Nurses Week!