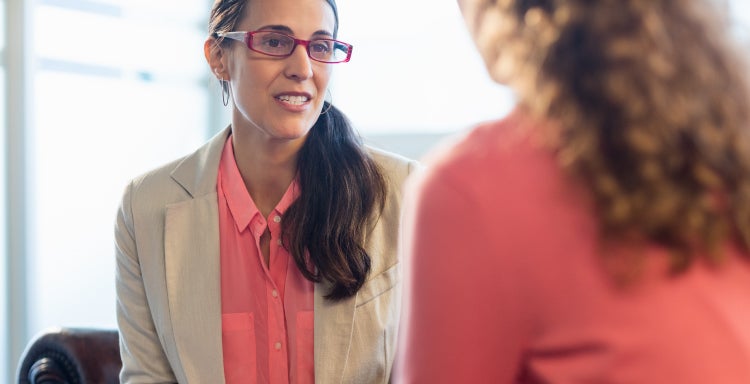 Clinical Mental Health Counselor: Is This Career for You?
If you are an empathetic, compassionate person who loves helping others, a career as a mental health counselor may be a great fit for you. Clinical mental health jobs are greatly needed today as millions of people face a pandemic and pandemic recovery that has forced our nation into a mental health crisis. Individuals and families are experiencing economic uncertainty, political unrest and grief. Cases of depression, anxiety, and a host of other struggles are increasing, putting more value on—and increasing the need for—clinical mental health practitioners to support people in need.
In this blog post, we'll take you through an introduction to clinical mental health counseling and its history before diving into personal motivators for a career in clinical mental health counseling. We'll look into why clinical mental health counselors are needed today, where they practice, and review their duties and responsibilities, as well as types of mental health counseling careers, the choice between clinical mental health and school counseling and what type of education is required to fill these roles.
Clinical Mental Health Counseling and Its History
According to Introduction to Clinical Mental Health Counseling by Joshua C. Watson and Michael K. Schmit, clinical mental health counseling is "the provision of counseling services in institutions of higher education and community-based human service agencies." The authors admit this is an "ambiguous" definition, noting that because clinical mental health counseling is "typically regulated at the state level, the actual definition of what clinical mental health counseling looks like varies from state to state."
While some elements of counseling vary based on a practitioner's location, all clinical mental health counselors seek to help their clients achieve mental and emotional wellness. They tend to take a holistic approach that considers not only the immediate problem a client is facing, but their background, experiences, and other factors as well. Clinical mental health counselors pair advanced methods, techniques, and theories with a compassionate, empathetic approach to client care in the pursuit of optimal health.
When it comes to the history of clinical mental health counseling and associated mental health jobs, Lisa Lopez Levers, PhD, LPCC-S, LPC, CRC, NCC writes in Clinical Mental Health Counseling: Practicing in Integrated Systems of Care that "the history of CMHC is linked integrally with the AMHCA...the AMHCA was inaugurated in 1976 (AMHCA, 2016), the same year in which the first counselor licensure law was passed in Virginia." Lopez Levers clarifies that many master's-level counselors had entered community settings prior to this, but the American Mental Health Counselors Association provided a way for these counselors to be identified and understood as a group with a relatively common scope of practice.
Personal Motivators for a Clinical Mental Health Counselor Career
Clinical mental health practitioners serve in roles that will at times require them to help others through traumatic events and situations. Because of this unique component to their profession, many clinical mental health counselors cite different motivations for entering the mental health field. The following motivators are from "Examples of Why You Want to Be a Counselor" by Ashley Miller at Career Trend:
Helping others
Personal reasons, such as a positive experience with a therapist
Interested in psychology
A sense of meaning, such as the desire to be part of something bigger than themselves
Guided by faith with a calling to help and serve others
In a blog post by GoodTherapy, several counselors shared their responses to the question "Why do you work in mental health care?" Their answers included:
"to enrich and fortify people's self-knowledge that they can overcome difficulty."
"to serve others. Motivate others. Help other people on their journey from emotional poverty to wholeness, security, and their truest self."
"so that I could help others understand themselves better so they learn how to help themselves feel better."
While clinical mental health counselors come to the profession from a wide range of backgrounds and experiences, they share a common desire to help others, demonstrate compassion, and support others in achieving wellness.

Why Clinical Mental Health Counselors Are Needed Today
The Bureau of Labor Statistics reports that, from 2019 to 2029, substance abuse, behavioral disorder, and mental health counseling jobs should grow by about 25%, compared to the average growth rate of 4% for all jobs.
There are a few reasons for this. One of them is that some states are shifting from the pursuit of incarceration for drug offenders to treatment and counseling services. In "Principles of Drug Abuse Treatment for Criminal Justice Populations," the National Institute on Drug Abuse found that treatment was more effective in interrupting the drug abuse/criminal justice cycle than any other response to drug offenses. Treatment can help people struggling with addiction to avoid future relapse, which lowers the likelihood of repeated criminal offenses.
As states begin this process, the need for clinical mental health counselors prepared to guide clients through recovery and rehabilitation will be great.
Additionally, the Recovery Research Institute reports "there are approximately 20 million individuals in the U.S. with a substance use disorder." Clinical mental health counselors will continue to serve a monumental role in helping people begin - and continue on - the path to addiction recovery.
The BLS also cites an ongoing need for mental health and substance abuse counselors for military veterans. The U.S. Department of Veterans Affairs states that about 11–20% of veterans who served in Operations Iraqi Freedom or Enduring Freedom suffer from post-traumatic stress disorder in a given year. Trained, empathetic clinical mental health counselors are essential to the care and support veterans need.
In addition to all of this is the mental health crisis we find ourselves enduring in the wake of the COVID-19 pandemic and pandemic recovery. According to a Gallup poll published in December 2020, "Americans' latest assessment of their mental health is worse than it has been at any point in the last two decades. Seventy-six percent of U.S. adults rate their mental health positively, representing a nine-point decline from 2019."
Similarly, "Mental Health, Substance Use, and Suicidal Ideation During the COVID-19 Pandemic" from the CDC states, "During June 24–30, 2020, U.S. adults reported considerably elevated adverse mental health conditions associated with COVID-19. Younger adults, racial/ethnic minorities, essential workers, and unpaid adult caregivers reported having experienced disproportionately worse mental health outcomes, increased substance use, and elevated suicidal ideation."
Clinical Mental Health Counselor Duties and Responsibilities
As a clinical mental health counselor, you can leverage your knowledge to help clients cultivate mental and emotional wellness.
The Cleveland Clinic provides a succinct, helpful description of the duties and responsibilities of a clinical mental health counselor. "Clinical counselors attempt to find efficient ways to affect positive change in a patient's life," they write. "In addition to assessing patients and providing them with psychotherapy, clinical counselors provide brief solution-oriented therapy, prevention programs, and crisis management."
When it comes to scope of practice, the "AMHCA Standards for the Practice of Clinical Mental Health Counseling" states that clinical mental health counselors may:
provide professional counseling services that incorporate principles from areas of study such as psychotherapy, human development, and group dynamics
promote optimal mental health by helping clients to deal with problems in their lives
diagnose and treat mental and emotional disorders
conduct research, consult, and educate individuals, families, and groups
While one counselor's practice will look a bit different from another's, a day in the life of a clinical mental health counselor will likely include a great deal of communication. Counselors spend much of their time speaking with clients, but they also often find themselves in contact with other members of a client's treatment team, such as health care and insurance professionals, or in educational settings. Counselors are often responsible for a substantial number of assessments, reports, and records based on each client's situation and needs.
Where Counselors Practice
Clinical mental health counselors work in a range of community-based settings. Some locations are designed for specific populations, like children or teens, while others focus on certain struggles, like addiction or crisis intervention. Possible workplaces include:
Community mental health programs serving children and adults
Community family service programs
School-based intervention programs
Alcohol and drug programs
Criminal justice programs
Hospitals and residential service programs
Employee assistance programs
Crisis intervention centers
Vocational and career-development programs
Private practices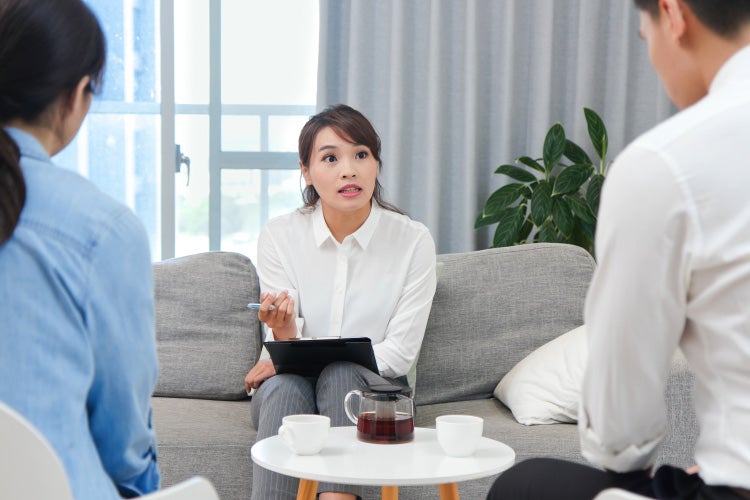 Types of Careers in Clinical Mental Health Counseling
A professional who holds a master's degree in mental health counseling may practice in several different roles. Payscale.com reports that the average salary for people who have a master's degree in mental health counseling is $50,676. And according to the BLS, growth in the counseling profession is substantial, with all listed career paths growing faster than the national average. Notably, the Substance Abuse, Behavioral Disorder, and Mental Health Counselors category is in the top 20 of the fastest growing occupations in the U.S.
Let's take a look at some of the descriptions and average salaries for mental health care jobs performed by people with a master's degree in clinical mental health counseling:
Licensed Mental Health Counselor
Substance Abuse Counselor
Marriage and Family Therapist
Certified Career Counselor
Licensed mental health counselors help patients reach optimal mental and emotional wellness according to their specific needs. They address emotional and mental disorders through treatment plans and, often, ongoing counseling appointments. Payscale calculates the average salary of a licensed mental health counselor to be $49,191.
Substance Abuse Counselor
Substance abuse counselors specifically focus on clients who need help and guidance addressing addiction or, in some cases, disorders like anorexia or bulimia. Through treatment plans, therapeutic interventions, and regular sessions, substance abuse counselors play a critical role in addiction recovery. The average salary for a substance abuse counselor is $54,860 according to Salary.com.
Marriage and Family Therapist
Marriage and family therapists help people address struggles and disorders within relationships and family structures. They may meet with individuals, couples, whole families, or some combination of the three in order to help these groups find solutions. Marriage and family therapists also diagnose and treat disorders within the family context. BLS lists the average annual salary for marriage and family therapists at $54,590.
Certified Career Counselor
Certified career counselors help people find jobs and professional paths that match their skills, goals, and personalities. The National Career Development Association reports certified career counselors "fulfill many roles and responsibilities such as career counselor educators, researchers, supervisors, practitioners, and consultants." CareerExplorer says that not only do career counselors help their clients find the right job, but they also help them "locate resources for strengthening the skills needed for the job desired." The average salary for a career counselor is $41,644 per year, according to CareerExplorer, which also reports a "very high" job satisfaction.
Choosing Between Clinical Mental Health and School Counseling
While clinical mental health counselors and school counselors share a common foundation, their focuses and daily practices can look quite different from each other. So how do you know which career path may be the best fit for you? Let's take a look at a few key factors.
Clientele 
School counselors primarily work with students, parents, teachers, and school administrators. If you love the idea of helping children or teens succeed academically and socially, plan for their futures, and achieve their goals, school counseling may be a great fit for you. If you would rather work with a broader age range, or focus on a specific area of client needs such as addiction, you'll likely find a clinical mental health counseling role more satisfying. 
Licensing requirements
Both school counselors and clinical mental health counselors must be licensed in order to practice.
Salary and job outlook
The Bureau of Labor Statistics reports that school and career counselors earn an average of $57,040 per year. Between 2019 and 2029, the BLS predicts that school counseling jobs will grow by 8%, which is much faster than the 4% average rate across all jobs. 
As for mental health counselors and marriage and family therapists, the BLS lists the average salary at $49,610. While this is lower than the salary for school counselors, it's important to note that the outlook projection has a growth rate of 22% between 2019 and 2029, which speaks to a very high level of job security for clinical mental health counselors in the decade to come.
Online Clinical Mental Health Degrees
If you want to provide compassionate support and treatment to people who are struggling mentally and emotionally, a clinical mental health degree may be a great next step for you. Walsh University's online Master of Arts in Counseling and Human Development is a reputable, customizable degree program that provides unparalleled support and prepares knowledgeable, compassionate professionals for a career supporting those in need.
During our online Master of Arts in Counseling and Human Development degree program, students gain a deep understanding of the counseling profession as well as the professional roles of counselors. Core coursework includes theories of counseling, addictions, and diagnoses of mental disorders. Electives range from trauma assessment and treatment to grief and loss counseling. The program offers two specializations: School Counseling and Clinical Mental Health Counseling. A third option is the Dual Specialization degree to open doors to both roles.
As a Catholic university, Walsh emphasizes integrity, human dignity and compassion. We equip our students to carry out these values in their professional careers, and we care for our students according to these values as well.
Our personalized site placement services help counseling students build experiential hours in their own communities and our student success advisors help you every step of the way, from admissions to graduation. All of Walsh's 2019 counseling students were employed within six months of graduation, and all passed the National Counseling Exam (NCE) for licensure on the first attempt.