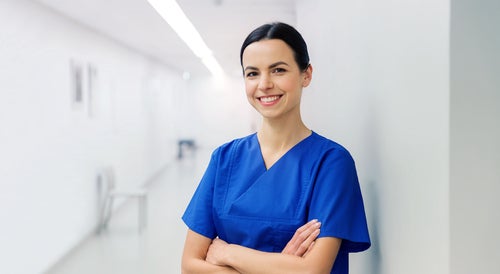 Masters of Nursing Degree Options
A nursing career offers incredibly diverse employment options as well as job security. Nurses have the opportunity to work directly with patients, or indirectly in administration, research, or education. Many nurses move away from the bedside for a career change, better hours and benefits, or for personal reasons, and these opportunities are more available to the nurse with advanced education.
The Bureau of Labor Statistics predicts a nursing shortage through 2024. The Institute of Medicine's landmark publication "The Future of Nursing" recommends 80 percent of the nursing workforce be BSN-prepared.
Despite the nursing shortage and availability of nursing jobs, competition for the highest-paying jobs with the best benefits will be fierce. With the ease and high quality of online nursing education, there is no better time to go beyond the BSN and delve into master's degrees with online programs such as the Family Nurse Practitioner program offered by Walsh University. Walsh also offers a Nurse Educator online MSN nursing program.
Benefits of MSN Degrees
The BSN is becoming the base standard for nursing, and there are compelling reasons to obtain a master's degree in nursing. An applicant with advanced education is more marketable and can access better job opportunities with better pay, better benefits, and a chance for specialization. Nurses stay in the field longer when they move from the bedside into a less stressful environment, and experienced nurses benefit from new nurses entering the profession.
What Kind of MSN Options Are Available?
There is a wide range of master's degree nursing programs and most fall into either the direct or indirect care specialization category. There are 11 advanced practice registered nurse (APRN) direct care nursing degrees related to working with specialized populations. All APRN degrees have designated clinical hours in addition to coursework.
Neonatal Nurse Practitioner (NNP)
Pediatric Acute Care Nurse Practitioner (PACNP)
Pediatric Primary Care Nurse Practitioner (PPCNP)
Adult-Gerontology Acute Care Nurse Practitioner (AGACNP)
Adult-Gerontology Primary Care Nurse Practitioner (AGPCNP)
Certified Nurse Midwife (CNM)
Certified Registered Nurse Anesthetist (CRNA)
Clinical Nurse Specialist (CNS)
Family Nurse Practitioner (FNP)
Psychiatric Mental Health Nurse Practitioner (PMHNP)
Women's Health Nurse Practitioner (WHNP)
In addition to APRN degrees, there are several MSN options available in indirect care specialties that focus on administration, education, and research instead of direct care. Whereas all APRN master's programs have clinical hours, this requirement varies for other degrees.
Some programs, such as clinical nurse specialist, require at least 400 practice hours and some administrative programs do not have any clinical hour requirements. Healthcare is continually expanding and evolving. Not so long ago, the field of nursing informatics didn't even exist, and new fields of nursing may be just over the horizon.
Here are a few examples of indirect care concentrations available to MSN students.
Nurse Researcher
Public Health Nursing
Nursing Informatics
Clinical Nurse Leader (CNL)
Nursing Executive/Administrator
Nurse Educator
A master's degree can take a nurse's career to the next level, and Walsh University offers online MSN programs in three of the most sought-after MSN degrees.
Higher Salaries for Higher Education
The Bureau of Labor Statistics reports that master's-prepared individuals earn an average of $10,000 more than bachelor-prepared individuals, with the average nurse practitioner salary being $97,000 to $100,000. Over the course of a nurse's career, the initial investment in advanced education pays for itself over and over in financial terms. Master's-prepared individuals also report better working conditions, hours, opportunities, and personal satisfaction.
Becoming a Nursing Practitioner
View our complete guide on how to become a family nurse practitioner.