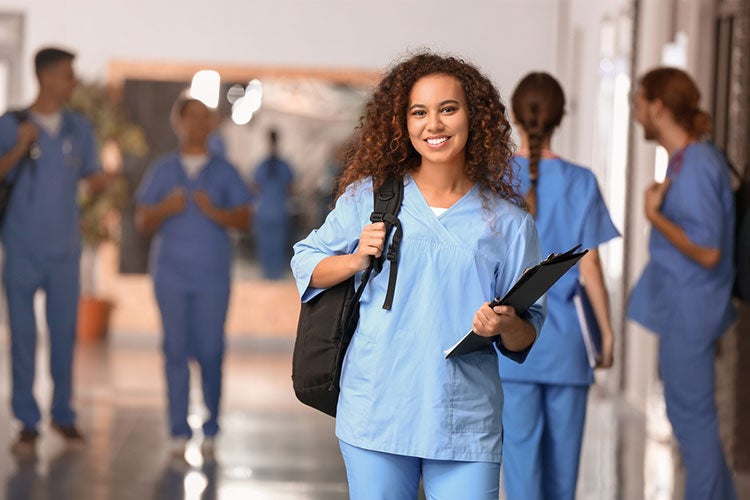 The Importance of Soft Skills for Nurses
In recent decades, a severe nursing shortage has swept the U.S. The COVID-19 pandemic has exacerbated this ongoing problem, especially in rural areas. A recent survey found that as many as 96% of regional hospitals faced nursing staff shortages. The StatPearls Journal reports that part of the issue is the lack of nurse educators. Currently, the nursing field is on the hunt for qualified nurse educators to help develop a skilled nursing workforce for the future. It's no surprise, then, that the job outlook is bright for nurses who earn advanced degrees in nursing education.
While nurses need clinical skills to succeed, they also need soft skills – character traits and core abilities that complement more technical skillsets and are applicable across a variety of professions, such as problem-solving and leadership aptitude. By becoming nurse educators, nurses who have already mastered the essential nursing soft skills can impart them to the next generation.
Educational Requirements for Nurse Educators
Nurse educators are nurse leaders who specialize in training the next generation of nurses in both academic and organizational settings. For this reason, the nursing profession needs qualified nurse educators, who are well-educated and well-trained. 
This means that nurse educators should hold a bachelor of science in nursing (BSN), an RN license and a graduate degree in nursing education. An advanced education can help nurse educators with well-honed soft skills build their teaching acumen and then translate this combined expertise to other nurses in a way that inspires and empowers them to deliver quality care. 
Nurse educators who can successfully harness and teach the soft skills they developed as staff nurses can help improve the skillsets of future nurses, helping them become more productive and improve patient outcomes.
Why Soft Skills in Nursing Are Important
Hard skills, such as the tangible technical skills nurses can document on employment applications, are easy for potential employers to see and appreciate. A relevant degree, previous work experience and certifications are all evidence of the valuable hard skills nurses bring to new roles. It's more challenging, however, for nursing job candidates to convey their less technical but equally essential skills, such as the ability to communicate clearly and compassionately with patients and staff, take immediate ownership for mistakes, or delegate tasks as appropriate with finesse.
Soft skills, in essence, are the interpersonal aptitudes and qualities that allow you to interact and thrive in your relationships with patients and co-workers. These attributes are essential in establishing a good rapport with others and can have a significant influence on career advancement. Leadership and communication are critical competencies nurses need, and they're essential for general nursing roles as well.
Well-developed soft skills can also make nurses more competitive in the job market. Typically, employers seek the following soft skills in nursing job applicants:
Communication aptitude
Self-motivation
Leadership
Responsibility
Teamwork
Problem-solving
Decisiveness
Ability to work under pressure
Time management
Flexibility
Negotiation and conflict resolution
Top Soft Skills for Nurses 
Nurses will employ a variety of soft skills to improve workplace performance and patient outcomes. The following are some of the most important soft skills for nurses.
Communication
Nursing calls for communication, which is typically a two-way street. A nurse needs excellent listening skills and the ability to verbally relay complicated information in a way the recipient can understand. Nurses must deliver crucial information empathetically and clearly. In addition to clear and caring verbal communication, in today's digital world, the need for relevant, timely and succinct electronic communications (patient notes or emails to co-workers, for example) is increasingly urgent in health care.
Teamwork
The current health care environment calls for top-notch collaboration to provide value-based care. Organizations can't afford to hire individuals who aren't good team players despite otherwise excellent qualifications. For nurses, the ability to collaborate and interact with a variety of professionals is vital.
Professionalism
Responsibility, integrity, accountability and the pursuit of excellence are sought-after qualities in nurse applicants. Professionalism amounts to a nurse upholding ethics while producing valid results in the most compassionate way possible.
Problem-solving
Nurses must demonstrate the ability to think on their feet. They may need to make quick decisions or address potentially distressing situations, so exercising problem-solving may be essential in a variety of situations.
Leadership
Nurses are often responsible for groups of nursing professionals or students. They should possess strong leadership skills and an understanding of how to organize and motivate their teams to maximize productivity.
Help Nurses Develop Soft Skills
Nurses who have mastered these soft skills can teach and inspire students to do the same as nurse educators. A Master of Science in Nursing: Nurse Educator (MSN-NE) online nursing degree from Walsh University provides a solid background in the humanities along with a holistic nursing education that helps future nurse educators build their teaching skills. The program can be completed in as little as 5 semesters and features 100% online coursework, clinical placement services and a practicum in nursing education.
Successful nurse educators can apply their non-technical nursing soft skills in the classroom and teach their students to apply them for clinical excellence. Explore Walsh University's online nursing education program and find out more about advancing your career.
Recommended Readings
Challenges for the Nurse Educator
Diversity in Nursing: A Two-Part Series - Part 1
Sources:
American Association of Critical Care Nurses, The Essentials: Core Competencies for Professional Nursing Education
Indeed, 15 Nursing Skills to Put on Your Resume
Indeed. Important Soft Skills in Nursing: Tips From a Nurse Coach