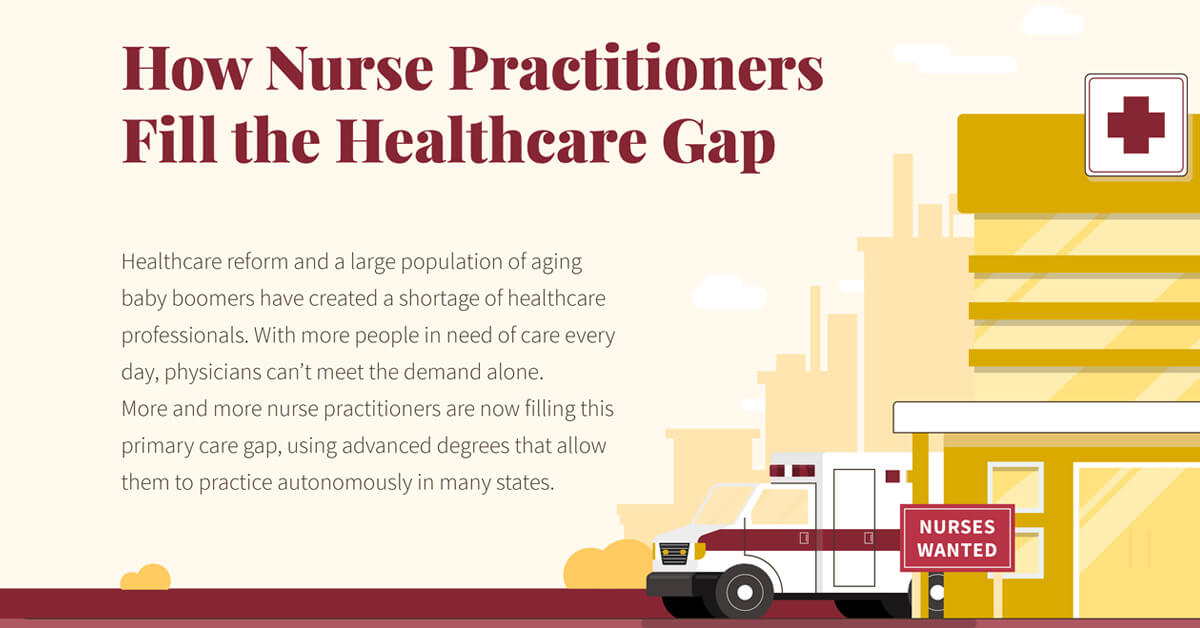 How Nurse Practitioners Fill the Healthcare Gap Infographic

If you would like to embed this infographic somewhere, please use this code snippet:
How Nurse Practitioners Fill the Healthcare Gap
Large scale reform and a large population of aging baby boomers have created a shortage of healthcare professionals. With more and more people in need of care every day, physicians can't meet the demand alone. The predicted US shortage of primary and specialty care physicians is projected to be between 42,600 and 121,300 by 2030.
Nurse Practitioners Fill the Gap
Nurse practitioners (NPs) are now filling this primary care gap, as evidenced by the projected 31% growth of practitioners by 2026 (as compared to 13% projected employment growth of physicians and surgeons by that year).
NPs are using their advanced education, experience and credentialing to take on a larger role in providing healthcare, particularly to rural or otherwise underserved populations.
More Patients Need Care
The aging baby boomer population will need care as its members reach 65+. Additionally, healthcare reform has helped millions of new patients seek care. With full practice authority, nurse practitioners can fill the resulting care gap.
Across the US, state laws and regulations govern NP authority. Giving nurse practitioners full practice authority opens up healthcare access to more people and helps reduce the impact of the physician shortage.
How Nurse Practitioners Improve Patient Care
Studies consistently show that nurse practitioners provide the same quality of care as physicians do, and in some cases offer better patient experiences. Depending on the state, an NP can provide care with restricted practice, reduced practice, or full practice.
Learn more about how nurse practitioners can and do fill the gap left by the physician shortage in the below infographic created by Walsh University's online MSN-FNP program.