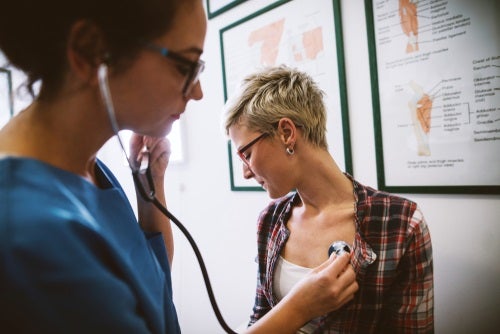 Benefits of Online MSN-FNP Degree
Healthcare reform and the aging baby boomer population have increased the demand for healthcare professionals. While the nursing shortage is well documented, healthcare professionals of all kinds are needed, including physicians and specialty practitioners.
Family nurse practitioners (FNPs) are masters-prepared registered nurses who work in collaboration or autonomously to deliver family-focused care.
The family nurse practitioner is uniquely qualified to fill primary care gaps caused by the shortage of other healthcare professionals. The Bureau of Labor Statistics reports the nurse practitioner field will grow by 31% by 2026 (Bureau of Labor Statistics, 2016).
The National Governors Association projects that by 2019, the number of patient visits to a primary care source may reach 25 million visits per year. Family nurse practitioners could help to fulfill this need as many states offer nurse practitioners the autonomy of independent practice and prescriptive rights.
Reasons to Obtain an MSN-FNP Online
A nurse practitioner degree is a highly marketable advanced practice degree with potential for autonomy and prescriptive privileges. Online education provides flexibility in class scheduling and allows the student to work from anywhere as well as complete coursework at their convenience.
Online programs accredited by the CCNE and ACEN must meet the same standards as brick-and-mortar institutions. Going to school online can be more cost-effective in that travel is minimized, and established nurses can remain at their jobs. In addition, professional nurses may be able to take advantage of employer tuition reimbursement benefits if offered.
What are the Requirements for Becoming a Family Nurse Practitioner?
According to NurseJournal.org, the requirements to become a family nurse practitioner include:
A BSN
Registered Nurse license
An MSN (graduate-level degree in nursing)
Advanced Practice Registered Nursing license in the state of practice
Certification for the population you want to serve, such as the Family Nurse Practitioner certification
How do I earn my Advanced Practice Registered Nursing license?
License requirements vary by state. To earn an Advanced Practice Nursing license in Ohio or to become a Certified Nurse Practitioner in Ohio, you must:
Hold an RN and APRN license. Both licenses are state-specific, so RNs with an out-of-state license will need to be licensed in Ohio.
45 hours of advanced pharmacology education in the last five years (Walsh University's online family nurse practitioner program meets this requirement). An APRN program should also include:
Advanced pathophysiology/physiology
Advanced health assessment
Specialized focus on one of six populations: adult health and gerontology, pediatrics, neonatology, women's/gender-related health, psychiatric/mental health, family/individual health across the lifespan
Walsh University's MSN-FNP program meets the specialization requirement in family/individual health across the lifespan
You will also need certification from the licensing body, in this case, the American Association of Nurse Practitioners or the American Nurses Credentialing Center
Why Choose Walsh
Walsh University's online Master of Science in Nursing with a Family Nurse Practitioner Focus meets Ohio state requirements to earn an Advanced Practice Registered Nurse license. In addition, an online FNP program can provide the support network students need to graduate.
At Walsh University, our online MSN Family Nurse Practitioner program places students with professional instructors who are subject matter experts and active practitioners in their field. The instructors are also accessible and encourage students to email or contact them directly with any questions.
Our intimate virtual learning environment gives students the chance to interact with other nursing professionals from a variety of healthcare environments. The connections you make will help you succeed in your classes and help you build future career connections as well.
Becoming a Nursing Practitioner
View our complete guide on how to become a family nurse practitioner.