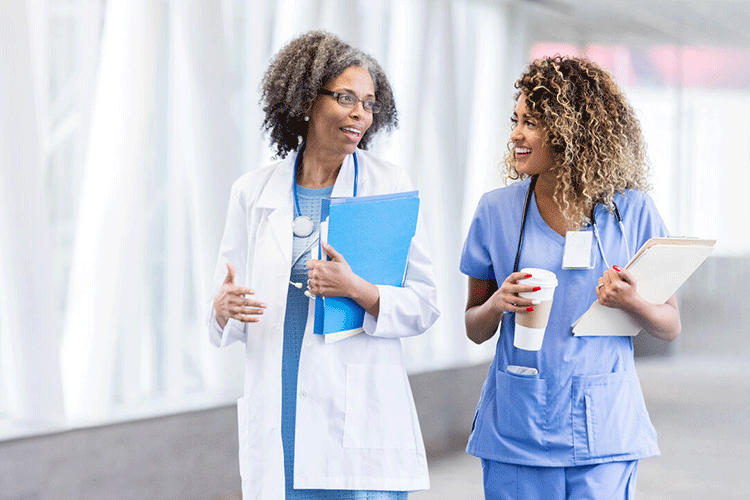 Preceptors are in Demand: What are the Benefits? 
With the growing nursing shortage, more clinical preceptors are needed to prepare aspiring nurses. Clinical preceptors are essential to nursing education and rely on the expertise of experienced clinicians like you.
Preceptors are needed for all levels of nursing education. Programs offering bachelor's degrees, master's degrees, doctorate degrees and post-master's certificates all rely on preceptors to provide mentorship to students.
Who Are Preceptors?
Preceptor roles for most nursing programs are open to advanced practice registered nurses (APRNs), physician assistants and physicians. Registered nurses can also precept for pre-licensure BSN students. The requirements to become a preceptor vary by program, but preceptors typically need at least one year of experience as a nurse practitioner.
Generally, preceptors must have an unencumbered license to practice in the state where the preceptorship will take place. They must also practice in a specialty directly related to the associated clinical rotation.
Aside from having the appropriate credentials and clinical competency, other traits are also necessary. Evidence shows that some of the most important qualities of nursing preceptors are:
Empathy

Passion for nursing

Ability to promote autonomy

Enthusiasm for teaching

Ability to offer positive and negative feedback in a constructive way
Preceptors are needed all over the country to facilitate the clinical education of students enrolled in online and on-campus nursing programs. Distance nursing students study the didactic portion of their coursework online, then complete their clinical hours in their local community.
Wherever you practice, there are likely nursing students who will benefit from your expertise and experience.
Preceptor Focus
Preceptors bridge the gap between theoretical learning and clinical practice. They guide students in meeting clinical objectives and delivering safe and quality patient care.
Preceptors educate nursing students through observation and direct instruction. Students are given immediate feedback as well as more formal assessments in the form of written evaluations.
Preceptor Responsibilities: 
Orients students to practice setting, organizational and institutional policies and key personnel

Bridges the gap between theory and actual practice

Provides daily/weekly feedback to students

Reviews and co-signs all student documentation in clinical records

Assists students in planning clinical assignments based on course objectives and student-articulated learning needs

Provides supervision of students on a 1:1 or 2:1 clinical basis 

Completes a Student Evaluation Form for the clinical rotation and provides it to the Clinical Faculty Advisor, as requested

Serves as a role model to nursing students

Maintains an open line of communication with the student's course instructor

Opportunities for Preceptors 
Preceptorship benefits all participants: the students, patients and preceptors. Becoming a preceptor will also grow your influence to impact health care delivery and the nursing profession as a whole.
1. Shape the Next Generation of Nurses
Precepting is a chance to pay forward the dedication of your past preceptors. Preceptors shape nursing students' careers by teaching a new generation of nurses through unique knowledge and experiences.
2. Reconnect to Your Passion
Working as a clinician is gratifying and sometimes emotionally challenging. Evidence shows that supporting others is an effective way to reduce stress.
A nursing student will bring a new sense of enthusiasm and motivation to the workplace, which can be inspiring. You may also feel reinvigorated by this unique opportunity for professional collaboration.
3. Grow the Nursing Profession
Preceptors play a vital role in solving the nationwide nursing shortage.
One reason why the U.S. lacks nurses is that nursing schools cannot enroll enough students. According to the American Association of Colleges of Nursing, nursing schools are turning away qualified candidates because they don't have the preceptors needed to accommodate clinical placements.
Preceptors enable nursing schools to expand student enrollment and play a direct role in growing the nursing profession. They help students gain the critical, real-life experiences they need to build competency as licensed professionals.
4. Develop Your Leadership
Preceptorship is a powerful way to develop leadership:
Practice greater accountability for health care delivery and outcomes

Gain experience supervising and giving feedback

Foster collaboration and teamwork
You'll refine your leadership style and skills as you help nursing students navigate patient care.
5. Amplify Your Resume
Adding the preceptor role to your resume will strengthen your professional experience. Preceptorship demonstrates your willingness to lead, commitment to lifelong learning and dedication to improving health care.
Many colleges and universities see preceptors as an extension of the faculty. Depending on the school's faculty model, you may be able to gain adjunct or affiliate professor status and add that role to your resume, too.
6. Fulfill Requirements for Credential Renewal
The certification and licensure renewal process for APRNs and physicians requires the completion of continuing education. You can obtain continuing education hours through preceptorship.
For example, APRNs can apply up to 120 clinical preceptor hours toward the continuing education requirement for national certification renewal. This is true for two certification boards: the American Association of Nurse Practitioners Certification Board and the American Nurses Credentialing Center.
Many states also accept clinical preceptor hours for APRN licensure renewal.
7. Enhance Your Practice
Knowledge-sharing during a clinical placement is often mutually beneficial for the student and preceptor.
Explaining your clinical reasoning to students will reinforce your knowledge. Plus, nursing students learn the most up-to-date clinical best practices through their coursework, so you may also learn something new.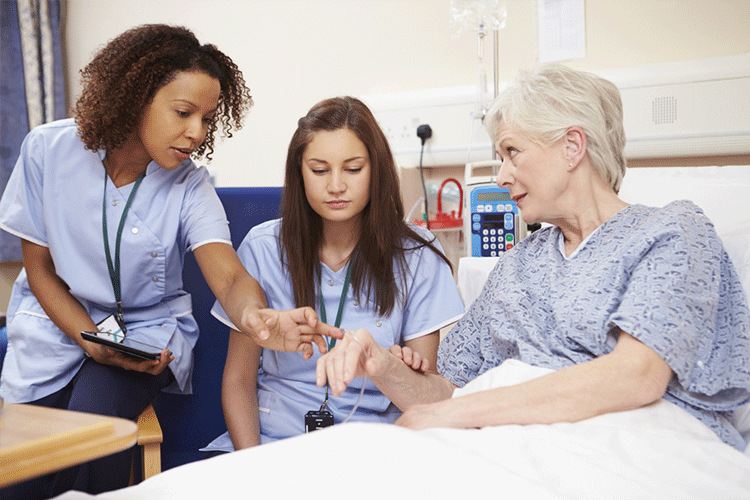 Preceptors Needed at Walsh University
Are you passionate about nursing and educating future nurses? Become a preceptor for the accredited online nursing programs at Walsh University.
As an independent Catholic university, Walsh is proud to develop nursing students as complete caregivers who embody nursing values and ethics. We provide meaningful and supportive learning experiences that prepare students for roles in advanced practice and nursing leadership.
Students at Walsh University are bright, passionate about service and dedicated to growing their mind, body and spirit. Our experienced faculty and staff are caring and help students aim higher, personally and professionally.
We recognize that coordinating clinical placement can become one of the most challenging aspects of nursing programs for students. That's why we help them prepare for every aspect of their clinical rotations, including identifying and securing quality sites and preceptors within their local communities.
Walsh University is currently seeking preceptors nationwide for the following online programs:
We invite you to join us in shaping the next generation of nurses.
Become a Walsh University preceptor or learn more about the role.