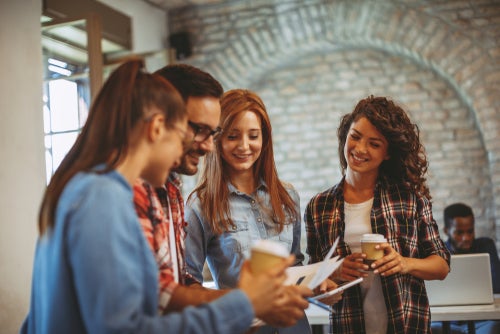 Why Get a BBA in Marketing?
Professional success in the world of business often begins with effective communication, an aspect well understood by the students enrolled in the marketing specialty track within Walsh University's online Bachelor of Business Administration (BBA) program. Designed to cultivate a deep understanding of key business strategies, the coursework within Walsh University's BBA in marketing also reinforces essential marketing principles so that graduates can be primed for a variety of fields. This article highlights several of the strengths of Walsh University's online program to showcase why pursuing a BBA in marketing can be a fantastic next step in your educational and professional development.
A Prime Preparation
One of the biggest advantages of an online BBA in marketing degree is that it is tailored to cover the essential elements of effective marketing strategies, which makes it ideal preparation for a career in a marketing field. For example, those who pursue the marketing concentration within Walsh University's online BBA degree will have the opportunity to delve into specialized topics such as "Global Integrated Marketing Communications" (BUS 308) or "Branding and Brand Management" (BUS 442). Such courses allow students to emerge with a strong understanding of both global consumer behaviors and the elements of successful marketing campaigns to effectively build continued customer loyalty. In general BBA degree programs, this level of specificity might not be offered; the principles of marketing might be introduced, but students will not be afforded the same depth of marketing content.
A Variety of Career Paths
Another perk of completing an online BBA in marketing is that it sets graduates on course for a wide range of exciting careers. The position of product manager, for example, is a popular position for BBA graduates because it gives those in the position the chance to develop their skills managing the creative content that surrounds a given product. It can also serve as a stepping stone to the role of marketing manager, wherein the oversight of the creative process spans an entire agency. Sales manager positions are another great option for BBA graduates and offer greater engagement with a sales or promotions team.
All of these positions provide consistent challenges and opportunities for advancement, but what is perhaps most encouraging is that they offer substantial salaries as well as growth in the coming years. For example, the United States Bureau of Labor Statistics reports that the 2017 median annual wage for sales managers topped $120,000; meanwhile, the same bureau reports a similar median salary for marketing managers and also projects a larger-than-average 10% growth of available positions.
A New Perspective on Business
For those who envision a future beyond marketing and want to enter other fields, an online BBA in marketing can also prove beneficial. One of the key principles that is echoed throughout the Walsh University curriculum is the emphasis on developing valuable communication skills. For marketing professionals, this skill is crucial as it becomes the core of every effective branding project or public relations campaign.
For those looking to work their way into the field of business accounting or management, though, the ability to communicate effectively and to understand clients' needs is equally as important. Moreover, a marketing specialty can encourage students to think creatively and solve problems in innovative ways, and these talents are highly desirable across the business world. As a result, graduates of Walsh University's online BBA in marketing program truly have a versatile skill set that can bring a refreshing perspective to the workplace.
The Unique Walsh Experience
Online BBA in marketing students at Walsh University can tap into all of this career potential, and they can also rest assured that the academic program in which they have enrolled is not only respected but designed with their success in mind. The ongoing dedication to personal engagement across the university – from the commitment of enrollment and student success advisors to the unyielding support of the expert faculty – creates an environment in which students are both challenged and encouraged. This is perhaps why Walsh University is consistently recognized as a leader in the education realm. In addition to its accreditation by the Higher Learning Commission in 2017, Walsh University has been recognized as a College of Distinction for seven consecutive years.
Enroll today and become part of a small academic community that stresses big values and seeks to help every student achieve their ultimate career goals.
Sources:
"Advertising, Promotions, and Marketing Managers." The United States Bureau of Labor Statistics – Occupational Outlook Handbook
What Can You Do With a Bachelor's in Marketing?
"11-2022 Sales Managers." The United States Bureau of Labor Statistics – Occupational Employment Statistics