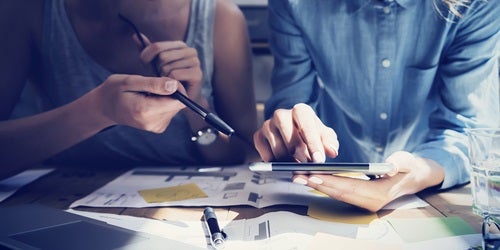 What is a BBA with a Marketing Concentration and What Careers Are Available?
A Bachelor of Business Administration (BBA) is a four-year undergraduate degree focused on the areas of business administration, business to commerce and business to consumer commerce. There are various concentrations a student may choose to focus on, for instance: accounting, management, or marketing. Many online BBA programs exist due to the flexible nature of the course of study, but why earn a BBA? For starters, a BBA can open doors to a wide range of potential careers and helps establish a student's skill set within the realms of management and communication.
More specifically, a BBA can help students hone their abilities at making in-person presentations, enable them to become comfortable working in multifaceted environments as well as understand how a business functions on a day-to-day basis. Holding a BBA also provides the graduate with the opportunity to continue their education by pursuing a Master's in Business Administration (MBA).
BBA with a Marketing Concentration
Many people are fascinated with marketing. After all, it surrounds us every day, blatantly or subliminally in the myriad forms of TV commercials, advertisements on billboards, social media ads, and more. Effective marketing entices us as consumers to make purchases based on our perceptions of a product or service's value to us. We often become so enamored with a product, solely on the effects of its marketing, that we become loyal, lifelong customers.
So understanding marketing and the psychology behind it means understanding human behavior. What drives us to buy one product over another? What compels us to purchase something we've only heard about via ads? These are the types of questions which prospective marketing students may encounter and answer through their BBA coursework.
Students who desire to focus on the marketing BBA will later be able to seek careers in not only advertising, branding, market research, but even public relations. Students may work to work in environments where the focus is on selling and promoting products/services to the public and private sectors. Depending on their role in the organization, a BBA graduate can expect to collaborate closely with talented graphic designers, persuasive salesmen, and expert finance teams, among others.
Salary Expectations
There are a variety of career options for graduates of a BBA marketing program. In the management arena, the U.S. Bureau of Labor Statistics lists 'Advertising, Promotions, and Marketing Managers' into one category, citing the overall 2016 median pay at $127,560 per year, or roughly $61 an hour. Job growth in the management area is expected to increase 9% and the current number of management professionals in this sector is more than 200,000 individuals.
The U.S. Bureau of Labor Statistics BLS lists the median annual wage for, "advertising and promotions managers" at around $100,000, and for "marketing managers," at $131,000.
Besides management positions, there are plenty of opportunities for marketing BBA grads, from market research analyst, public relations, and product buyers. Market research analysts may earn maximum salary of $120,000 annually (U.S. Bureau of Labor Statistics), while product managers may a maximum salary of $100,000 (U.S. Bureau of Labor Statistics). The careers mentioned above are just a few of the possibilities of jobs you can earn with a BBA marketing degree. As a diverse industry, marketing positions range from creative team members (graphic designers, copywriters, web developers) to finance positions (accountants, financial analysts, etc.) A bachelor of business administration gives you the foundational business knowledge you need to be successful while allowing you to also tailor your career plans to your specific interests.
Why earn a marketing BBA from Walsh University Online?
There's no shortage of online BBA programs available, but at Walsh University Online we pride ourselves on the following facts:
Our program is 100% online and open 24 hours a day, 7 days a week
We offer 6 intakes a year, meaning you can start your education when you are ready
Transfer-credit friendly, Walsh's bachelor program may accept up to 92 transfer credits
Walsh is accredited by the Higher Learning Commission
We are #49 among Midwest Regional Universities and #29 among Best Colleges for Veterans, according to U.S. News & World Report
We offer assistance with financial aid for qualified students
We are committed to the success of our military veterans and recognized in G.I. Jobs, STEM Jobs, and Military Spouse as a "Military Friendly School." We are also a Yellow Ribbon School.
Learn more about how Walsh and a BBA in marketing can help you achieve your personal as well as professional goals.