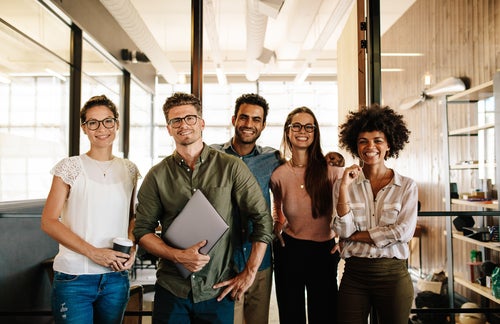 What's Next After Your BBA?
Walsh University brings together students from various backgrounds and with different career goals, but what unites them is their shared passion for future professional success. This is particularly the case within Walsh University's online Bachelor of Business Administration (BBA) degree, where students can specialize in the fields of accounting, management and marketing to focus their academic preparation on the professional path they plan to follow. For those who are always thinking ahead, this article spotlights the value of a Walsh University BBA degree. In addition to profiling jobs available with a BBA degree, it showcases some of the key reasons why Walsh University should be at the top of your list of schools to consider, both for its business degree types and also for its amazing student experience and respected academic credentials.  
Available Jobs
Earning a BBA degree with Walsh University is a gateway to an amazing array of jobs in the business world. With the BBA degree in hand, graduates are primed to advance their careers in a variety of industries. The added bonus of the specialized tracks or business degree types within the online BBA curriculum means that graduates can get the upper hand in the job market by completing coursework tailored to their desired field. For example, those who pursue the BBA in Management can set themselves on course for six-figure salaries in human resources or sales managerial roles. Others who pursue the BBA in Accounting can use those specialized skill sets developed during their Walsh University experience to fast-track their pursuit of a career in financial management or accounting.
The Value of the BBA Degree
In addition to the jobs that you might seek following graduation from Walsh University's program, the online BBA degree also instills talents that are beneficial beyond the realm of business. The curriculum is designed to develop students' critical thinking and problem-solving skills through real-world scenarios and case studies taken from the realm of business, but these abilities are easily transferable to whatever professional role you might seek following graduation. In addition, they are the foundational skills for success in a Master of Business Administration (MBA) program, which means that Walsh University online BBA graduates can easily transition to a postsecondary program to further their academic preparation.
The Benefit of the Walsh University BBA
What distinguishes Walsh University as an online BBA program is not only its business degree types or specializations; it is also its enduring commitment to student-centered learning and professional development. This translates into small class sizes led by quality faculty members, many of whom are connected to the business world. It also means a curriculum and course structure designed with the modern, busy student in mind. Walsh University's online BBA is designed to complement – not conflict with – the full-time business professional's lifestyle, a convenience that most likely contributed to Walsh University's recent ranking among U.S. News and World Report's Top 50 Regional Universities - Midwest. Moreover, Walsh University came in at 25th in the same organization's ranking for Best Colleges for Veterans.
Part of the reason Walsh University is so committed to excellence is that, like its students, the mentors and administrators of the online BBA program are always thinking about the future. Accordingly, Walsh University is proud to be accredited by the Higher Learning Commission (HLC), one of the most prominent accrediting associations in the country, and it is also an approved institution with the National Council for State Authorization Reciprocity Agreements. Walsh University keeps its eyes on the future of BBA education just as its students keep track of their professional future, which is always a recipe for success.