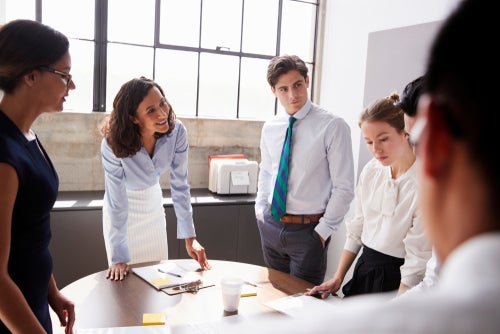 Top Careers for Bachelor of Business Administration Grads
The team of administrators and faculty at Walsh University can appreciate what it means to be at the top. Ranked in the Top 50 Regional Universities in the Midwest by U.S. News and World Report, Walsh University works to uphold its exceptional academic standing every day by encouraging its students in Walsh University's online Bachelor of Business Administration program to develop the skills necessary for the top jobs in the field of business. This article examines the top careers for online BBA graduates who have cultivated the expertise provided by Walsh University's three areas of specialization: accounting, management and marketing.
Top Jobs for a BBA in Accounting
The job of statistician ranks first on U.S. News and World Report's recent list of top business jobs. This status is owed in part to the fact that statisticians play a crucial role in interpreting the numerical data related to corporate performance, growth and strategy. Prospects in the profession are some of the strongest around: the United States Bureau of Labor Statistics (USBLS) projects a remarkably high 33% growth in positions by 2026, which translates to the addition of more than 13,000 jobs. The salary is also attractive, as both U.S. News and the USBLS reported a median 2017 salary around $80,000.
While finding a position as a statistician just after graduation from an online accounting BBA program can be difficult – some entry level roles exist, but others require a master's degree – the field of actuarial science is a bit more accessible for the recent BBA graduate and is also a strong option for those holding a BBA in Accounting. Growth in actuary positions is similarly robust: the USBLS projects a 22% increase in available jobs by 2026, and the median 2017 salary provided by both the UBSLS and U.S. News and World Report hovers around $100,000.
Top Jobs for a BBA in Management
Graduates from Walsh University's online BBA in Management program who really want to "run the show" can find great prospects in roles as operations managers, a position that U.S. News and World Report ranks as fifth in its top jobs list. Operations managers are tasked with incredible responsibilities when it comes to overseeing the administration and production of entire companies, but with these great responsibilities come great perks: the USBLS reported a mean annual wage for operations managers of $123,460 in 2017, and the U.S. News and World Report projects substantial growth in the field as well.  
Similar statistics have been reported for the role of financial manager, a position that is another great option for recent online BBA in Management graduates. Blending skills in both math and management, financial managers look out for the well-being of a company's investments and financial strategies. Though U.S. News and World Report suggests that the unemployment rate in this profession is a bit higher than other fields – at 2.8%, it is double the rate for actuaries or statisticians – the salary is nevertheless strong: the USBLS forecasts faster-than-average growth in the field and pegged the median 2017 salary for financial managers at more than $125,000.  
Top Jobs for a BBA in Marketing
New graduates with an online Marketing BBA can select from a wide variety of career paths, but one of the strongest options is that of market research analyst. Melding both creative and analytical skill sets, market research analysts are tasked with exploring the current market to identify what niches can be captured by a company's products or services. Median pay reported for 2017 differed between the two organizations. While the USBLS reported a median wage of $63,230, U.S. News and World Report released a higher median of around $99,000. Both agree, however, that massive growth in the field is on the horizon: the USBLS predicts 23% growth, or an increase in 138,000 jobs, by 2026. For those who want to be even more deeply involved in the marketing and promotional campaigns for a company's offerings, the position of marketing manager might also be a great professional fit. The USBLS reported faster-than-average growth in the field and a median 2017 salary of $129,380.
Regardless of the specialization selected within Walsh University's online BBA program, students can rest assured that they are taking a positive step toward a potential career in one of these top fields. A Walsh University online BBA provides all of the conveniences of online learning while affording students the opportunity to specialize in a specific field of study to better prepare them for their desired career path. This discipline-specific coursework is tailored to help develop students' understanding of the nuances of each field and can help make graduates more competitive when vying for some of these top positions. Walsh University hopes all of its students reach the top echelons of their respective field, a professional journey that can begin in one of these top business jobs.
Sources:
"Actuaries." United States Bureau of Labor Statistics – Occupational Outlook Handbook
"Best Business Jobs." U.S. News and World Report
"Financial Managers." United States Bureau of Labor Statistics – Occupational Outlook Handbook
"Market Research Analysts." United States Bureau of Labor Statistics – Occupational Outlook Handbook
"Mathematicians and Statisticians." United States Bureau of Labor Statistics – Occupational Outlook Handbook
"11-1021 General and Operations Managers." United States Bureau of Labor Statistics – Occupational Employment and Wages, May 2017."