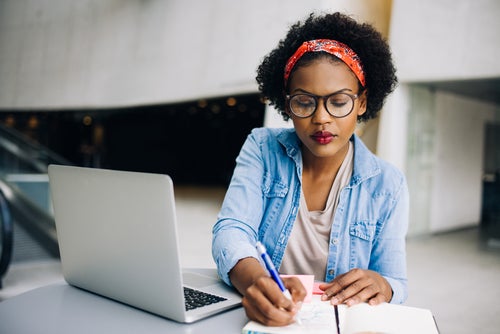 The Right Business Degree for an Entrepreneur
Entrepreneurs are accustomed to going their own way, almost by definition. It takes a strong independent spirit to pursue an idea on your own and be your own boss. So does that mean entrepreneurs can entirely forego conventional paths to acquiring expertise in business?
It's a risk. It's a complex environment out there, and if you're looking to blaze your own trail, you're going to need to know at least a little about a lot of things: finance, economics, accounting, communication, law, ethics, marketing, and management, for a start. If the prospect of sitting in a classroom to pick up these skills is unappetizing, or not feasible from a scheduling perspective, you should know there are other options.
Walsh University's online Bachelor of Business Administration program is perfect for entrepreneurs and entrepreneurs-in-waiting.
Offered through the highly regarded DeVille School of Business, all classes are 100% online, and lectures and materials are available 24/7 via Walsh's online portal. Watch the lectures whenever your schedule permits, and take on assignments your own way.
The program even features three different specializations: accounting, marketing and management. It's the BBA degree for those with an independent streak.
What can I do with a business degree?
A BBA degree is intended to help students develop a good general foundation in all areas of business. Because we only admit students 21 and over, our enrollment is a mixture of working professionals and graduates of other undergraduate programs.
Although some students choose a BBA program to boost their credentials for potential employers, entrepreneurs can make direct use of the lessons they pick up each week in class as they work on building their business from concept to side-hustle to success story. Holding a BBA also lends legitimacy to efforts to court investors.
What will I learn in a BBA program?
A big part of making it in business is who you know. Your courses allow you to network with other ambitious and highly qualified students from across the country via online discussion groups, making connections that may come in handy as your business career begins to take off.
Not only that, but you'll have the chance to make the most out of a personal coach who will be assigned to guide you through your studies. These mentors, experienced businesspeople one and all, will help you apply classroom theory to real-world scenarios.
Here is a selection of sample courses in the online BBA program:
Financial/Managerial Accounting — Learn the basics of cash management, accounts receivable, inventories, and fixed assets. This is the foundation every future business leader needs.

Information Analysis — How do you make good decisions in business? What information is key, and what statistical methods can you use to glean useful insights from it? Learn how to obtain and interpret data, while developing competency with key software.

Marketing in a Global Environment — Learn to apply the theory of marketing and put together your own marketing strategies. Your instructors will help you understand the differences between domestic and international business situations, and how to optimize your approach.

Integrative Business Experience — Learn how management, marketing, accounting, and finance interact in a business environment, and how they contribute to the overall health of the organization.
You'll also have the option of real-world collaboration with industry professionals through Walsh's CBC experience course. You'll spend the first third of the course learning everything you need to prepare you for this collaboration, and the remainder being guided by your instructors and collaborators as you gain practical experience in the business world.
This experience is particularly important for entrepreneurs, who can treat it almost like their "training wheels" before setting off on their own after graduation. After all, where you're going, there are no supervisors.
Contact us to find out more about Walsh University's online BBA program.
Read What Jobs Can I Get With a BBA in Management? and Best Career Options for Walsh BBA Graduates.